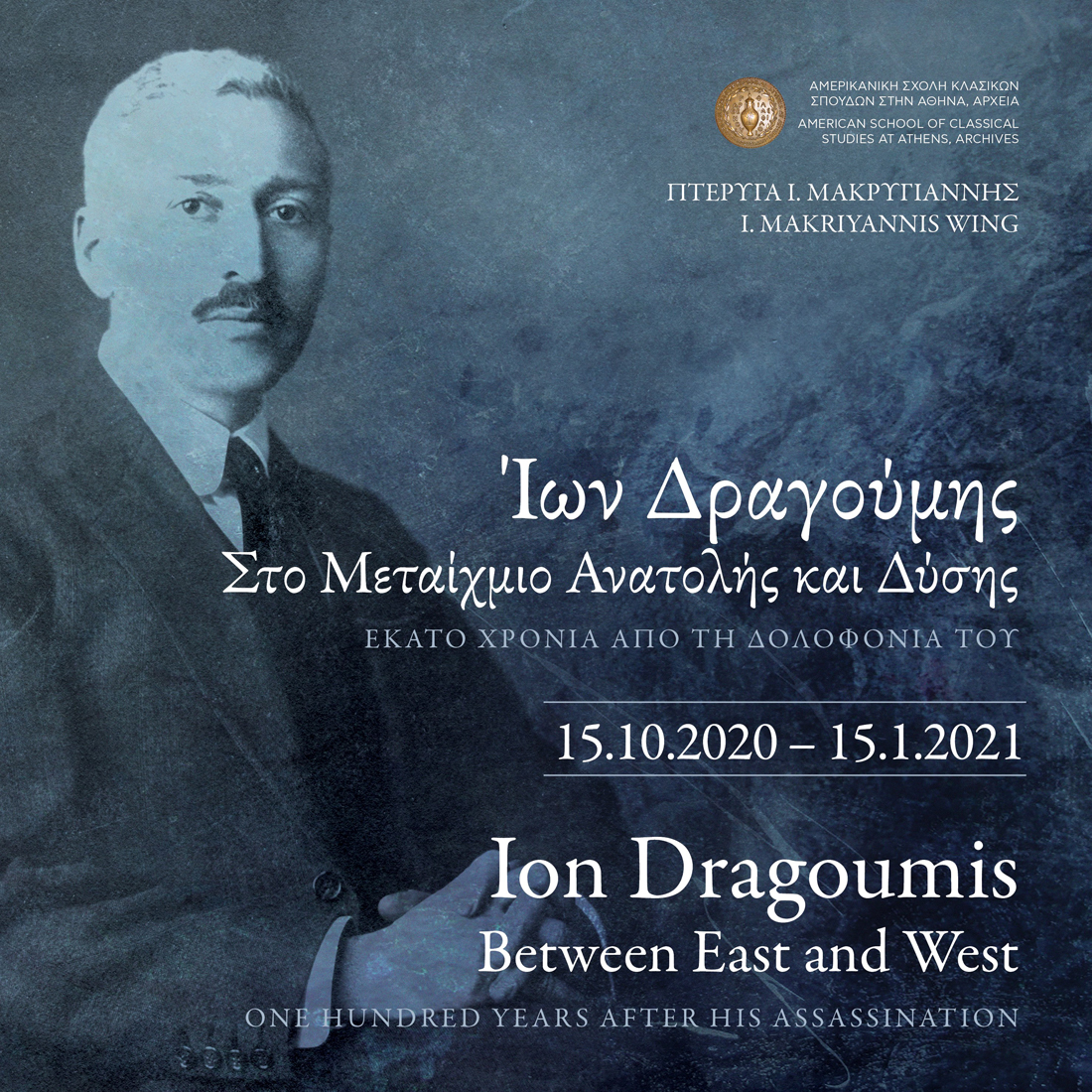 Return to News
Ion Dragoumis: Between East and West. One Hundred Years After His Assassination
July 30, 2020
Natalia Vogeikoff-Brogan
On July 31, 1920, Ion Dragoumis drew his last breath on Kifisias Avenue, not far from the American School of Classical Studies at Athens (ASCSA). A diplomat, writer, philosopher, visionary, and revolutionary, Dragoumis (1878–1920) is now a legendary figure in the Greek imagination because of his untimely death. He was killed in cold blood by his political opponents, a day after the attempted assassination of Eleftherios Venizelos in Paris.
The ASCSA Archives has organized a major exhibition titled "Ion Dragoumis: Between East and West. One Hundred Years After His Assassination." This exhibition, which will open on October 15, 2020, will showcase, for the first time, rare documents and photos from personal papers donated to the ASCSA in 1959 by his brother Philippos.
More announcements about the exhibition will follow in September.
---
Στις 31 Ιουλίου 1920, ο Ίων Δραγούμης άφησε την τελευταία του πνοή στη Λεωφόρο Κηφισίας, όχι μακριά από την Αμερικανική Σχολή Κλασικών Σπουδών (ΑΣΚΣΑ). Διπλωμάτης, συγγραφέας, διανοητής, οραματιστής, ανήσυχο και επαναστατικό πνεύμα, ο Δραγούμης εξιδανικεύτηκε στη νεοελληνική συνείδηση λόγω του άωρου θανάτου του. Δολοφονήθηκε εν ψυχρώ από τους πολιτικούς του αντιπάλους, μια ημέρα αμέσως μετά από τη δολοφονική απόπειρα εναντίον του Ελευθέριου Βενιζέλου στο Παρίσι.
Τα Αρχεία της ΑSCSA διοργανώνουν μεγάλη έκθεση, με τίτλο Ίων Δραγούμης: Στο Μεταίχμιο Ανατολής και Δύσης. Εκατό Χρόνια από τη Δολοφονία του και ημερομηνία έναρξης τις 15 Οκτωβρίου 2020. Θα παρουσιαστούν, για πρώτη φορά, στο κοινό, σπάνια τεκμήρια, έγγραφα και φωτογραφίες, από το αρχείο του Δραγούμη που δωρήθηκε στην ΑΣΚΣΑ το 1959 από τον αδελφό του, Φίλιππο.
Περισσότερες ανακοινώσεις για την έκθεση θα ακολουθήσουν τον Σεπτέμβριο.