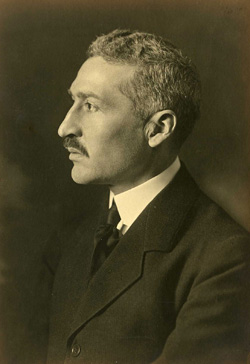 Αρχείο Ίωνος Δραγούμη
---
ΕΠΙΣΚΟΠΗΣΗ ΣΥΛΛΟΓΗΣ - COLLECTION OVERVIEW
Collection Number: GR GL ISD 024
Name (s) of Creator (s): Ion S. Dragoumis (1878-1920)
Title: Ion Dragoumis Papers
Date [bulk]: 1900-1920
Date [inclusive]:
Language(s): Greek, English, French
Summary: The collection consists of personal and professional correspondence relating to Ion Dragoumis' diplomatic and other state positions together with documents relating to issues of foreign affairs such as the Macedonian Issue, the Greek diplomatic relations with other countries, and the Greek-Ottoman relations. It also includes drafts of his various publications, newspaper clippings and photographs. Part of the correspondence and photographs of the Ion Dragoumis Papers are accessible via the Digital Library or here.
Quantity: 13 linear meters
Immediate Source of Acquisition: Gift of Philippos Dragoumis, 1960.
Information about Access: The papers are catalogued and available for research.
Cite as: American School of Classical Studies at Athens, Archives, Ion Dragoumis Papers (Αμερικανική Σχολή Κλασικών Σπουδών στην Αθήνα, Τμήμα Αρχείων, Αρχείο Ίωνος Δραγούμη)
Notes: The collection has been catalogued by Alexis Malliaris (Series IA) and Eleftheria Daleziou (Series IB to VIII).
For more information, please contact the Archives
The American School of Classical Studies at Athens
54 Souidias Street, Athens 106 76, Greece,
phone: +30 213 000 2400 (ext. 425)
Contact via E-mail

---