Return to News
American School Short Film Wins Award from The Archaeology Channel
On June 27, 2021, the American School's short film, Twelve Decades of Discovery: American School Excavations at Corinth, was selected as an award winner at the 2021 edition of The Archaeology Channel (TAC) International Film Festival. At its 18th annual festival in Eugene, Oregon, TAC presented the School with its award for Special Mention by Jury for Continuing Legacy in Archaeology. This is the second honor for Twelve Decades of Discovery, which won the 2020 Orona Foundation Award at the 20th International Archaeological Film Festival of the Bidasoa.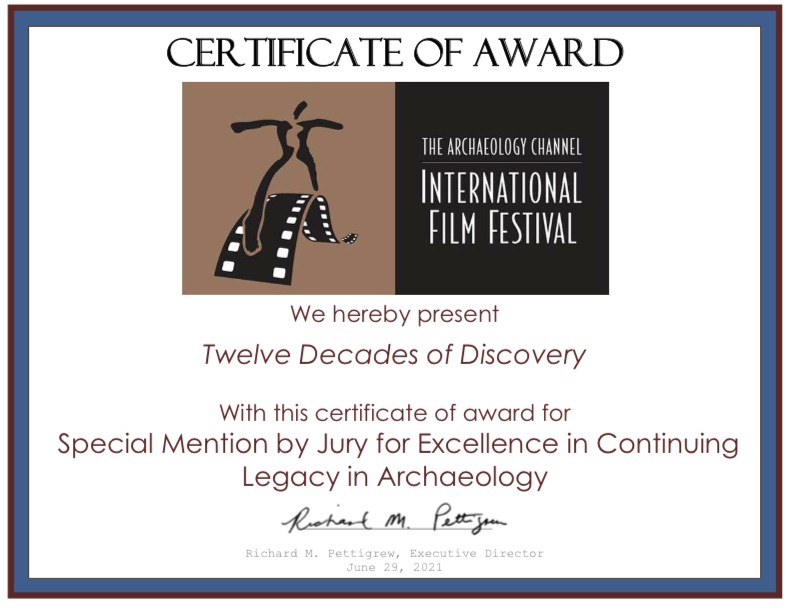 The TAC International Film Festival began in 2003 as an extension of its popular website, The Archaeology Channel, and has grown into one of the leading film competitions in the cultural heritage genre. The festival's mission is to exhibit the wonderful diversity of human cultures, past and present, and to promote and celebrate the genre and the makers of all audiovisual cultural heritage media.
With its inspiring stories and stunning cinematography, Twelve Decades of Discovery tells the story of the American School's long history of excavations at ancient Corinth. The School began excavating at the historic site in 1896, making countless discoveries and offering students and scholars unparalleled research and learning opportunities. Featured in the short film are distinguished School scholars, including Charles K. Williams II, Director Emeritus of the Corinth Excavations; Jenifer Neils, Director of the American School; Christopher Pfaff, Director of the Corinth Excavations; Nancy Bookidis, Assistant Director Emerita of the Corinth Excavations; Ioulia Tzonou, Associate Director of the Corinth Excavations; Eleni Gizas, Steinmetz Family Foundation Museum Fellow, Corinth Excavations, and James Herbst, Architect of the Corinth Excavations.
George Orfanakos, Executive Director of the School, said, "On behalf of the American School, I would like to thank The Archaeology Channel and the Archaeological Legacy Institute for their recognition of Twelve Decades of Discovery, which celebrates the significance of our work in ancient Corinth. In addition, I extend my gratitude to AORI Films and Director Nikos Dayandas, who helped us capture the people who are at the heart of everything we have done in Corinth during the past 125 years. Lastly, this would not have been possible without the support of Charles O. Yoder, whose generosity has allowed us to produce several short films, including this one, and share the fascinating stories of the School's remarkable 139-year history."
To watch the School's collection of short films, please visit ascsa.edu.gr/about/short-films.