Corinth Excavations Architect- James A. Herbst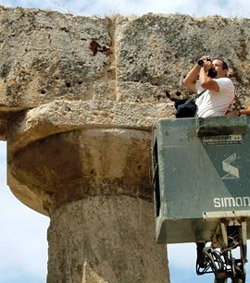 James Herbst (BArch, University of Cincinnati; MSc Architecture, University of California, Berkeley; and GISc Cert., University of North Dakota) has been the architect for the Corinth Excavations since 1998, at the Athenian Agora Excavations since 2010, and at the Cambridge Keros Project's surface surveys and excavations from 2013 to 2019. Other projects and sites where he has contributed include, Panakton, Pylos, Isthmia, Kenchreai, the Vjosë River Valley Archaeological Project, Sikyon, and Dorati. He is an EASA licensed drone operator.
His interests lie in ancient construction methods and materials, and in graphic representation of archaeological objects and monuments. He co-authored an excavation report on the road in the Panayia Field with Jen Palinkas, and the excavation and site of the Penteskouphia plaques with Ioulia Tzonou.
James also serves as the Information Technology Specialist of the excavations and can be contacted via .(JavaScript must be enabled to view this email address).