Return to News
Friends of the University of Cincinnati Name Room in New Student Center
The American School of Classical Studies at Athens is pleased to announce a gift from the Friends of the University of Cincinnati in support of the renovated Student Center. The friends have named a bedroom in Loring Hall in honor of the University of Cincinnati (UC). Professors Jack Davis and Kathleen Lynch led this group initiative, bringing together various members of the UC community to support the effort, including faculty, alumni/ae, participants in UC-sponsored excavations in Greece, and other friends of the University.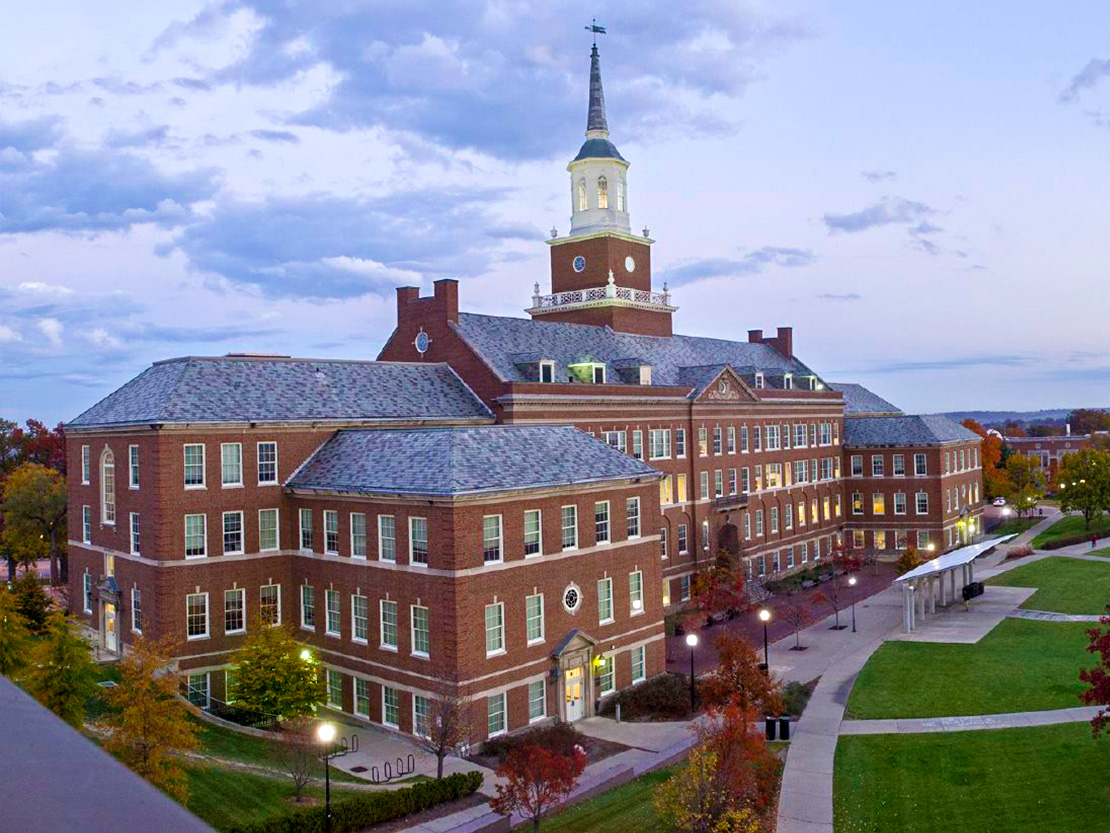 The University of Cincinnati (photo courtesy of UC)
Jack Davis is Carl W. Blegen Professor of Greek Archaeology and Head of the Classics Department at UC. As an American School Trustee, Overseer, and former Director, Davis is intimately familiar with the historic institution: "The number of Cincinnati students, faculty, and alumni who have passed through the doors of the American School is simply staggering. UC has also given the American School three Directors (Carl Blegen, John "Jack" Caskey, and me), an Assistant Director (Blegen), a Chair of the Managing Committee (MC) (William Semple), a Vice-Chair of the MC (Lynch), a Whitehead Professor (Peter van Minnen), an Associate Director of the Corinth Excavations (Ioulia Tzonou), an Archivist (Carol Zerner), a Librarian of the Gennadius Library (Peter Topping), an Assistant Librarian of the School (Eugenia Foster), a Blegen Library Collection Development Librarian (Yuki Furuya), Hesperia editor (Jennifer Sacher), Trustees (Semple), numerous MC members, and countless first- and second-year students and fellows."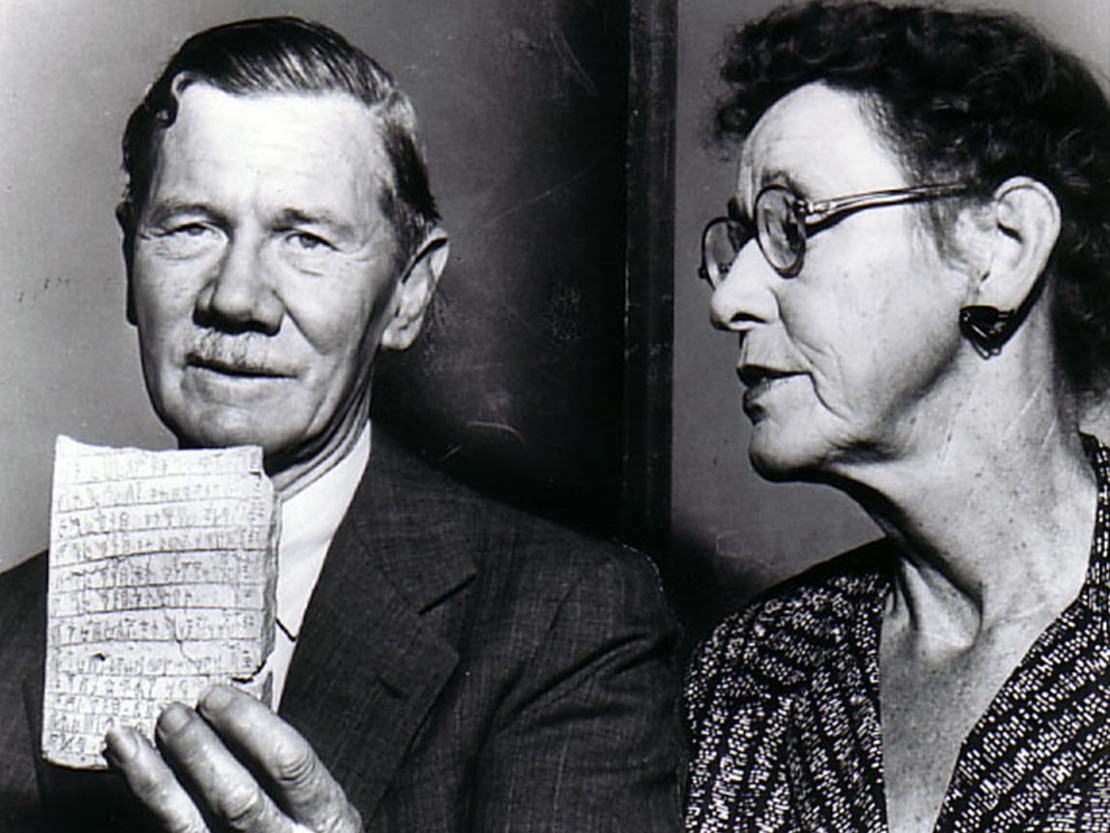 Carl Blegen (with a tablet) and Marion Rawson (photo by Mabel Lang)
"The University of Cincinnati has been a cooperating institution of the American School since 1923. UC was the first university to conduct an affiliated excavation under the auspices of the School and has since organized expeditions at many sites in Greece, including the Corinth Odeum, Nemea, Prosymna, Hagioritika, Pylos, and Ayia Irini on Kea. Literally, hundreds of Cincinnatians have participated in these projects, as well as hundreds of students from other institutions in America, Greece, and other countries. UC is also one of a small group of universities that holds a permanent institutional membership in the American School," Davis explained.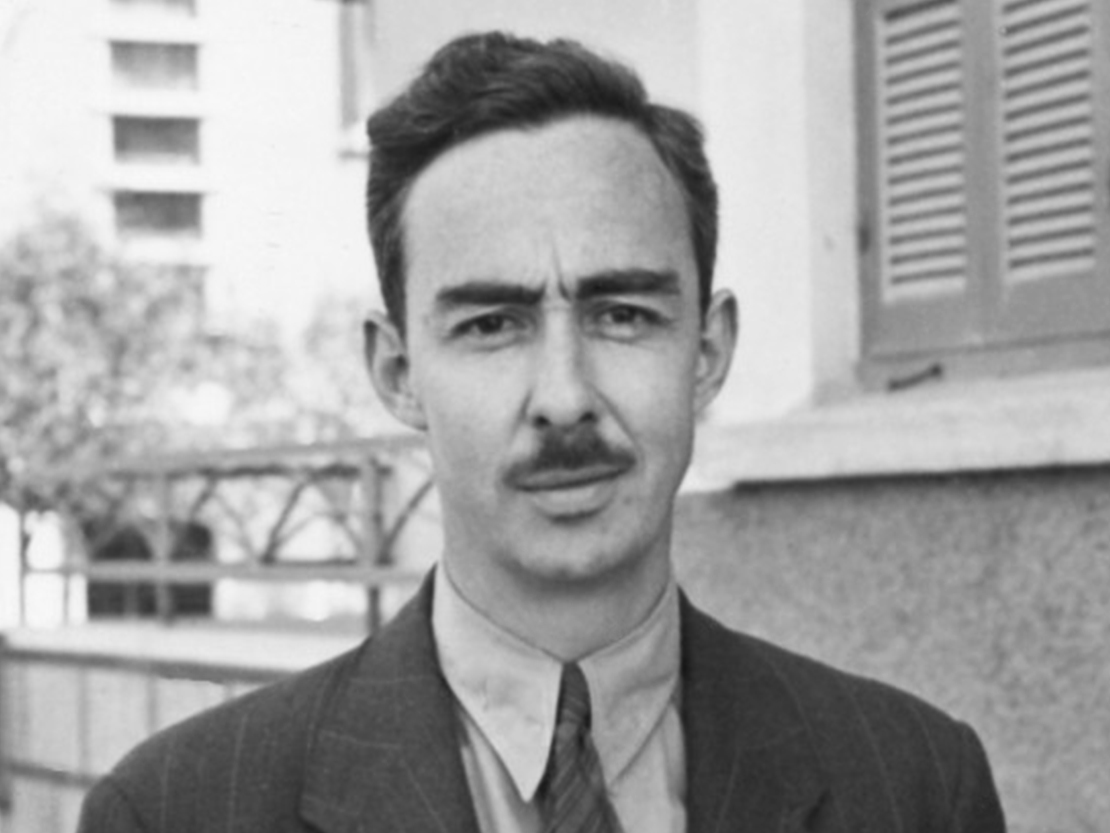 Jack Caskey (photo courtesy of Miriam Caskey)
Davis added, "Caskey, while Director in the 1950s, led the School's sponsored excavations at Lerna, and Blegen, while Assistant Director, led excavations at Korakou and many other sites. Professors Cedric Boulter, Ian McPhee, Stella Miller, Julie Bentz, Evelyn Harrison, and Kathleen Lynch, along with many other Cincinnatians, have contributed to the American School's Athenian Agora and Corinth Excavations. In addition, Cincinnatians Elizabeth Schofield and Sharon Stocker have directed excavations affiliated with the School at Kea and Pylos."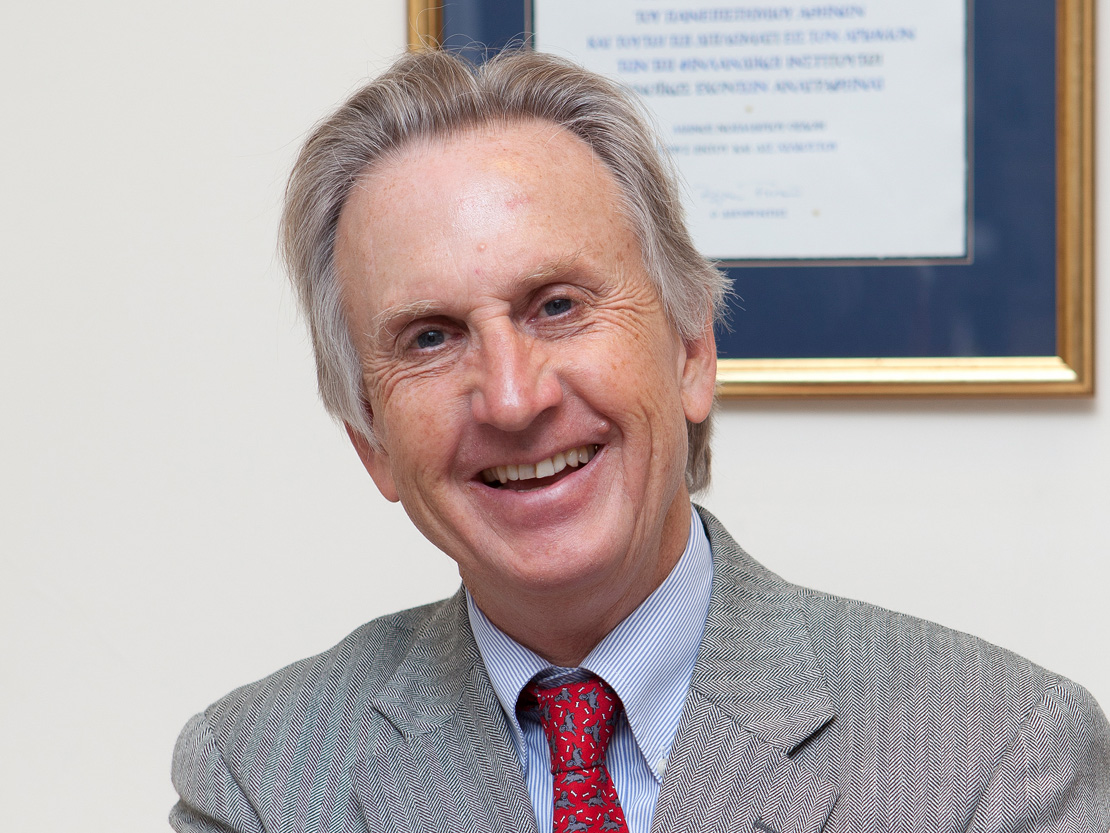 Jack Davis
"We should also mention that Director Caskey nurtured Lloyd Cotsen's love for the School. Cotsen, a friend and benefactor of the School of the highest order, was greatly influenced by Caskey during his time as a student and architect at Lerna and Ayia Irini on Kea."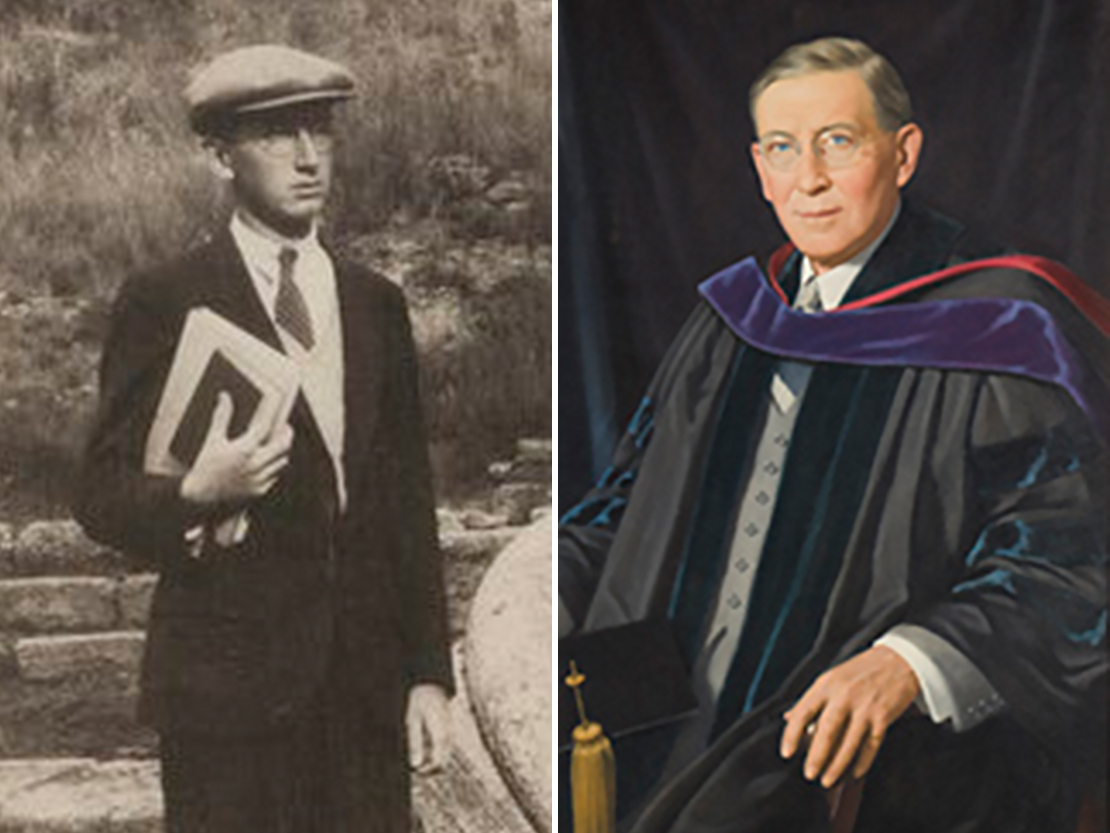 Cedric Boulter (photo courtesy of Saul and Gladys Weinberg Photo Collection) and William T. Semple (photo courtesy of University of Cincinnati)
Davis and Lynch agreed, "For many of us, our time at the American School was a highlight and life-changing. Many of us owe our careers to the opportunities and experiences the School provides. We felt that it was time to pay back some of this good fortune by organizing the Cincinnati Classics community to contribute toward naming a room in Loring Hall. The University of Cincinnati Room is a thank you to the School from all of us, and it will remind Student Center residents of the great connections between UC and the School."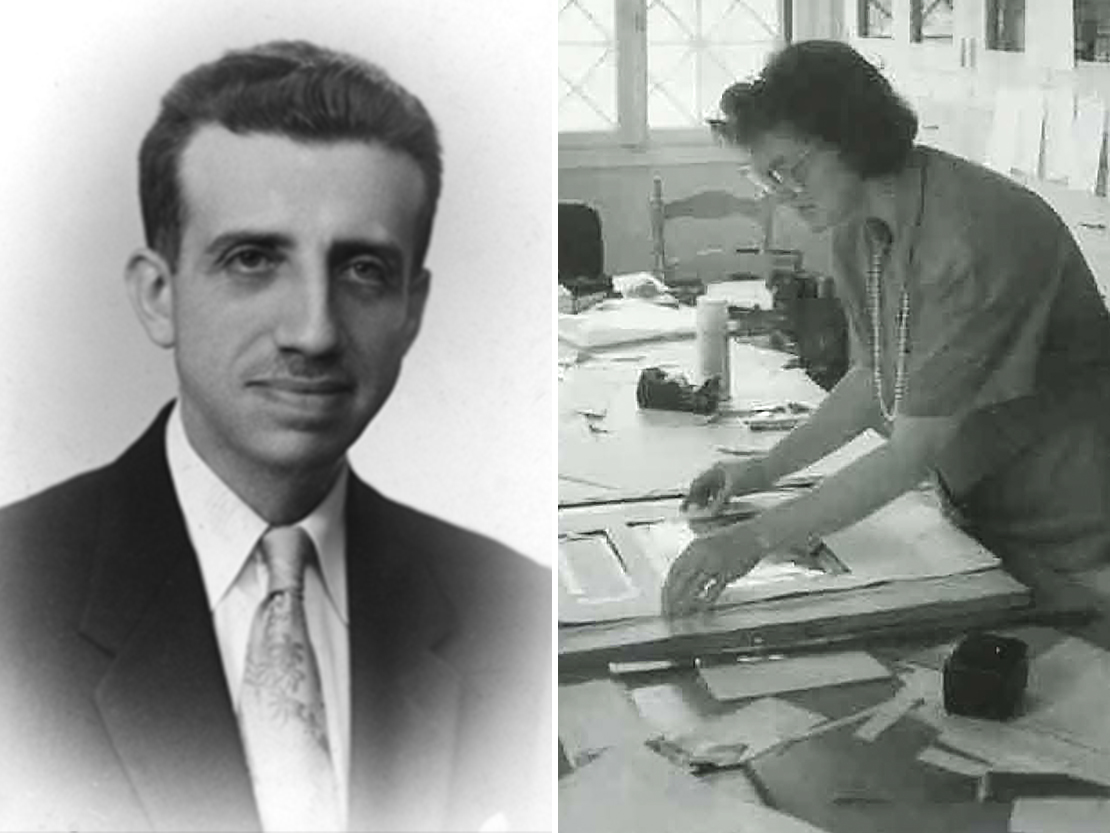 Peter Topping and Carol Zerner (photos courtesy of ASCSA Archives)
Kathleen Lynch is Professor of Classics at UC and Vice-Chair of the School's Managing Committee. She recalled, "When Jack Davis approached me about the idea of naming a room in honor of the long association between UC and the American School, I immediately got on board and lent a hand in spreading the word. I am very proud of how the Cincinnati Classics community rose to this challenge, and the campaign's success is entirely due to their loyal support."
Peter van Minnen (Andrew Higley/University of Cincinnati) and Kathleen Lynch
Dr. Ian McPhee of the Trendall Research Centre in Victoria, Australia, said: "I do not forget all that I owe to the University of Cincinnati and the American School. My affiliation with the University goes back to 1968 when I arrived in Cincinnati as a graduate student. I had just completed a B.A. at the University of Sydney, obtaining Honours 1 in Archaeology. I was lucky enough to receive a Semple Scholarship, which paid my tuition fees and enabled me to support myself in Cincinnati. I spent five years (1968–1973) completing a Ph.D. in the Department of Classics, although I carried out research in Oxford for much of my fourth year. When I arrived in Cincinnati, I was not sure whether I wanted to study Bronze Age archaeology or Greek vase-painting, but I decided to concentrate on the latter under the influence of Cedric Boulter. During my final year, Boulter gave me some pottery from the American excavations in Corinth to publish, so began my association with the American School, an association that brought me my wife, Betsy Pemberton, and many years of rewarding research into the Classical pottery of Corinth. During my years at Cincinnati, I made many friends and was thrilled to return briefly in 2005 with a Margo Tytus Fellowship."
Ann Santen and John Younger (photo courtesy of University of Kansas)
John G. Younger, Professor Emeritus in the Department of Classics at the University of Kansas, expressed: "From the University of Cincinnati, I took degrees in Classics (M.A. 1969, Ph.D. 1974) with legends like Caskey, Blegen, Boulter, and Christopherson. The program was exacting, but I'm a classicist, archaeologist, and art historian because of it. At the American School (Regular Member 1969–1970), I learned to speak modern Greek and, thanks to Vanderpool, McCredie, and Eliot, I can wander the islands and mountains of Greece without getting too lost."
After retiring from a career in public radio, Ann H. Santen audited Classics courses at UC. Santen participated in excavations at Apollonia, Pompeii, Knossos, and Pylos for 15 seasons and remarked, "I have great admiration for the close connection the University of Cincinnati Classics Department has had with the American School. The idea of a University of Cincinnati Room was very appealing, and something I wanted to support wholeheartedly."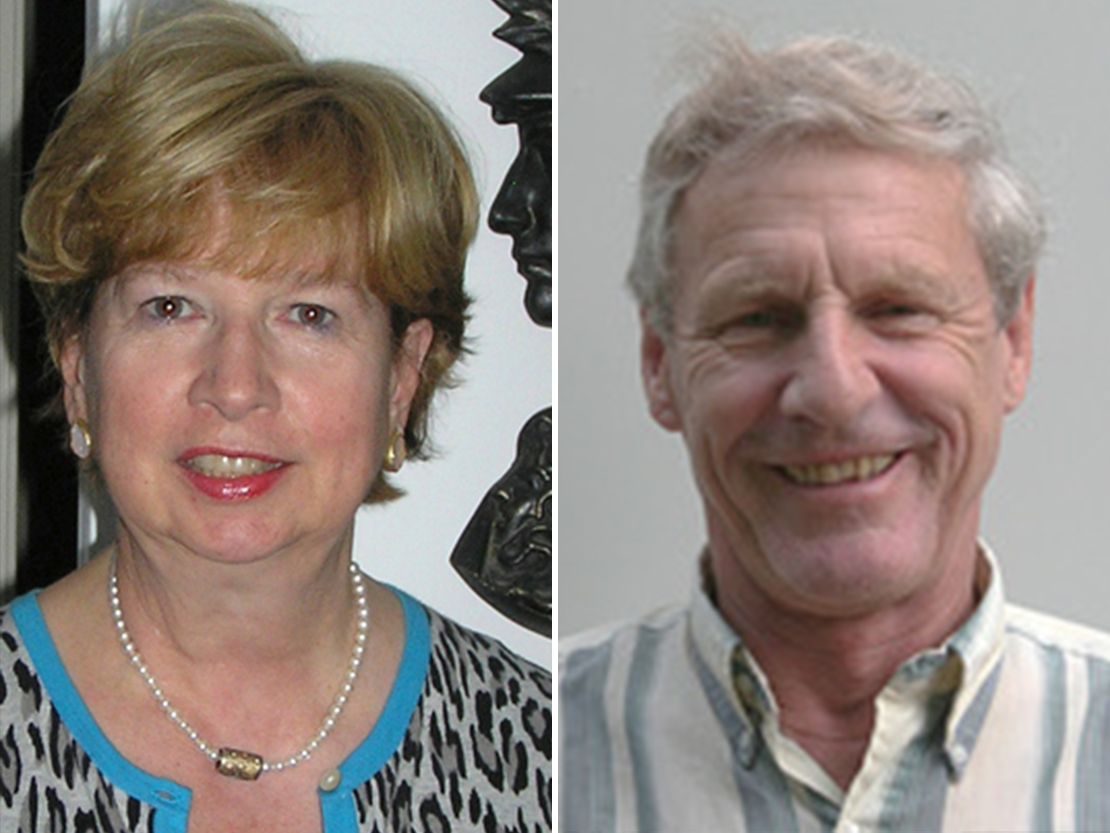 Barbara Shailor and John Coleman
For Barbara Shailor, former Deputy Provost for the Arts and Director of the Beinecke Rare Book and Manuscript Library at Yale, this campaign provided the opportunity to express gratitude to the University of Cincinnati Classics Department: "I went to Cincinnati for a Ph.D. in Classics, originally thinking about Classical Archaeology. I finished my doctoral degree in 1975, working on Latin manuscripts from medieval Spain. I am forever grateful to the Cincinnati Classics Department for providing such an excellent educational experience and a dynamic start for my career."
John E. Coleman, Professor Emeritus of Classics at Cornell University, shared, "I received a Ph.D. from the University of Cincinnati in 1967 and was privileged to work at the excavations at Ayia Irini and Kephala on Keos during my time as a student. Congratulations to UC for its outstanding contributions to Greek archaeology! May it long continue its tradition of excavations in Greece!"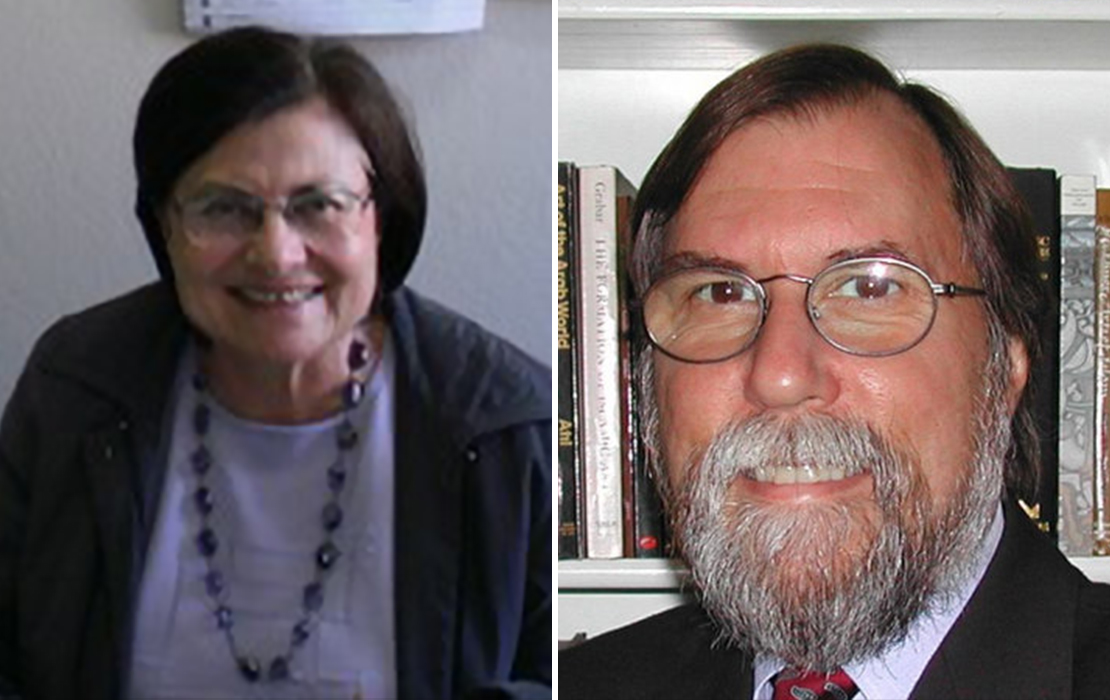 Katerina Synodinou and Karl Petruso (photo courtesy of University of Texas)
Karl M. Petruso is Dean Emeritus of the Honors College and former Professor of Anthropology at the University of Texas at Arlington. While Petruso is not an alumnus of UC, he participated in this campaign to pay tribute to alumni/ae such as Jack Caskey: "Professor Caskey generously invited me to publish my dissertation research as a volume of the Keos Excavations series. Getting to know him and Miriam in my visits to the apotheke at Ayia Irini was one of the most pleasant and gratifying experiences of my career." Petruso, a former Associate Member and Fellow of the School, also wanted to support the Loring Hall renovation: "Over the decades, I have enjoyed the hospitality of Loring Hall occasionally on summer visits to the School. I have especially fond memories of many congenial conversations over afternoon tea and evening ouzo in the Loring Saloni during the two years in the mid-1970s when my wife Nancy and I resided in Athens."
Victoria Sabetai, Director of Research in the Research Centre for Antiquity of the Academy of Athens and American School Associate Member, commented, "At the crossroads of the University of Cincinnati and the American School stand two major resources, both named "Blegen Library" after Carl Blegen. Both libraries play extremely important roles in the cultivation and promotion of archaeology in Greece and the United States. But they are not the sole link between the UC and the American School, for these institutions have always enjoyed a rich collaboration on the academic level and beyond. The new University of Cincinnati Room will support the next generation of scholars and also serve as a constant reminder of the links between these important centers of archaeology which bridge countries and cultures in a thorough and inspiring way. Both institutions provided me with multiple opportunities for intellectual and scholarly growth in my early archaeological career, and I commend the donors for their generous gift."
Katerina Synodinou, Professor Emerita of Ancient Greek Literature at the University of Ioannina, said, "The American School and the University of Cincinnati are strongly associated as far as my experience is concerned. To begin with, as a prospective graduate student at the University of Cincinnati, I was interviewed by Professor John L. Caskey, then Head of the Department of Classics at the University of Cincinnati, in the garden of the School. That time I just had a look from the outside at the Blegen Library of the American School. At Cincinnati, I was privileged to get to know in person the venerable Professor Carl W. Blegen. After the completion of my studies and my return to Athens, I was honored with a membership of the School and became a regular visitor to the Blegen Library (this was a continuation of my studies in a way). After my election to the University of Ioannina faculty, my bonds to the American School became even stronger. When in Athens, my first destination was the valuable Blegen Library. Not only is the Library complete, but it is also a meeting place. I keep meeting there old fellow students from Cincinnati, now distinguished scholars of Classics. A University of Cincinnati Room in the Student Center of the American School will be a tribute and a fitting testimony to the fruitful and unceasing collaboration between the American School and UC for the promotion of Classical Studies and the friendship of American and Greek people."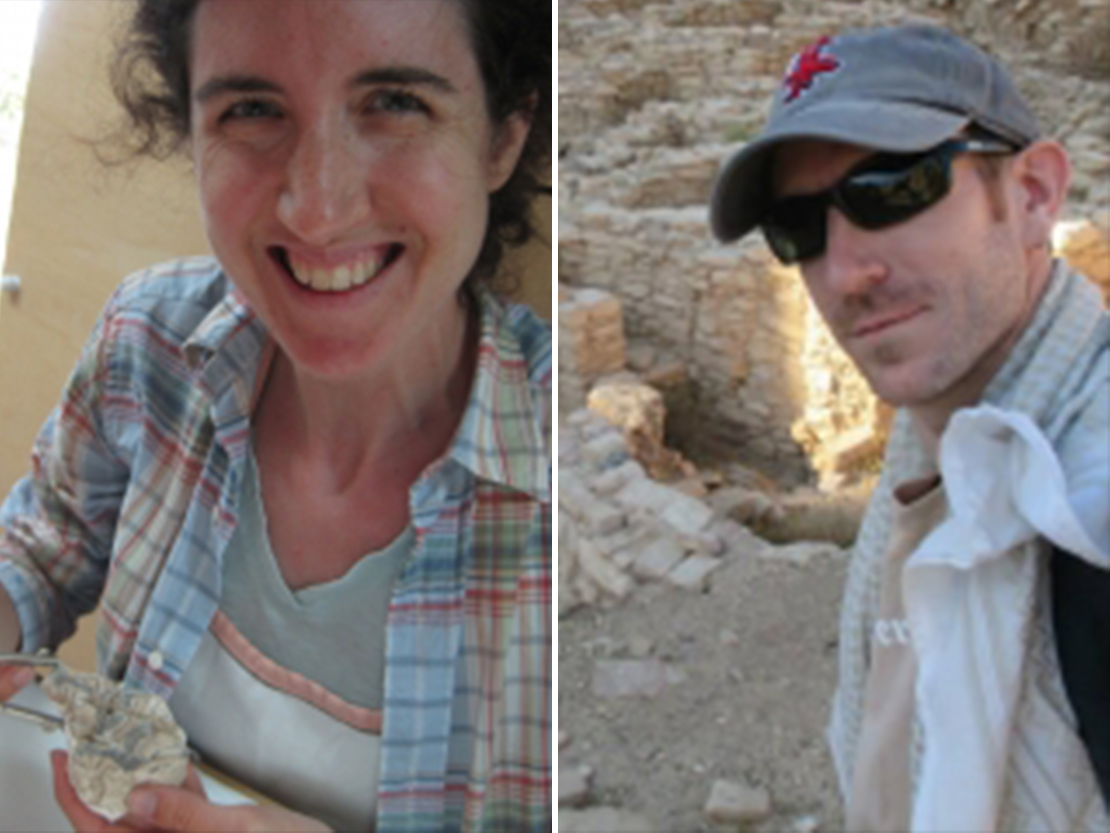 Emily Egan and Christian Cloke
Emily Egan, Assistant Professor of Eastern Mediterranean Art and Archaeology at the University of Maryland (UMD), and Christian Cloke, Associate Director of Michelle Smith Collaboratory for Visual Culture at UMD, are both former Regular and Associate Members of the American School. The couple explained, "The University of Cincinnati has had a long and rich collaboration with the American School. Carl W. Blegen, who attended the School as a student in 1910, served as its Secretary, Assistant Director, and then Acting Director between 1912 and 1927 before joining UC's Department of Classics as Professor of Archaeology (1927–1957). Subsequently, the School's directorship would be held by UC Professors Jack L. Caskey (1949–1959) and Jack L. Davis (2007–2012). All three men excavated widely in Greece, and materials from their studies are held in Archives in Cincinnati and Athens, and libraries in both locations are named in Blegen's honor. Today, UC remains involved through its students and faculty in American School field projects, including its landmark work in the Athenian Agora and at Corinth, and for many years the Department has sent its graduate students to the School to participate in the Regular and Associate Member programs. As veterans of both programs, we consider our lives greatly enriched by the firsthand experiences we had while living and learning in Greece. In celebration of such memories, which we share with many others from UC, a named room in the Student Center serves as a symbolic reminder of the fraternal bond forged long ago between our two institutions, and as a wish for its continued nourishment and growth."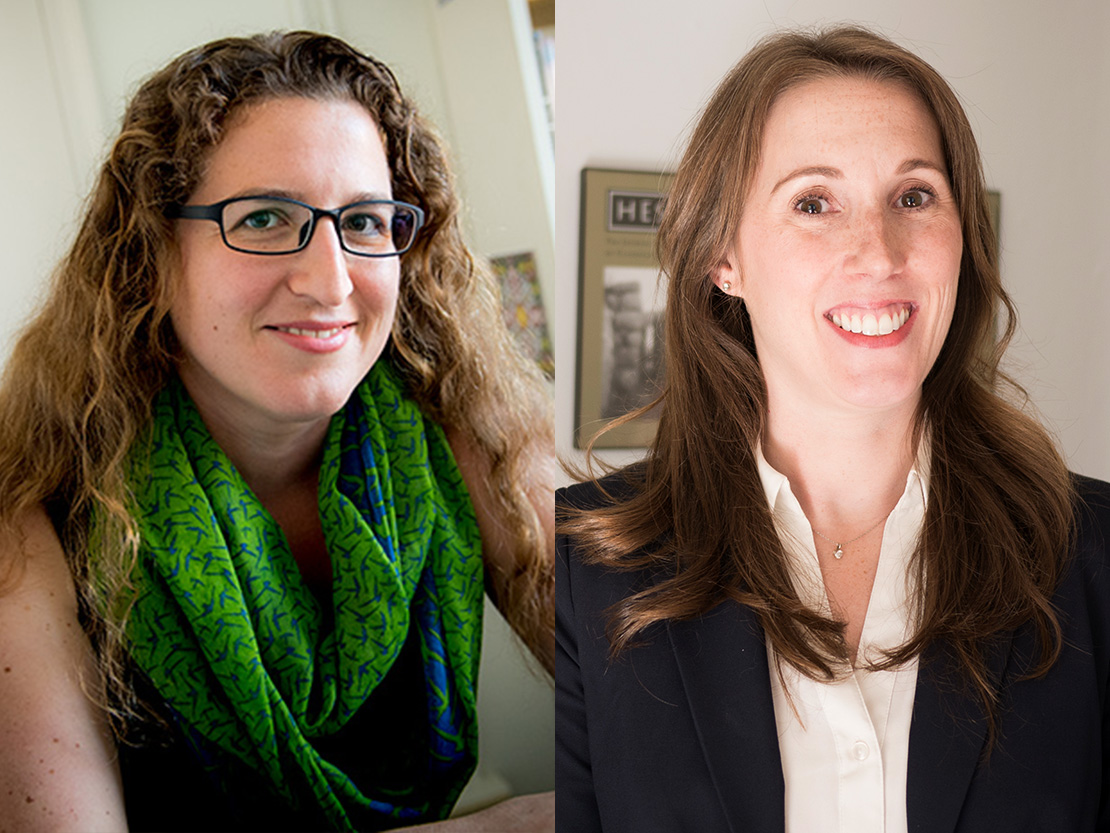 Emilia Oddo (photo courtesy of Tulane University) and Jennifer Sacher
Emilia Oddo, Assistant Professor at Tulane University, noted, "As an alumna of the University of Cincinnati, I am proud that my institution will be recognized in the renovated Loring Hall at the American School. The University of Cincinnati Room honors the prestigious history of the archaeological collaboration between UC and the American School. It honors its authority in the field and its scholarly endeavors, all of which have been intimately connected to the American School. For graduate students and faculties alike, working and learning within the School is part of the archaeological training and pedigree. In fact, the high-profile scholarship produced by UC has been nurtured in and by the American School. As a faculty member myself, I now carry with me the formative experiences I shared with my peers as a graduate student, when Loring Hall was my home, far away from Cincinnati, and yet immensely alike in mission, scope, inspiration."
FRIENDS OF THE UNIVERSITY OF CINCINNATI
Jack Davis and Kathleen Lynch profoundly thank the many donors (see list below) who supported the University of Cincinnati Room: "These friends of UC—from our wonderfully eminent colleagues to current students and young scholars—have made this vision a reality. We take great pride in honoring our alumni/ae and hope that this inspires Cincinnatians to continue contributing to the academic life of the American School."
Stelios Andreou, William Aylward, Jeffrey R. Banks, Sarah E. Beal, Julie Bentz, John M. Bouda, Gerald Cadogan, Christian F. Cloke and Emily C. Egan, John E. Coleman, Monessa F. Cummins, Jack L. Davis and Sharon R. Stocker, Joseph W. and Leslie P. Day, Steven Ellis, Anne C. Feltovich, Lauren Ginsberg, Eugenia Gorogianni, Eleni Hasaki and Alan May, Carol R. Hershenson, Shannon L. Hogue, Julie A. Hruby, Jeff Kaimowitz, Robert and Gatewood F. Kerr, Dennis W. Kurlas, Lynne Kvapil, Mr. and Mrs. Daniel B. Levine, Charles J. Lowry, Susann S. Lusnia, Stephen F. Matter and Kathleen M. Lynch, William W. McGrew, Ian D. McPhee and Elizabeth G. Pemberton, Joanne M. Murphy, James M. L. Newhard, Emilia Oddo, Daniel K. Osland, John C. Overbeck, Karl M. Petruso, Susan Prince, Kathleen M. Quinn, Jennifer Sacher, Harry and Ann H. Santen, Malcolm Schofield, Barbara A. Shailor, Eva M. Stehle, Peter van Minnen, Jean S. Wellington, David Wilson, John Younger and Paul Rehak, and anonymous donors.
The University of Cincinnati's Nippert Stadium (photo courtesy of University of Cincinnati)
ABOUT THE UNIVERSITY OF CINCINNATI
Founded in 1819, the University of Cincinnati in Ohio is a premier public research university dedicated to undergraduate, graduate, and professional education, experience-based learning, and research. With an enrollment of more than 46,000 students and 414 degree programs, UC provides an inclusive environment where innovation and freedom of intellectual inquiry flourish. Today, more than 300,000 living alumni count themselves as "Bearcats"—united not only by their loyalty to UC athletics but also by their shared love of the place, the people, and the ideas that make up the University of Cincinnati.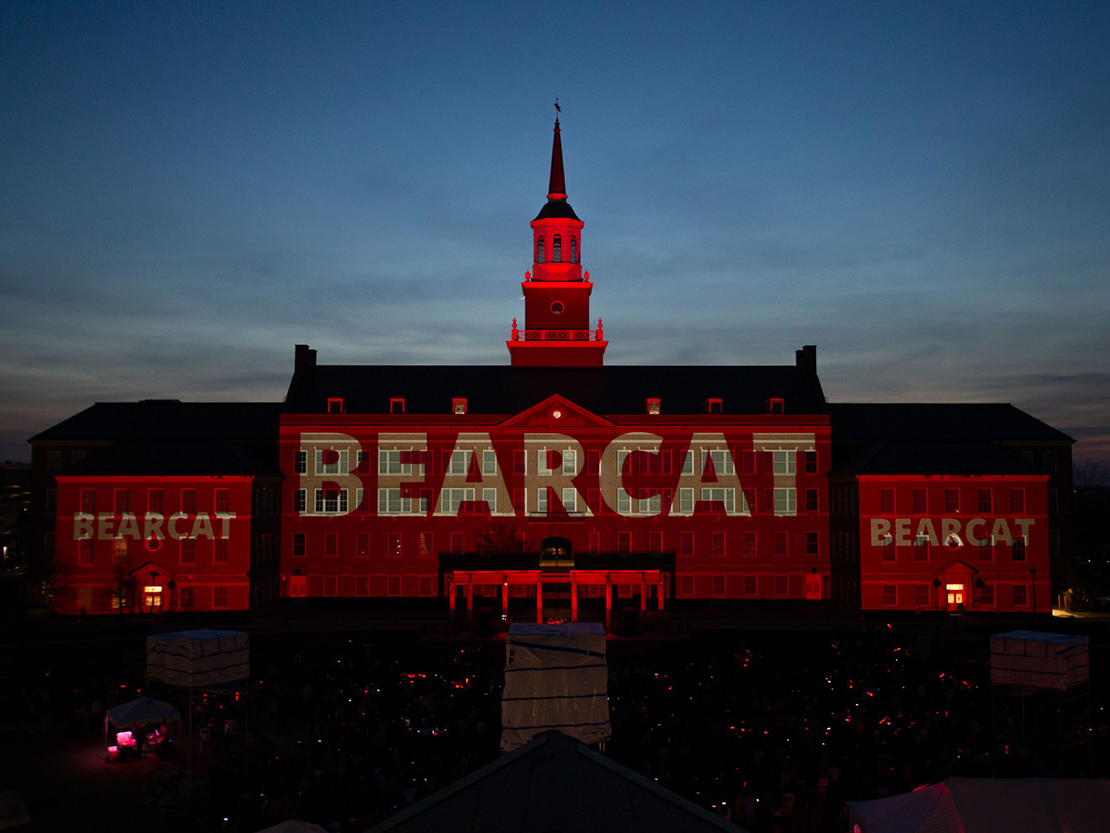 A University of Cincinnati light show (photo courtesy of University of Cincinnati)
ABOUT THE STUDENT CENTER CAMPAIGN
The Student Center Campaign was launched in October 2018 to raise funds for renovating and expanding the three aging buildings that serve as the intellectual and residential heart of the American School: Loring Hall, the Annex, and West House. This transformative project will increase housing capacity, reduce energy consumption, add state-of-the-art features and technology, and bring the buildings up to the latest technical standards—all while preserving the complex's historical appearance. The Student Center will remain the place where members of the community gather for meals, tea, ouzo hour, holiday celebrations, and lectures—a source of lifelong professional and personal relationships that characterize the collegial and intellectually vibrant atmosphere of the School. This modernized setting will enhance that experience and will meet the needs of the School community well into the future.
SUPPORT THE CAMPAIGN
The goal of the Student Center campaign is $9.4 million, inclusive of a maintenance endowment. Thanks to generous supporters like the Friends of the University of Cincinnati, $7.7 million has been raised to date. The new Student Center is expected to open in June 2021.
To learn more about how you can support this historic initiative, please contact Nancy Savaides, Director of Stewardship and Engagement, at nsavaides@ascsa.org or 609-454-6810. Naming opportunities for a variety of spaces in the Student Center are still available. Donors can choose from a wide range of gift levels to name a room or area in honor of themselves, an American School scholar, or a family member, friend, or group. Please click the links below to view the nameable spaces and options that remain:

STUDENT CENTER CONSTRUCTION PHOTO GALLERY
Click this link to view more photographs of the work in progress.

The University of Cincinnati Commons (photo courtesy of UC)