Return to News
Family and Friends Name Barbara Tsakirgis Room in New Student Center
The American School of Classical Studies at Athens is pleased to announce a gift from the family and friends of Barbara Tsakirgis in support of the renovated Student Center. The Barbara Tsakirgis Room memorializes the noted scholar on ancient Greek domestic architecture and longtime member and officer of the School's Managing Committee. She had an extraordinary passion for Greece and was known for her devotion to teaching and to her family, friends, and students.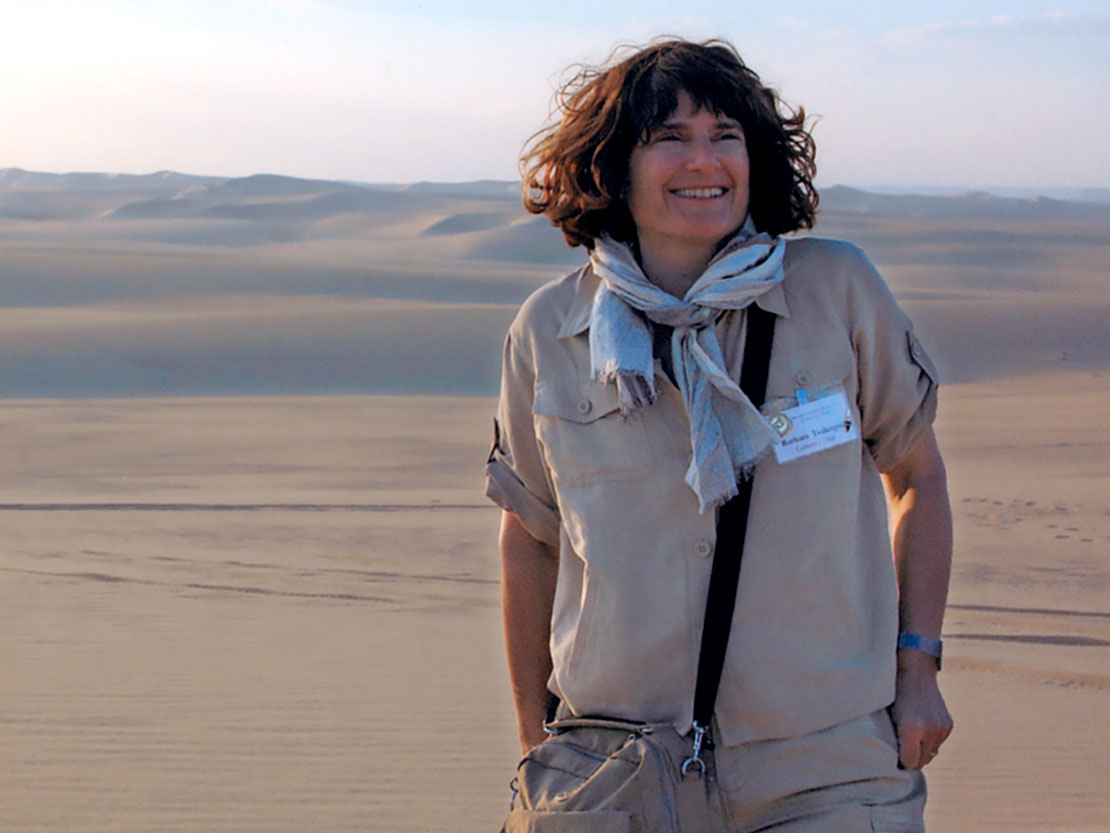 Barbara Tsakirgis at the Great Sand Sea near Siwa, Egypt, 2006 (photo by Kate Ortner)
Barbara Tsakirgis (1954–2019) was a classical archaeologist, professor, educational pioneer, and author. She received a B.A. (cum laude) from Yale University (1976) and an M.A. (1979) and Ph.D. (1984) from Princeton University. She was Associate Professor of Classics and Art History at Vanderbilt University, where she taught for more than 30 years and chaired the Department of Classical Studies from 2005 until 2011. Tsakirgis co-edited the groundbreaking Houses of Ill Repute: The Archaeology of Brothels, Houses, and Taverns in the Greek World and published important articles in the American Journal of Archaeology and Hesperia.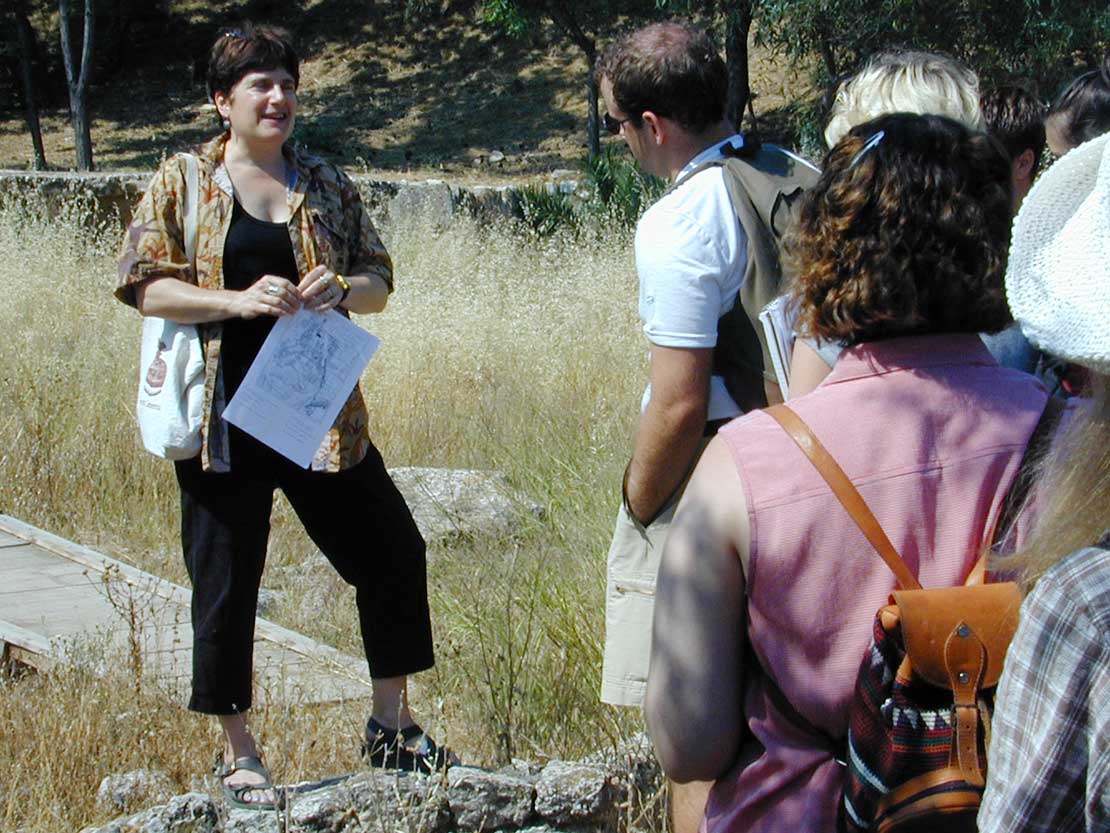 Barbara Tsakirgis teaches students during an American School trip
Barbara's first contact with the American School was in 1975 when she participated in the Summer Session as an undergraduate. She returned as a Fulbright Scholar and Regular Member in 1980–1981. She would subsequently become a dynamic force for the School, serving as a Managing Committee member (1988–2018), President of the Alumni/ae Association (1992–1995), Whitehead Professor (1996–1997), and Vice-Chair of the Managing Committee (2012–2016).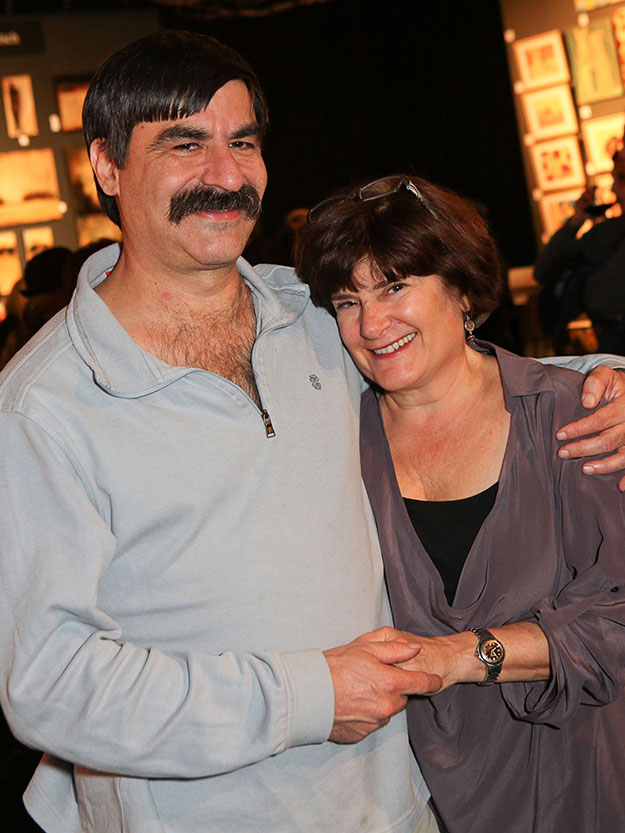 Jeremy Spinrad and Barbara Tsakirgis, ca. 2013 (Barbara Tsakirgis Photo Collection)
Jeremy Spinrad, Barbara's husband of 36 years and Associate Professor of Computer Science at Vanderbilt University, explained, "Barbara loved everything about the American School. She loved her work at the Agora excavations, the atmosphere of scholarship at the School, and exploring subjects deeply in the library. Most of all, she loved the people who make the American School what it is."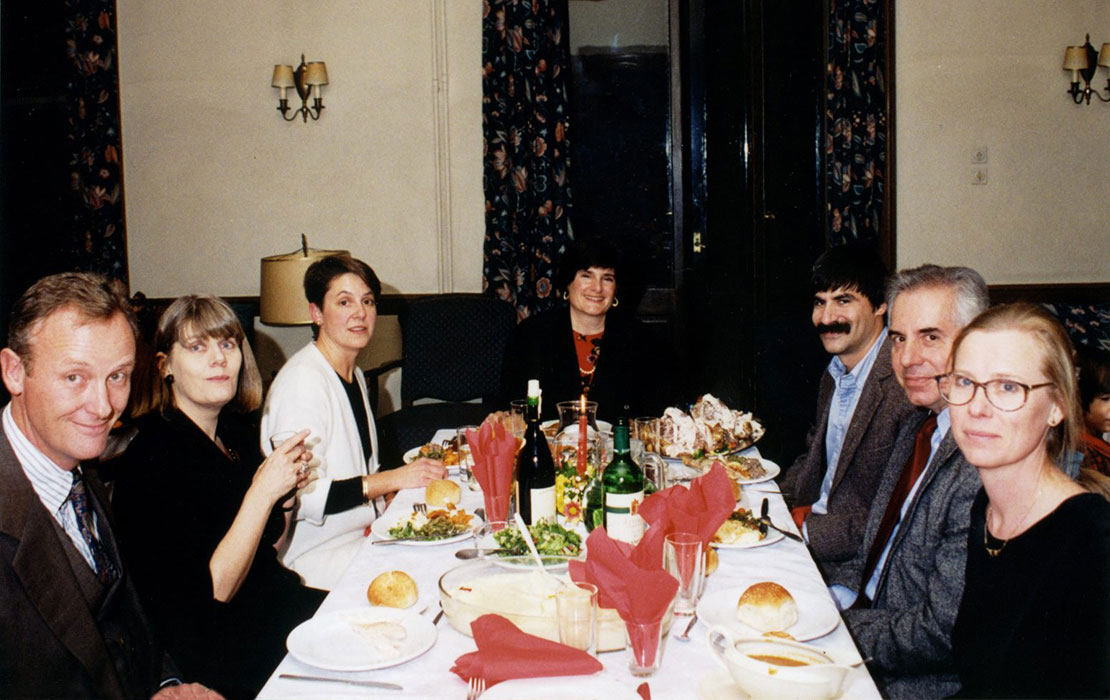 Members from the American and British Schools enjoy a holiday dinner in Loring Hall. From left: Guy Sanders, Penny Wilson, Jan Sanders, Barbara Tsakirgis, Jeremy Spinrad, Nikos Zarganis, and Marie Mauzy (photo courtesy of ASCSA Archives)
Spinrad added, "Barbara was a happy person in general, but I cannot recall her being happier than in her year spent as Whitehead Professor at the School. She loved being with the students and was always grateful for the way the students, staff, and administration nurtured our two young children, Demetria and Thalia, during the entire year. The friendships she made with the student group lasted a lifetime."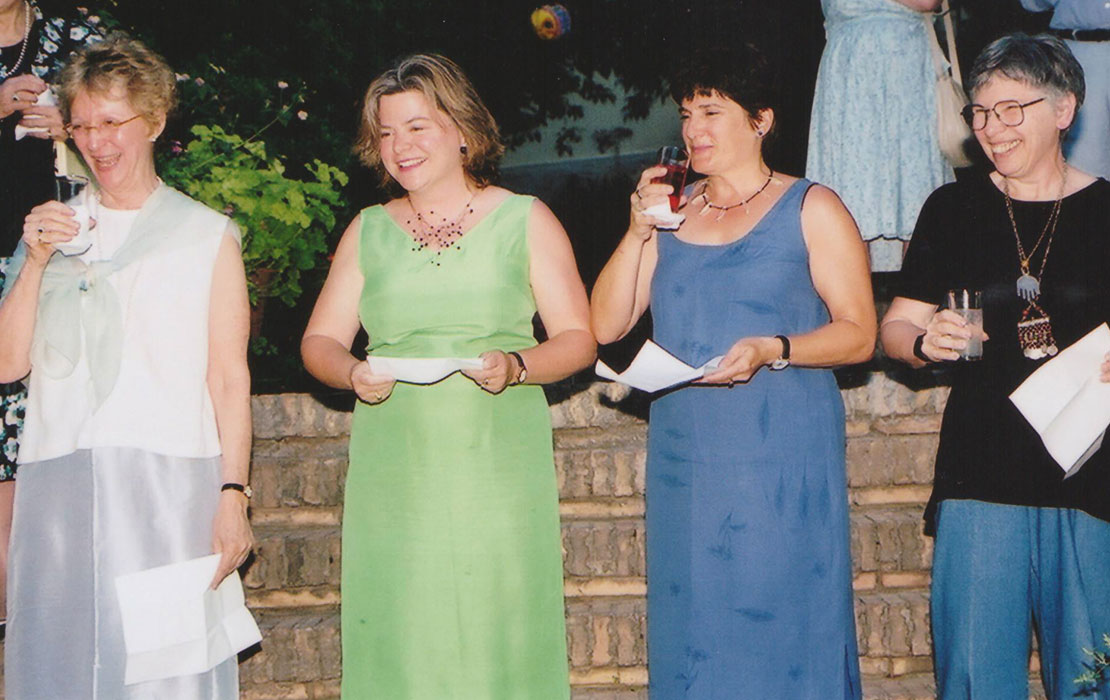 Caroline Houser, Jenifer Neils, Barbara Tsakirgis, and Marjorie Venit—self-styled the Caryatid Step Singers—composed and sang a tribute to their beloved friend and teacher, Evelyn Byrd Harrison, during Harrison's 80th birthday party at the School on June 14, 2000 (photo courtesy of ASCSA Archives)
Jenifer Neils, Director of the American School, reminisced, "In her many years at the American School, Barbara was always a joyful presence, sharing her unbounded enthusiasm for all things Greek, willing to trek just about anywhere in the Mediterranean, and serving untiringly on our Managing Committee. As a Whitehead Professor, loyal lecturer in countless summer sessions, and author of numerous scholarly articles, she taught us much about Greek houses, from their mosaic floors to their chimney pots. Barbara was generous to a fault with her time on committees, not just of the School, but also of the Archaeological Institute of America and Vanderbilt University. Other venues to which Barbara gave much of her time, talents, and extraordinary energy were the Nashville Parthenon and the excavations at Morgantina, Sicily, where she began work as a graduate student at Princeton, writing her doctoral dissertation on its Hellenistic domestic architecture."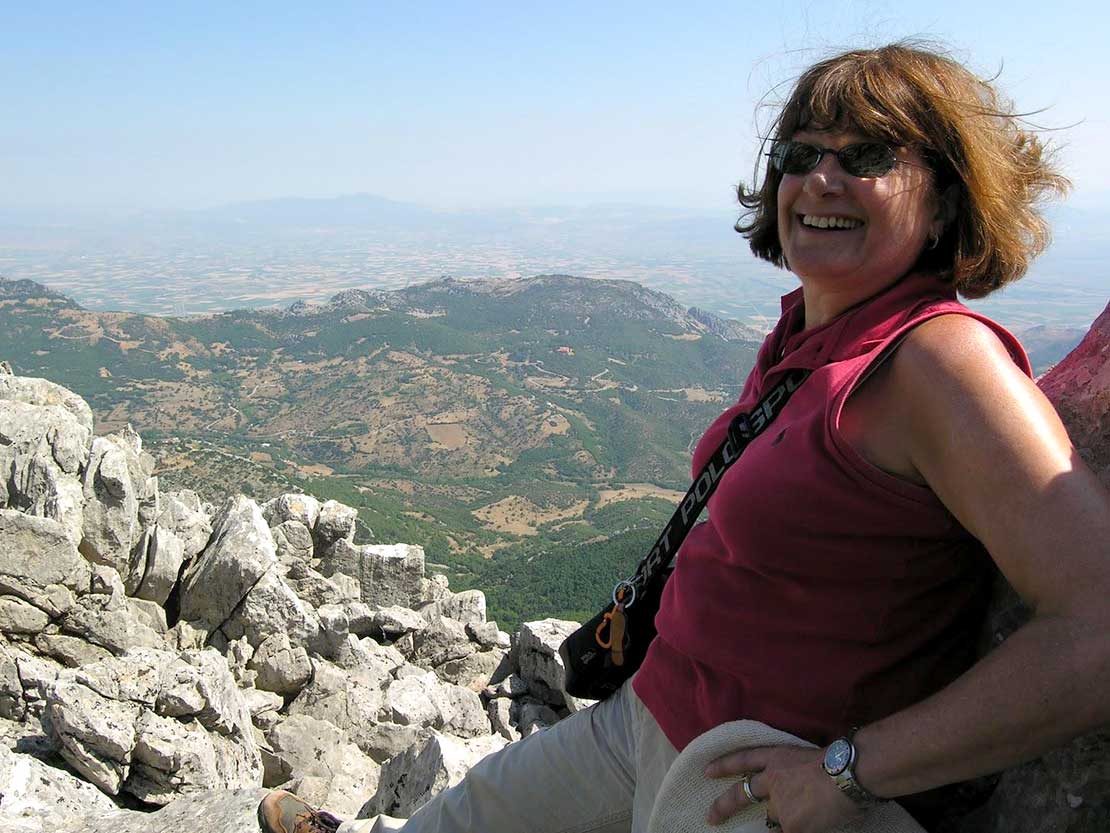 Barbara Tsakirgis atop Mt. Helikon in Greece, 2009 (photo courtesy of Betsey Robinson)
Betsey A. Robinson, Associate Professor of History of Art at Vanderbilt University, remarked, "Barbara Tsakirgis had a huge impact on the field of classical archaeology—in scholarship, in leadership roles, and in her generosity with her time and thoughts to students and colleagues alike. She was a dedicated teacher, known for being tough but caring, and some of her best students have followed in her footsteps to become professors of classical art and archaeology."
Tsakirgis was one of the first classical archaeologists to look beyond the Parthenon and other monumental works to study domestic architecture and reconstruct the regular lives within. According to Robinson, "Barbara was a trailblazer in what's now widely known as 'legacy archaeology'—excavating the archives and storerooms for new insights into old excavations."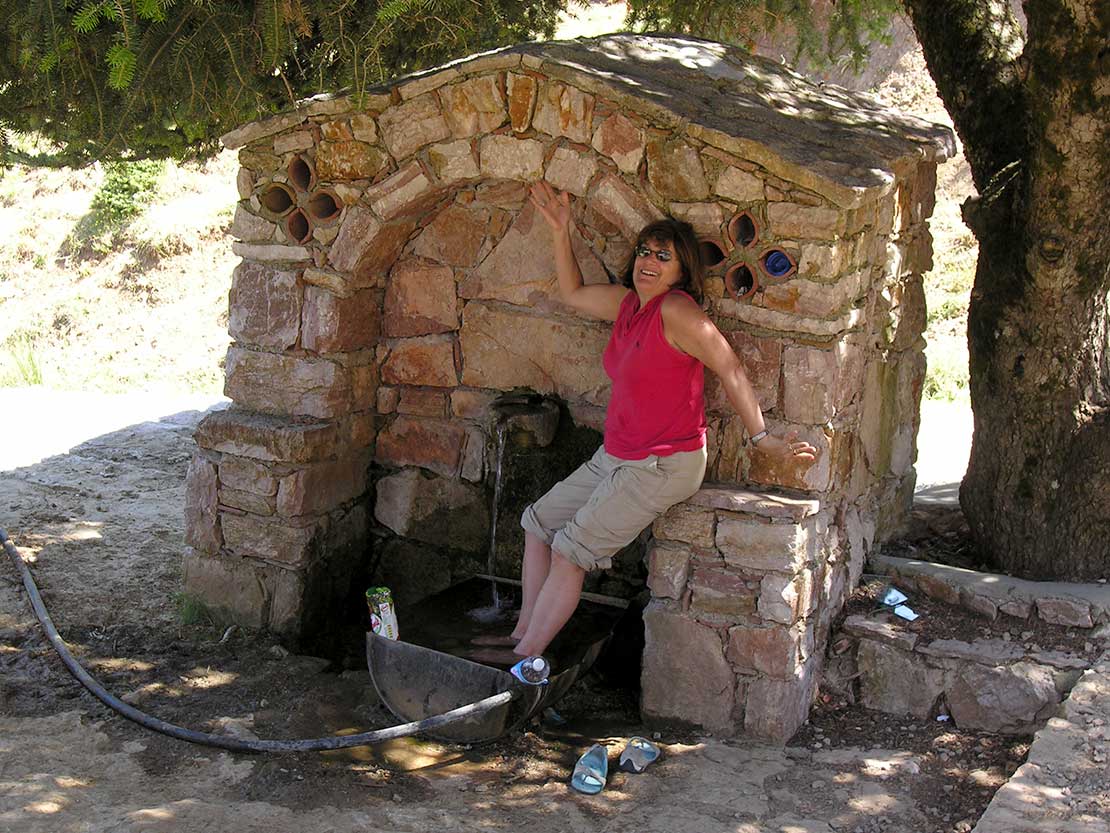 Barbara Tsakirgis cools her heels in one of the fountains near the foot of Helikon (photo courtesy of Betsey Robinson)
Robinson felt privileged to have been able to work closely with Tsakirgis for ten years: "Barbara was a wonderful mentor, a fellow traveler, a keeper of confidences, and a moral/ethical compass. She could take charge where necessary but was also a great team player. She was someone to think with, to build with. She made profound contributions to our knowledge of the ancient Greeks, and she served enthusiastically. Most of all, she was an incredible person, an example for all of us in what she made of life, for herself, and for those around her."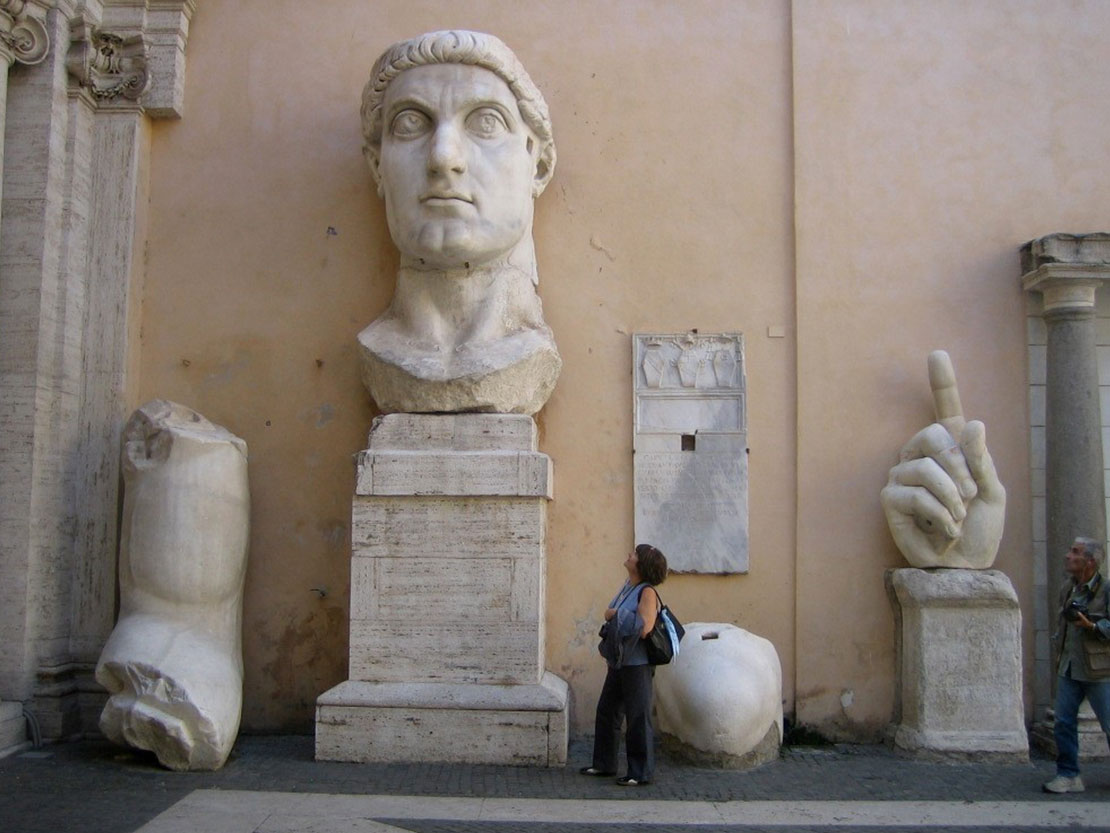 Barbara Tsakirgis observes fragments of the Colossus of Constantine in Rome (photo courtesy of Kathleen Lynch)
Kathleen M. Lynch, Professor of Classics at the University of Cincinnati and Vice-Chair of the School's Managing Committee, agreed: "Barbara never met a stranger or an enemy. Regardless of one's status—from director to student—she greeted everyone with kindness and respect, and she had time for everyone, eager to hear what you were working on and to offer advice, and, to the very last, interested in the latest news from the field and profession. Classical archaeology has lost a dear colleague, mentor, and champion."
ABOUT THE FAMILY AND FRIENDS OF BARBARA TSAKIRGIS
Jeremy Spinrad and his daughters Demetria and Thalia joined with Barbara Tsakirgis' friends, colleagues, and students to collect the funds necessary to name a bedroom in her honor. The Barbara Tsakirgis Room is located on the second floor of Loring Hall.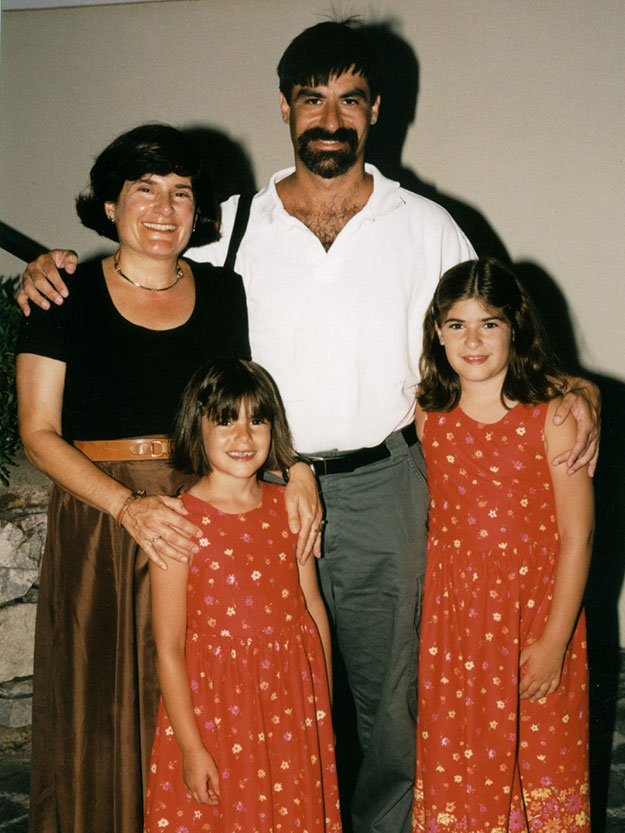 Barbara Tsakirgis and Jeremy Spinrad with their daughters, Demetria and Thalia, 1999 (photo courtesy of ASCSA Archives)
Spinrad noted: "Barbara's tragic illness prevented her from spending a happy retirement in Athens and the School. In its own way, this room will be a way for Barbara to make a final retirement to what was probably her favorite location in the world. Na se kala, Barbara."
If you would like to make a contribution in support of the Barbara Tsakirgis Room, please visit this link.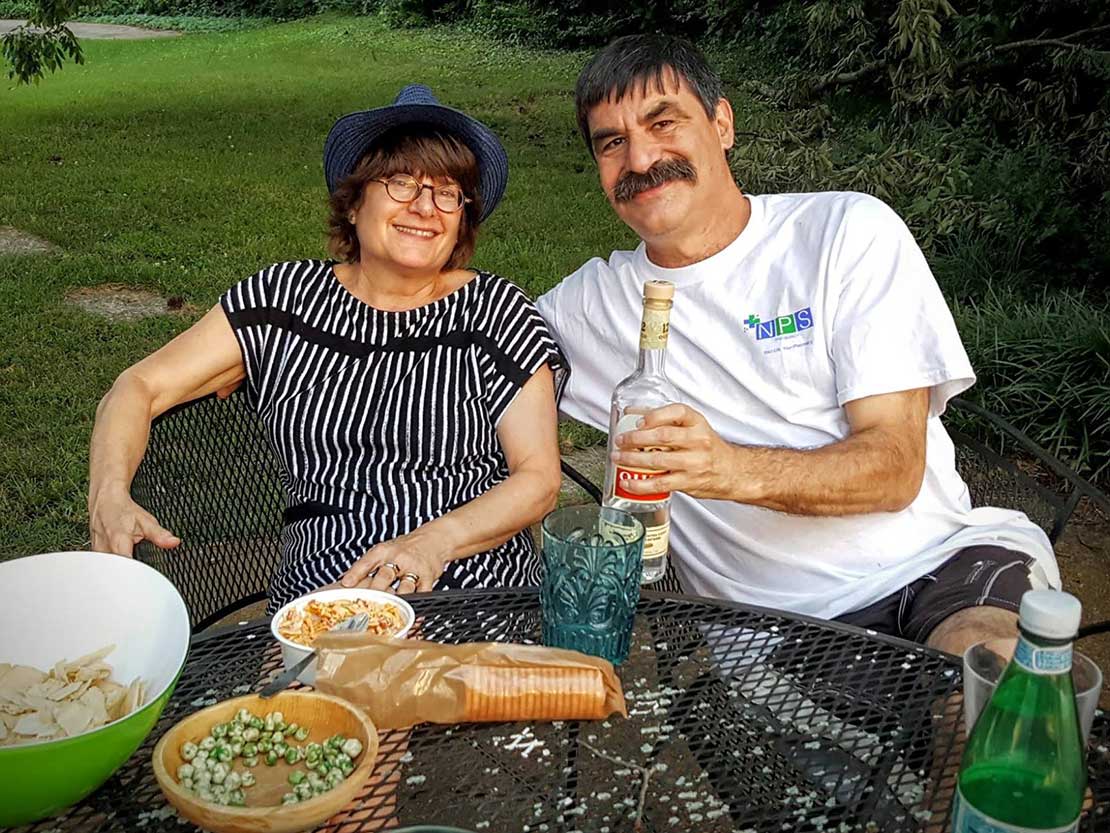 Barbara Tsakirgis and Jeremy Spinrad enjoy ouzo beside the Cumberland River in Nashville, summer 2016 (photo courtesy of Betsey Robinson)
George Orfanakos, Executive Director of the School, said, "On behalf of the American School, I convey our heartfelt gratitude to the family and friends of Barbara Tsakirgis for honoring her in this most meaningful way. This dedication ensures that her presence will continue to be felt amongst us as a source of inspiration for future generations of students and scholars."
ABOUT BARBARA TSAKIRGIS
Barbara Tsakirgis in the Nashville Parthenon (photo by Daniel Dubois/Vanderbilt University)
Barbara Tsakirgis was born on May 12, 1954, in Arlington, Massachusetts. A proud New Englander, she studied at Yale University from 1972 to 1976, earning a B.A. cum laude in Classics. She continued her education in the Department of Art and Archaeology at Princeton University, where she earned an M.A. in 1979 and Ph.D. in 1984. Her doctoral dissertation, "The Domestic Architecture of Morgantina in the Hellenistic and Roman Periods," presented the Hellenistic and Roman houses at Morgantina, the Sicilian site where Princeton began excavations in 1955. Though responsibility for the site had passed to the University of Illinois at Urbana-Champaign under the direction of fellow Princetonian Hugh Allen, and then to another Princeton graduate, Malcolm Bell III at the University of Virginia, Tsakirgis took up the study of the houses as part of a team of students and scholars working to publish the results of decades of excavation and to continue on-site investigation. This research would form the foundation of her lifetime engagement with the Greek house and household.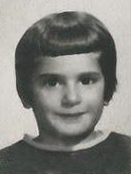 Barbara Tsakirgis' kindergarten photo, 1959 (Barbara Tsakirgis Photo Collection)
In 1975, as a Classics major at Yale, Tsakirgis participated in the American School's Summer Session. As a graduate student, she returned to the American School as a Fulbright Scholar and Regular Member in 1980–1981. Those years in Athens profoundly influenced the course of her career, and she would return to Greece nearly every subsequent summer until the end of her life. She was also a veteran of the summer program at the American Numismatic Society in 1982. Her training included excavation seasons at La Befa, Italy; Corinth; and Morgantina, where she served as Associate Director in 1987–1988. Beyond excavation, her research annually took her into the field for study seasons at Morgantina or Athens, sometimes both.
Barbara Tsakirgis' high school yearbook photo, 1972 (Barbara Tsakirgis Photo Collection)
Tsakirgis started her professional teaching career at Princeton University as an Assistant Instructor in 1979. In 1984, she joined Vanderbilt University as Assistant Professor in the Department of Classical Studies and was affiliated with the Department of the History of Art; she was to spend the rest of her career in Nashville. In 1992, she was promoted to Associate Professor with tenure and in 2017 retired as Professor Emerita. Among her many services to Vanderbilt, she was first Secretary and then Chair of the Faculty Council of the College of Arts and Science and then Secretary of the College Faculty, and she also served in various posts related to the Faculty Senate and on numerous faculty search committees. She served as chair of the Department of Classical Studies from 2005 to 2011, during which time she oversaw a growth in faculty numbers and the inauguration of the Program in Classical and Mediterranean Studies (which occasioned the renaming of her home department to reflect this wider scope) as well as a move to a new building. Previously, she had also served as director of both undergraduate and graduate studies.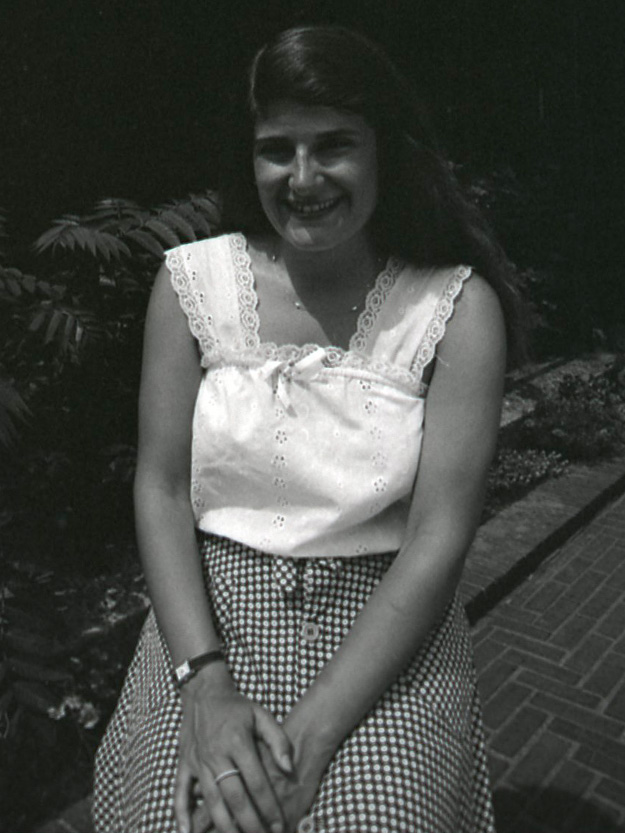 Barbara Tsakirgis as an American Numismatic Society student, 1982 (photo courtesy of the American Numismatic Society)
Tsakirgis' earliest publications considered the mosaics and tiled floors of the Morgantina houses and continue to be necessary reading for the history of Greek floor treatments. She published one of the earliest extant tessellated mosaics, the Ganymede mosaic in the House of Ganymede on the East Hill overlooking the city's agora, demonstrating that the technique was already in use in central Sicily (and thus in the milieu of Syracuse) in the third century B.C.E. In 1986, she received an American Council of Learned Societies grant-in-aid for her work at Morgantina, and a National Endowment for the Humanities summer stipend in 1993, in addition to various Vanderbilt Research Council grants to support summer research.
Barbara Tsakirgis as the "Mistress of Beasts," Vanderbilt, ca. 1985 (Barbara Tsakirgis Photo Collection)
She was also working on a book on Greek houses and households for Cambridge University Press, a volume she envisioned as a modern version of Bertha Carr Rider's study of the early 20th century. Though this volume remains unrealized, a synthesis on Greek houses providing a glimpse of Tsakirgis' long engagement with the subject is among the last of her publications.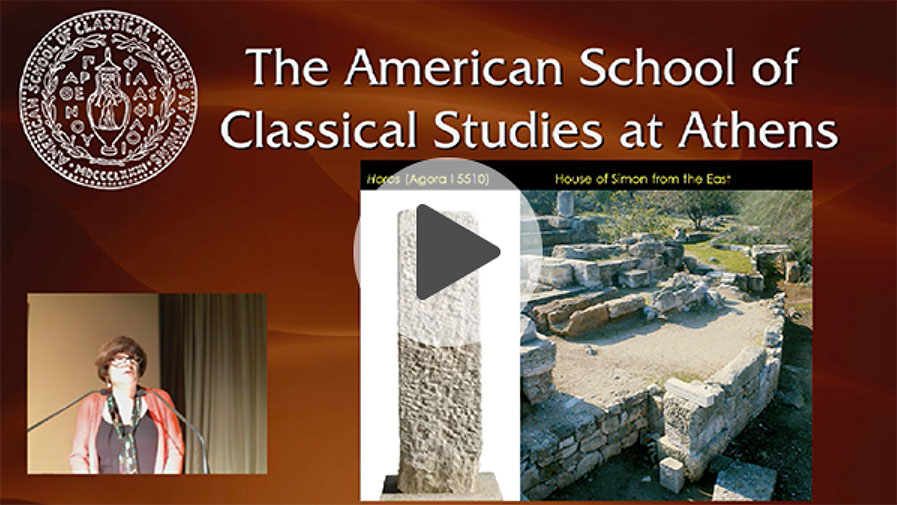 In addition to her other awards and honors, in support of her study of the Athenian Agora houses, Tsakirgis held a Whitehead Visiting Professorship at the American School in Athens in 1996–1997; a Solow Art and Architecture Foundation grant in 2000; Kress Agora Publication Grants in 2001–2002 and 2017–2018; a University of Cincinnati Summer Scholar fellowship in 2004; and an American Philosophical Society Franklin Grant in 2012.
As an archaeologist living in Nashville, Tsakirgis naturally found research inspiration in the modern copy of the Parthenon in Centennial Park. She offered popular lectures on the building and its replica of the cult statue of Athena Parthenos, and she also traced the influence of American School architect and professor of architecture William Bell Dinsmoor Sr., on the plan of the Nashville Parthenon. Her engagement with the Nashville Parthenon and Centennial Park is emblematic of her zeal to share antiquity with everyone as well as her skills as a public lecturer and teacher. She was well known as an engaging, innovative, and passionate professor, teaching a wide range of topics at Vanderbilt and fostering a number of undergraduate students who continued on to careers in classics and archaeology.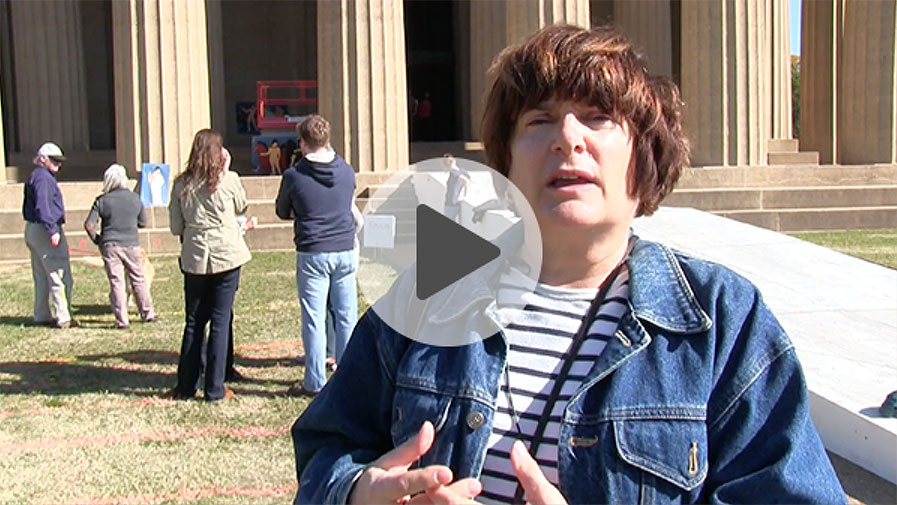 Barbara Tsakirgis speaks about Emory's Parthenon Project in 2012 (Robinson. 2019, February 19. "Barbara Tsakirgis on Emory's Parthenon Project." Retrieved from vimeo.com/user88508143)
Tsakirgis also dedicated her life to service to the field, most notably through the Archaeological Institute of America (AIA) and governance at the American School. Her commitment to the AIA culminated with the Joukowsky Distinguished Service Award in 2017, which acknowledged her extensive volunteer service educating in and advocating for archaeology. She was an officer of the Nashville AIA society, sometimes filling all leadership positions at once; during more than 25 years as a national lecturer, she visited nearly every other local society, making friends everywhere she went; and she was an Academic Trustee from 2000 to 2006. She led several AIA tours and served on a variety of AIA committees. Tsakirgis devoted herself to the governance of the American School throughout her career. She was a member of the Managing Committee from 1988 and served as Vice-Chair from 2012 to 2016. After she was elected to the Managing Committee, there was no time when she was not on a Managing Committee subcommittee, including Excavation and Survey (2000–2004). In addition, she was President of the Alumni/ae Association from 1992 to 1995. Her devotion reflected her keen desire to give back to the institutions that had nurtured her passion for archaeology. Other professional service obligations included the Classical Association of the Midwest and South, and the College Art Association. In Nashville, she sat on the Board of the Conservancy for the Parthenon and Centennial Park, and she lectured about the Nashville Parthenon at many local schools.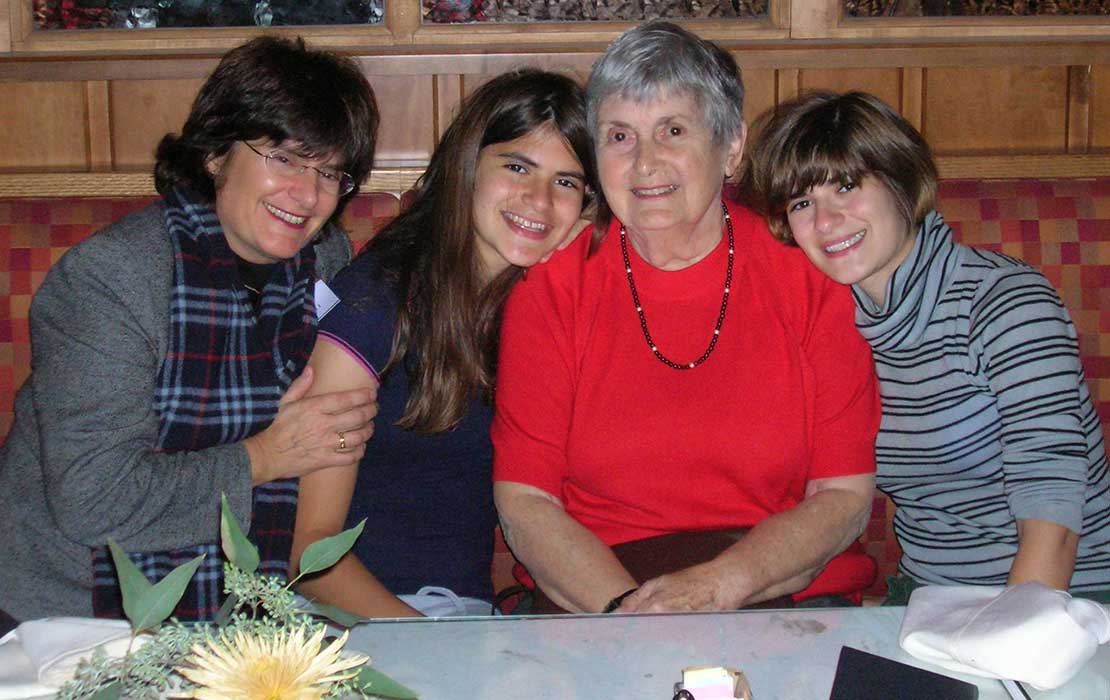 Barbara Tsakirgis with her daughters, Thalia (second from left) and Demetria (far right) Spinrad, and mother, Ann Tsakirgis (second from right), ca. 2015 (Barbara Tsakirgis Photo Collection)
On January 16, 2019, Tsakirgis died in Nashville, Tennessee, after a courageous battle with ALS. She is survived by her husband, Jerry Spinrad, and her daughters, Demetria and Thalia.
Source: Antonaccio, Carla M., and Lynch, Kathleen M. "Barbara Tsakirgis, 1954–2019," American Journal of Archaeology 123 (2019) 509–512. Courtesy of the Archaeological Institute of America and the American Journal of Archaeology.
ABOUT THE STUDENT CENTER CAMPAIGN
The Student Center Campaign was launched in October 2018 to raise funds for renovating and expanding the three aging buildings that serve as the intellectual and residential heart of the American School: Loring Hall, the Annex, and West House. This transformative project will increase housing capacity, reduce energy consumption, add state-of-the-art features and technology, and bring the buildings up to the latest technical standards—all while preserving the complex's historical appearance. The Student Center will remain the place where members of the community gather for meals, tea, ouzo hour, holiday celebrations, and lectures—a source of lifelong professional and personal relationships that characterize the collegial and intellectually vibrant atmosphere of the School. This modernized setting will enhance that experience and will meet the needs of the School community well into the future.
SUPPORT THE CAMPAIGN
The goal of the Student Center campaign is $9.4 million, inclusive of a maintenance endowment. Thanks to generous supporters like the family and friends of Barbara Tsakirgis, $7.7 million has been raised to date. The new Student Center is expected to open in June 2021.
To learn more about how you can support this historic initiative, please contact Nancy Savaides, Director of Stewardship and Engagement, at nsavaides@ascsa.org or 609-454-6810. Naming opportunities for a variety of spaces in the Student Center are still available. Donors can choose from a wide range of gift levels to name a room or area in honor of themselves, an American School scholar, or a family member, friend, or group. Please click the links below to view the nameable spaces and options that remain:

STUDENT CENTER CONSTRUCTION PHOTO GALLERY
Click this link to view more photographs of the work in progress.