Return to News
Greg Lavender Names John McKesson Camp II Salonaki in New Student Center
The American School of Classical Studies at Athens is pleased to announce a generous gift from Greg Lavender in support of the renovated Student Center. Dr. Lavender has named the John McKesson Camp II Salonaki to honor the longtime Director of the School's Athenian Agora Excavations. The Salonaki is located on the first floor of Loring Hall between the Eugene Vanderpool Dining Room and the Diana E. E. and Fred S. Kleiner Saloni.
John Camp examines sherds at the Agora, 2015 (photo by American School)
John Camp is Director of the Athenian Agora Excavations of the American School of Classical Studies at Athens and the Stavros Niarchos Foundation Professor of Classics at Randolph-Macon College. He holds an A.B. in Classics from Harvard University (1968) and an M.A. (1972) and Ph.D. (1977) in Classical Archaeology from Princeton University. Camp is regarded as the foremost expert on the topography of Athens and Attica. His long association with the American School's Agora excavations dates back to 1966 when he joined the staff as an excavator. He continued as Agora Fellow in 1972, then as Assistant Director from 1973, and has served as Director since 1994. He was also the School's Andrew W. Mellon Professor of Classical Studies from 1985 to 1996. Camp has published and lectured widely, and he has received many awards and honors for his work, including the Aristeia Award for Distinguished Alumni/ae of the American School.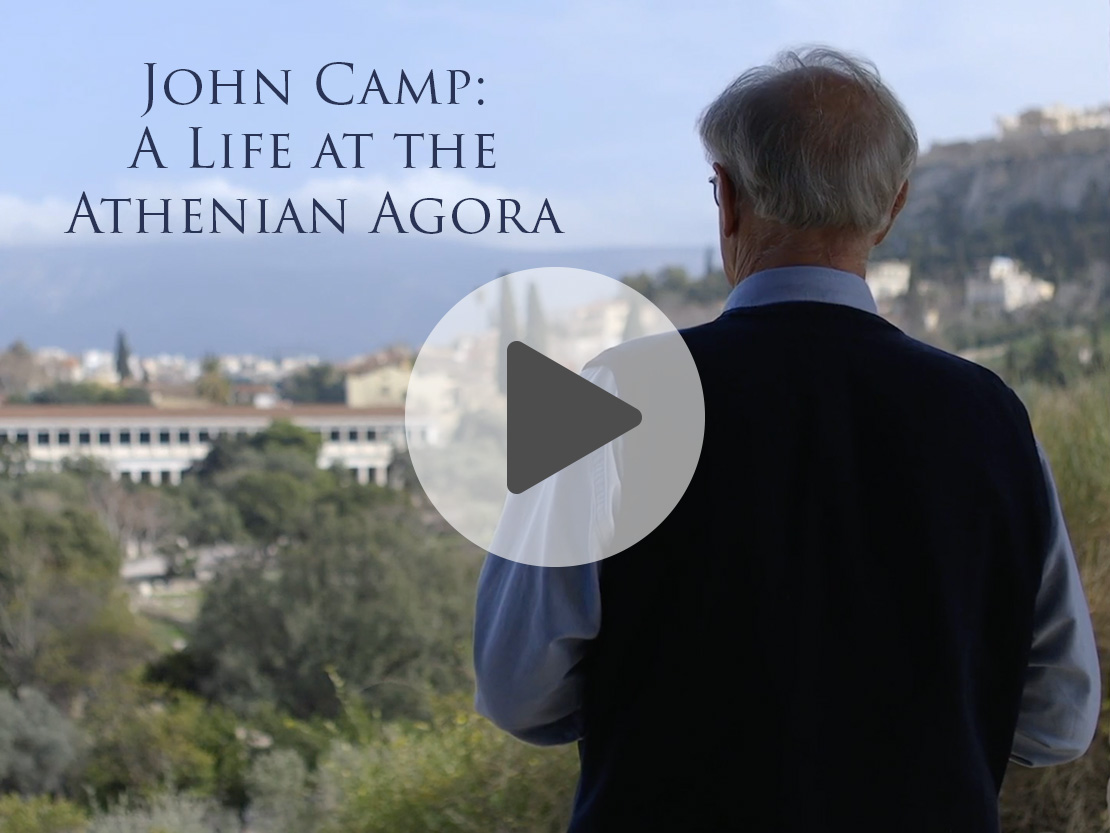 Greg Lavender is Senior Vice President and Chief Technology Officer at VMware. He has served as an Information Technology Advisor to the School and drafted an important technology strategy report for the Trustees. In reflecting on his decision to honor Camp in this meaningful way, Lavender said, "John Camp has been part of the American School for over half a century. His life-long work and contributions to our knowledge of the Athenian Agora are unparalleled. The impact he has made on countless students' lives has inspired several generations of scholars. Honoring John in this way ensures that future generations will always remember his significant contributions to the American School and to the history and culture of ancient Greece."
John Camp (bottom right) gives Agora volunteers one of his famous site tours, 2010 (photo by American School)
In acknowledging this gift, William T. (Rob) Loomis, President of the School's Trustees, stated, "On behalf of the Trustees, I would like to thank Greg Lavender for his generous contribution to the American School and for honoring one of the School's most distinguished scholars."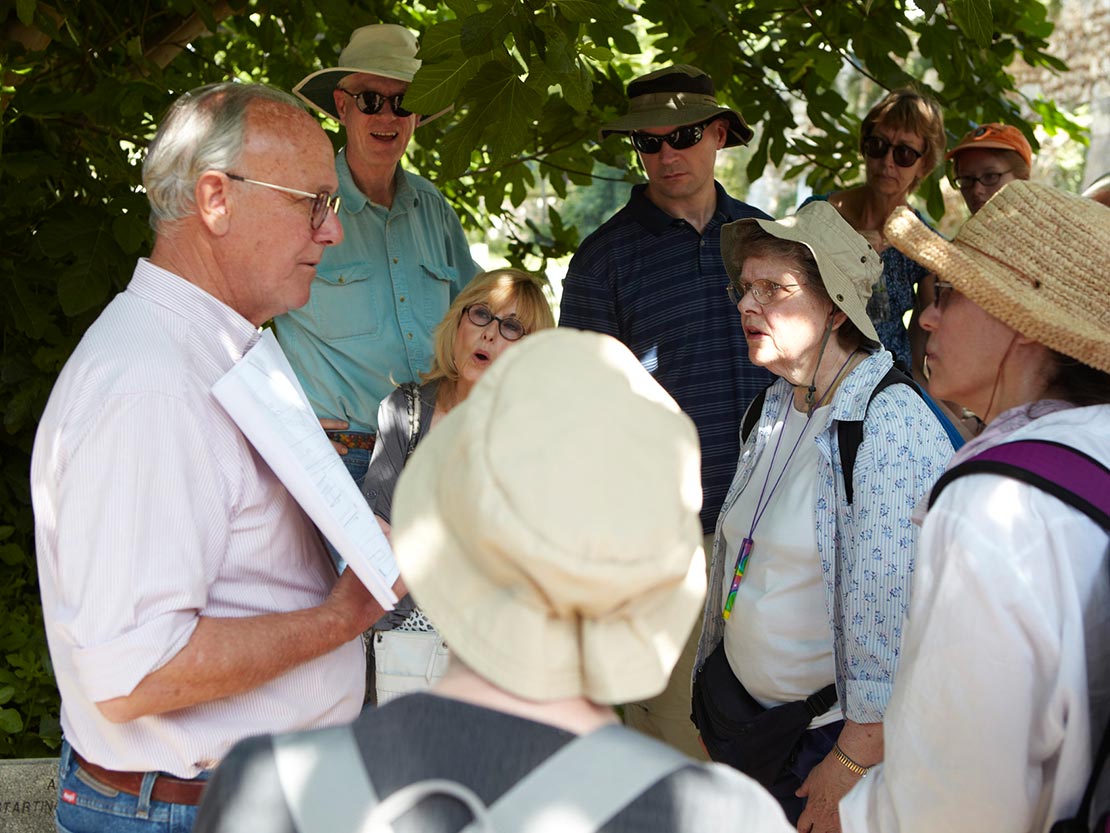 John Camp (far left) guides the School's Trustees and alumni/ae during their 2011 Agora visit (photo by Craig Mauzy/American School)
Loomis continued, "John Camp is the great link between the past and the future of American archaeology in Greece, the person who more than anyone else has been able to transmit the wisdom and experience of the great pioneers of the past to the next generation."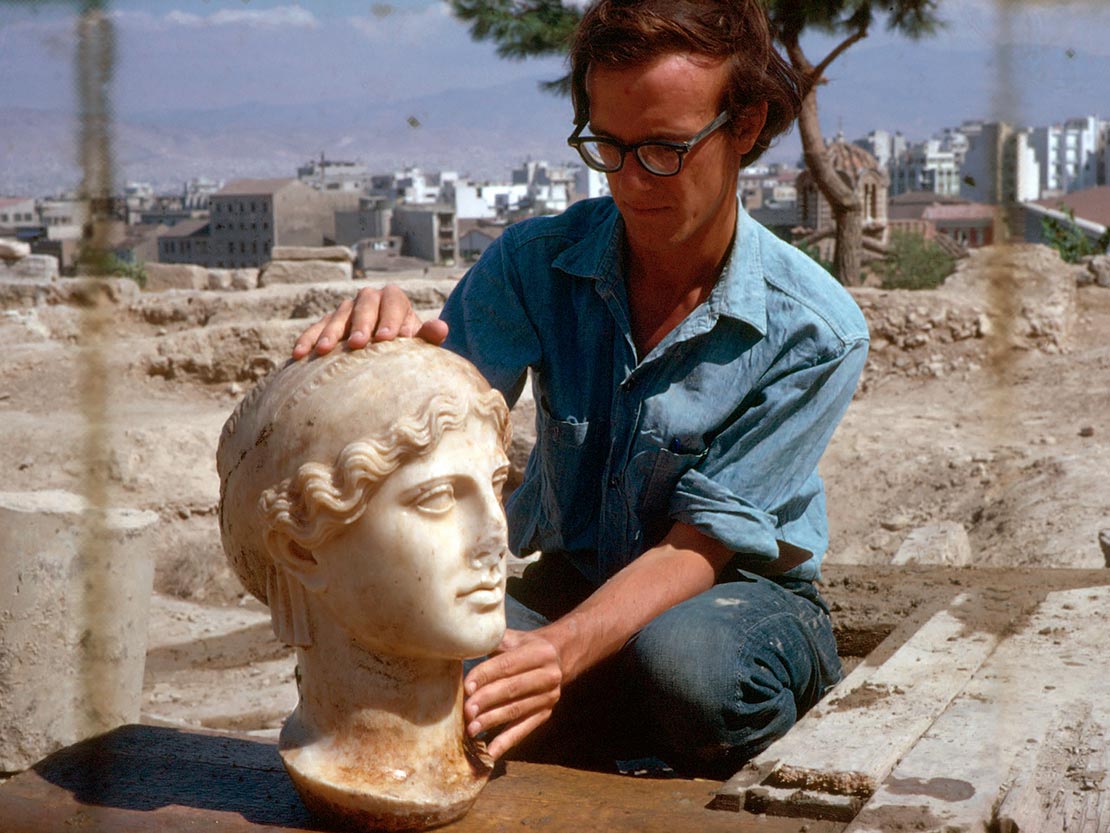 John Camp holding a female head found in a well (Deposit P 21:2), 1970 (photo by American School)
"In the summer of 1966, after his sophomore year in college, John served as Homer Thompson's assistant in the Agora, and he's been digging there every summer since then. But he also excavated at Pylos with Carl Blegen, at Isthmia with Oscar Broneer, and at Corinth with Charles Williams. As a Regular Member of the School in 1968, he began what turned out to be a 20-year tutorial on the historical topography of Greece with the great master of that subject, Eugene Vanderpool. Partly through his long association with Vanderpool, and also with Kendrick Pritchett, and partly as a result of John's own autodidact experience as Andrew W. Mellon Professor at the School (leading student trips to all parts of Greece from 1985 to 1996), he became, and is now generally recognized as, the foremost expert on the topography of ancient Athens and Attica, and indeed of ancient Greece as a whole."
John Camp and former Agora Director T. Leslie Shear Jr. (right) reassemble sherds at the Agora, ca. 1978 (photo by American School)
"Since 1994 when he assumed the position of Excavations Director, Camp has explored some important civic buildings (including the Athenian mint), he has discovered some very significant inscriptions, and in recent years he has been uncovering the Stoa Poikile (the Painted Stoa), which gave its name to Stoicism. He has published 15 books and more than 50 articles."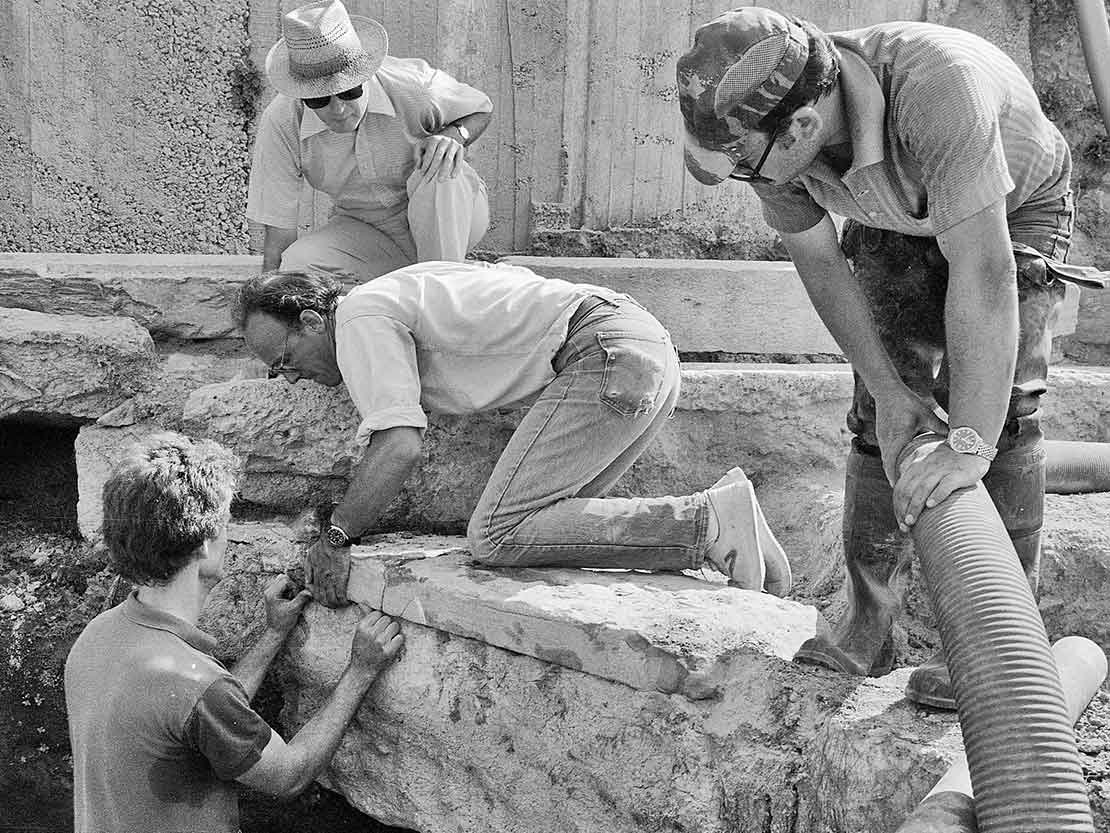 John Camp lifting blocks in section ΒΓ (with Craig Mauzy and T. Leslie Shear Jr.), 1986 (photo by American School)
"Apart from his distinguished contributions as a teacher and scholar, we are grateful to John for his broader service to the American School, and indeed to the wider, worldwide scholarly community. Whenever he has been asked to read a draft of a paper—whether by a beginning student or an advanced scholar, whenever he has been asked to take a look at some scanty building remains or an inscription, whenever he has been asked to support a new scholarly initiative (notably the development of archaeological software), whenever he has been asked to show a visitor around the Agora—whether a group of school children or a U.S. Secretary of State—John has never said 'I'm busy!' He has always been willing to help, and he has become far and away the most effective and beloved ambassador of the American School."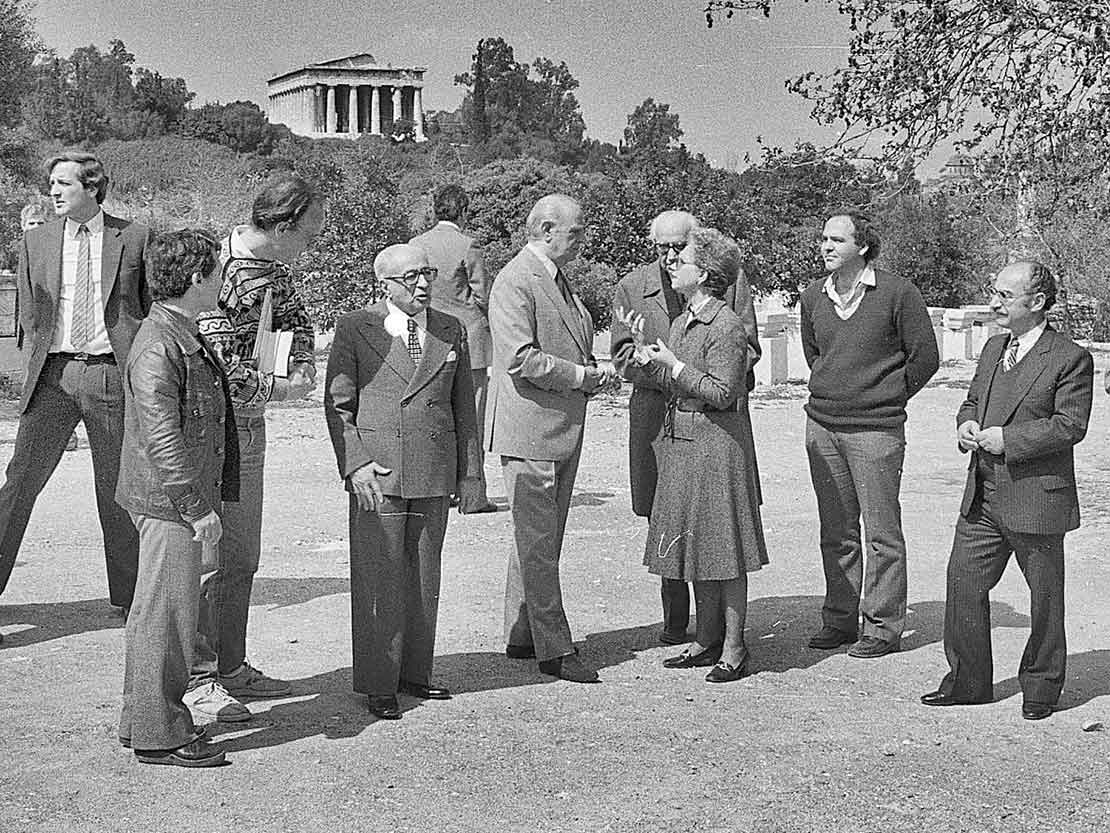 John Camp (third from left) guides Konstantinos Karamanlis (center), President of Greece, and Konstantinos Tsatsos (fourth from left), former President of Greece, on their 1984 Agora visit (photo by American School)
R. Nicholas Burns, former U.S. Ambassador to Greece (1997–2001), noted, "The American School has been the single most important connection to Greece since its founding over a century ago, and John Camp has done as much to build strong relations between Greece and the United States as anyone I know."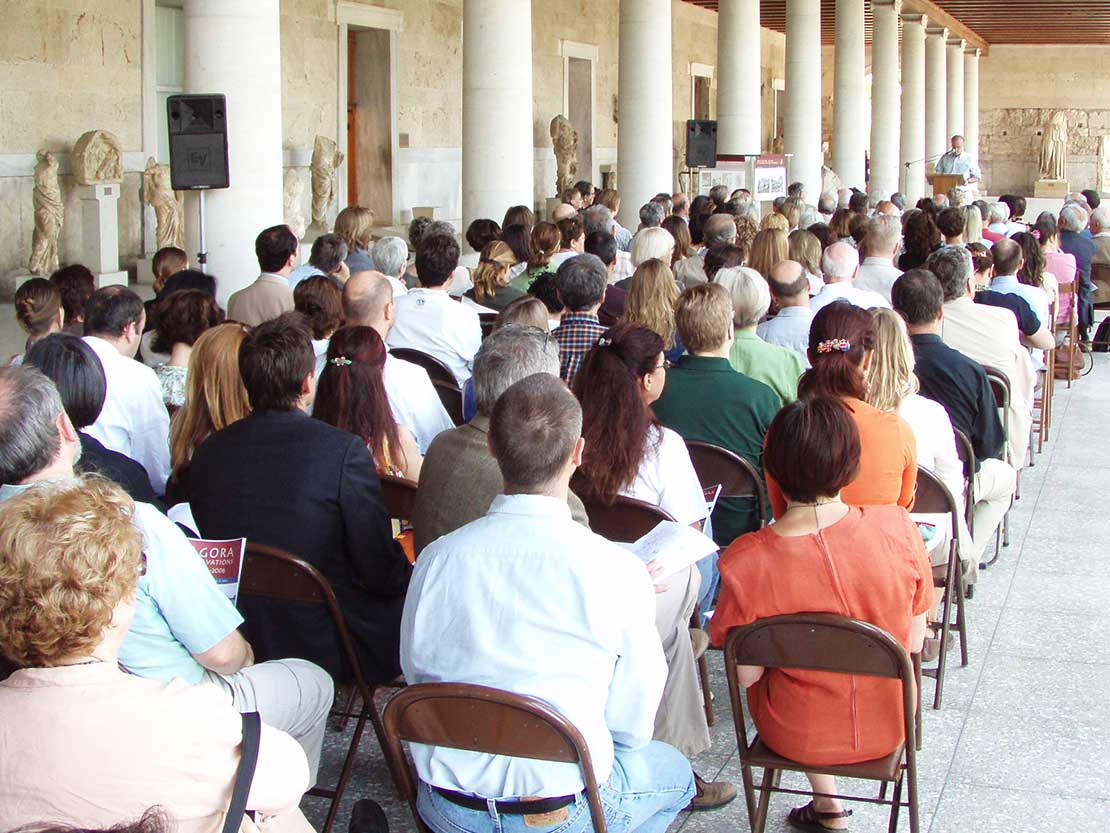 John Camp speaks at the 75th anniversary of the beginning of excavations by the American School in the Athenian Agora, 2006 (photo by Craig Mauzy/American School)
In 2009, Camp was named the Stavros Niarchos Foundation Professor of Classics at Randolph-Macon College. The Stavros Niarchos Foundation (SNF) is one of the world's leading private, international philanthropic organizations, making grants to nonprofit organizations in the areas of arts and culture, education, health and sports, and social welfare.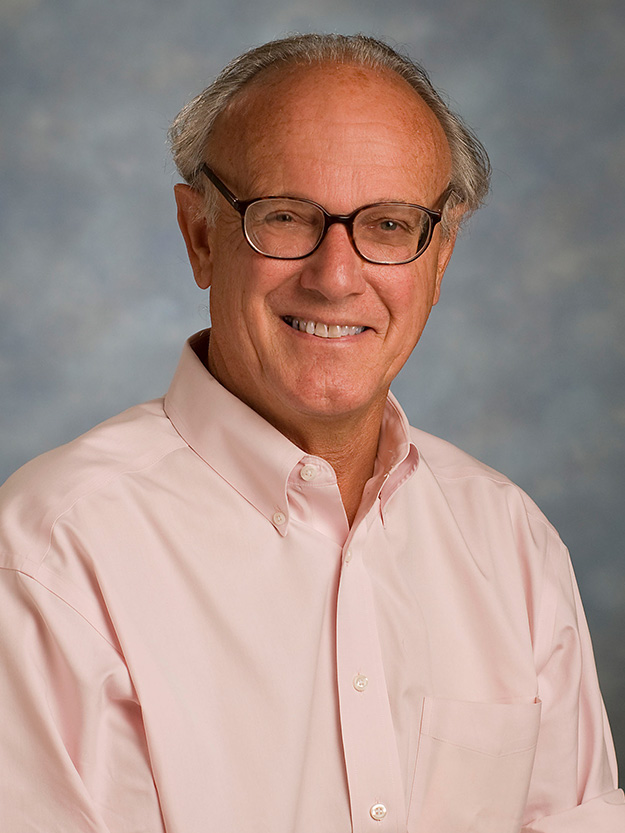 Stavros Niarchos Foundation Professor John Camp (photo courtesy of Randolph-Macon College)
Stelios Vassilakis, Chief of Programs and Strategic Initiatives at the SNF, said, "John Camp is a giant in the field of Classical archaeology whose decades-long commitment to the Athenian Agora excavations has helped retell the story of ancient Athens. He has influenced generations of Classical archaeologists, but he has also made ancient history come alive for countless others outside the field, especially through his famous site tours. On behalf of the whole SNF team, it has been a privilege to get to know John both professionally through our grantmaking and personally—our warmest congratulations to him on this supremely well-deserved recognition. It is fitting that a primary social space for scholars at the American School will be named for someone who is a central node in connecting a broad community of scholars."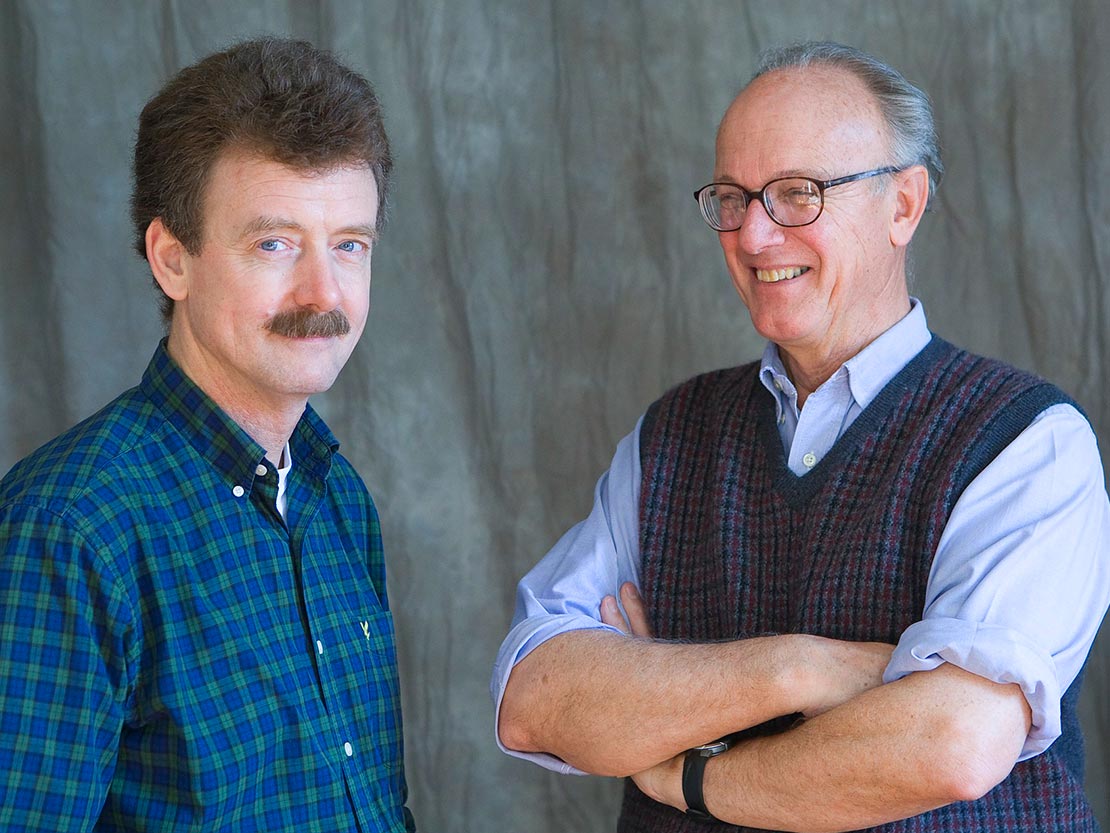 Craig Mauzy (left) and John Camp, 2009 (photo by Craig Mauzy/American School)
Craig Mauzy, Deputy Director of the School's Agora Excavations, reflected, "I have worked with John for nearly 40 years. When I arrived, John had already been associated with the Agora for 15 years, and I immediately saw how much he loved the summer excavation season, getting into the 'dirt' to see what lay hidden beneath the city streets of modern Athens. Four decades later, I can say without a doubt that he is the leading expert on the history and archaeology of the Agora. Some may have more expertise in specific subjects, but John's forte is bringing all the details together to make sense of the 'big picture.'"
John Camp in the Agora by the trophy base ΒΘ 84 before it was completely uncovered, 2010 (photo by Craig Mauzy/American School)
"Over the years, I have been fortunate to attend many of John's walking tours at the Agora. I have grown to appreciate and admire how he can speak to any audience on just about any subject. I have seen him talk with people from all walks of life, from scholars to archaeology buffs, politicians, generals, business leaders, professionals, university students to grade school pupils. He can without fail find some topic or point of interest for all. He has that wonderful ability to engage his audience and show the importance of our work at the Agora, and more importantly, he can explain why it is relevant to us 2,500 years later."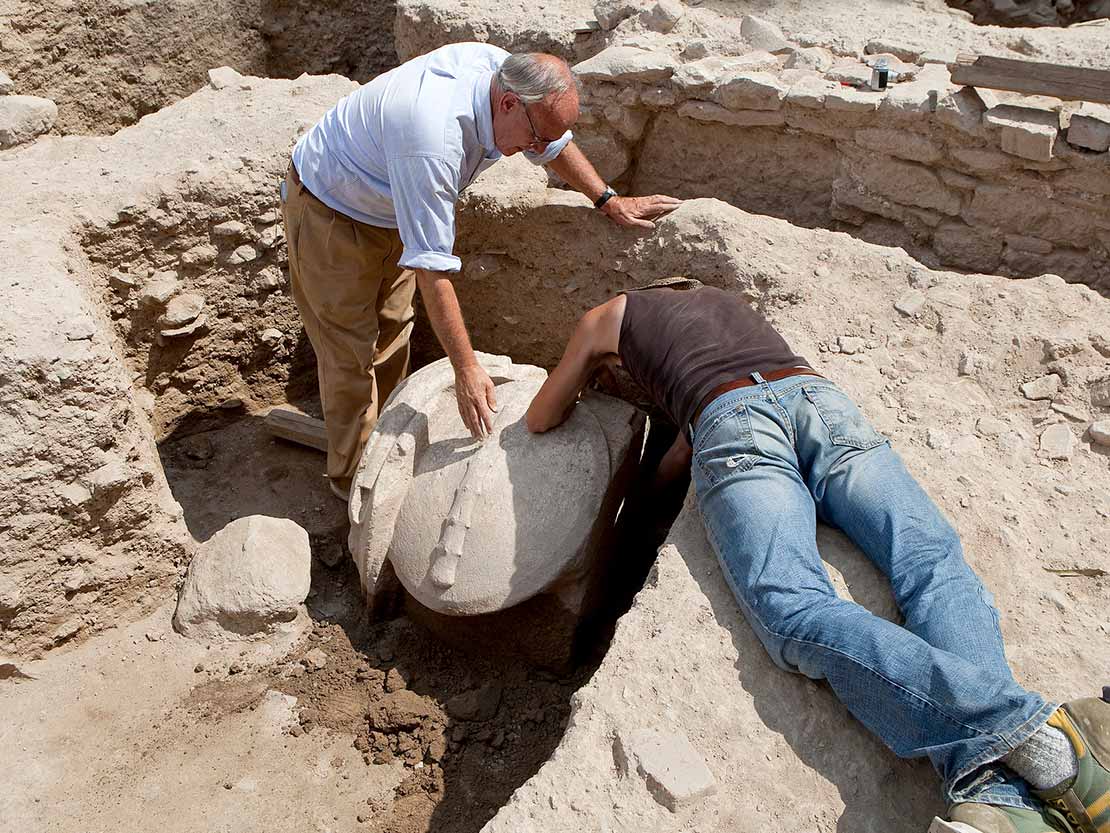 Trophy base ΒΘ 84 examined by John Camp and Mike Laughy (right), 2010 (photo by Craig Mauzy/American School)
Kevin Daly, Professor of Classics at Bucknell University and former Mellon Professor at the American School, recalled, "I first met John Camp in 1993, when he was Mellon Professor and I was a Regular Member at the American School, but I first saw John in 1990, when I was in an ASCSA Summer Session. Summers at the School are great for all kinds of reasons, but one of them is that diggers from the Agora and Summer Session Members get to share some time together. I got invited to a couple of parties with the diggers, and they all were telling me how much they loved the experience, and they also told me how great John was: knowledgeable, funny, and caring. All of that has proven true, of course, as I have come to know John better."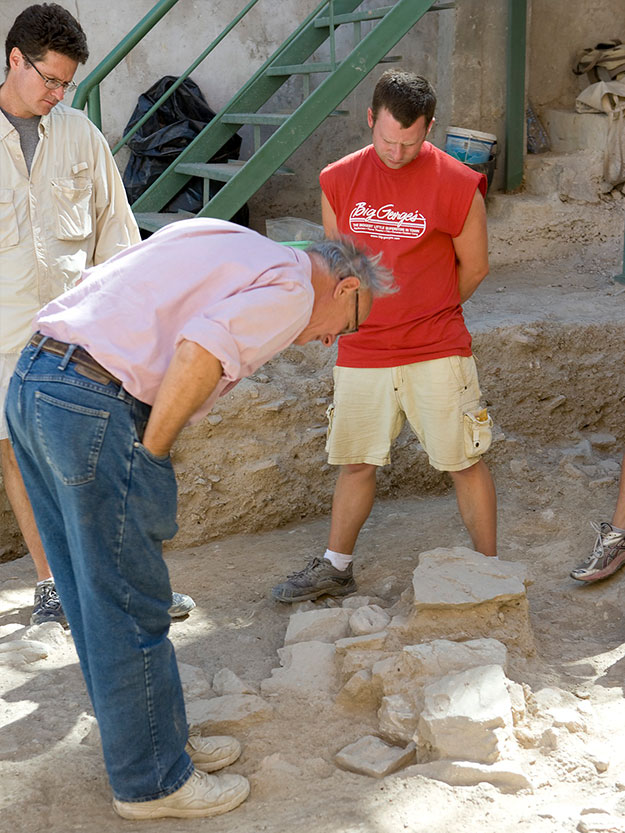 John Camp looking at a marble relief of the Mother of the Gods in Kevin Daly's (far left) trench in section ΒΘ (James Artz, at right), 2008 (photo by American School)
"John was a great Mellon Professor. For me as a student, a lot of what I saw and experienced was new. John was patient and deeply knowledgeable. He took us everywhere the roads would allow and some places they didn't. John brought us to some great spots, and he opened up the ancient world. What struck me about John was that even as a professor he himself was one of the best students I had ever seen. He'd been to many of these places scores of times, but he was always looking for more—asking questions, making sketches, taking detailed notes, taking photos, and doing all the things that an attentive student would do. John was never one to grandstand or show off. He spent a lot of time listening, and he took the time to get to know each of the students. Some were more receptive than others, but John never pried or stepped on toes. He also had the good sense and openness to say, 'I don't know' when he didn't. To me, that's the sign of a good teacher. He made us feel welcome and comfortable in a time and in places new to us all. Many of us took John as a model for the field and for how we approach Greece—learn Greek, go everywhere you can while the sun is still up, ask questions, remember to be quiet and listen, and be sure to enjoy it all."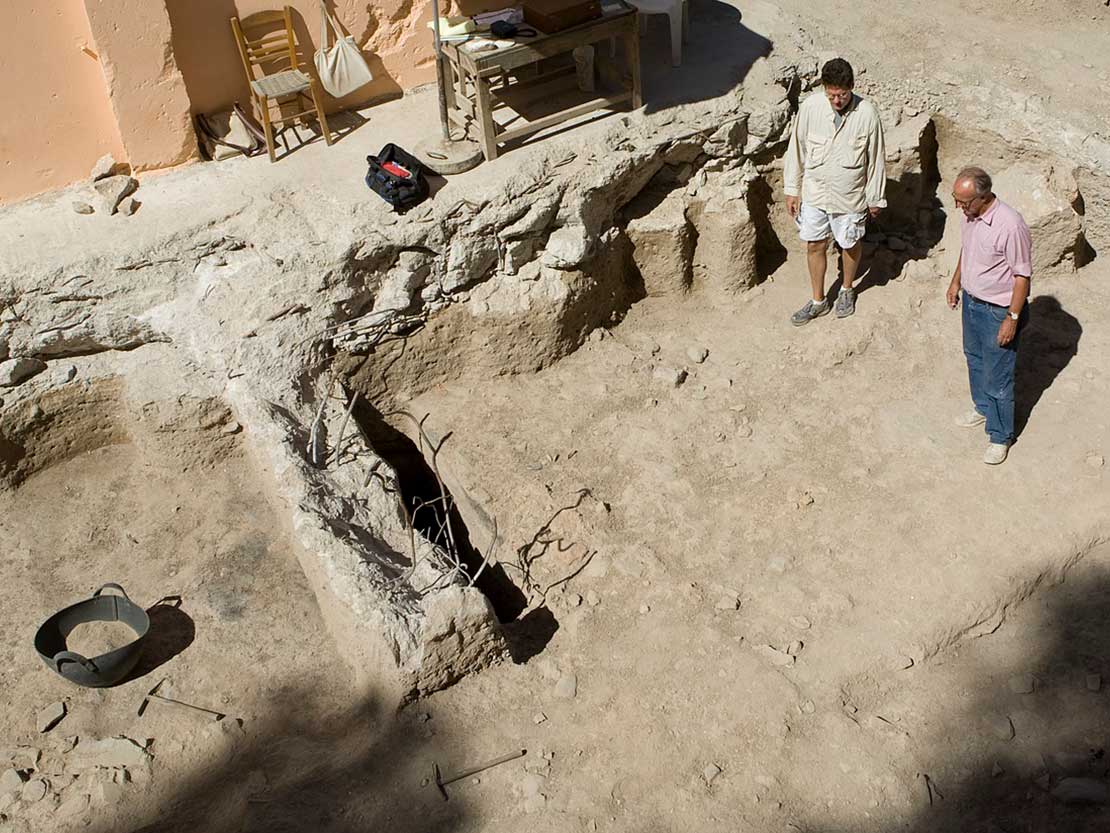 The discovery of a marble relief of the Mother of the Gods in Kevin Daly's trench in section ΒΘ, 2008 (photo by American School)
"I excavated at the Agora under John's direction for 15 years. The experience was transformative. There are lots of ways to direct, and there are lots of people who are in charge of things, but it seems to me that what defines a great leadership is the evident presence of a slew of willing and dedicated followers. People want to work with John, and the list of 'returners' is so long that it's hard to get in in the first place. Once you're in, you never want to leave. John sets a great tone and a high bar. There too John is willing to try new things and go in new directions. He is a self-confessed Luddite, but he's the one who got everything digitized in the Agora. He's the one who made sure a trench could 'go live' on the internet—and that was 20 years ago! Of course, John wasn't doing the coding or setting up the equipment, but he had the vision, articulated the goals, got the grants, and then he got out of the way."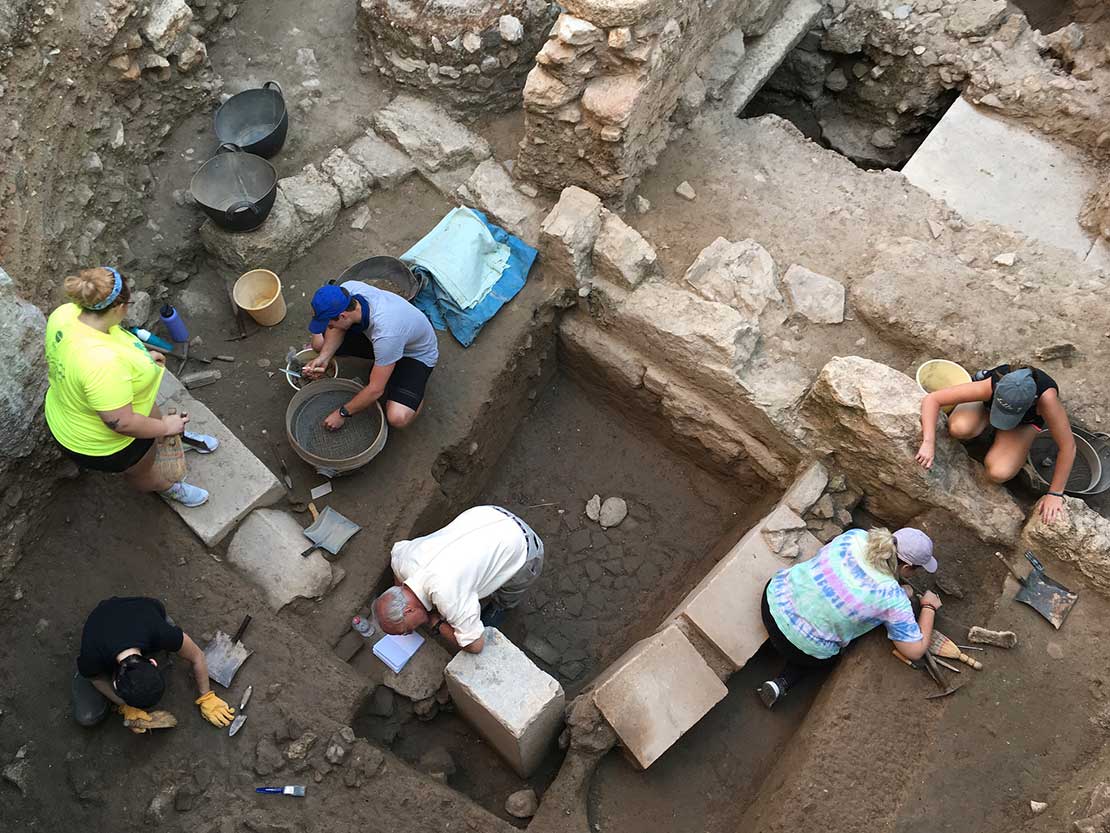 Excavating the Roman basin just in front of the Painted Stoa (Stoa Poikile), 2019 (photo by Nicholas Seetin/American School)
"Naming the Salonaki after John Camp seems especially appropriate. If there's going to be a place at the School dedicated to students, where they can feel comfortable, have fun, talk (and listen), and share new thoughts about the ancient world, then it is entirely fitting that it should have John's name on it."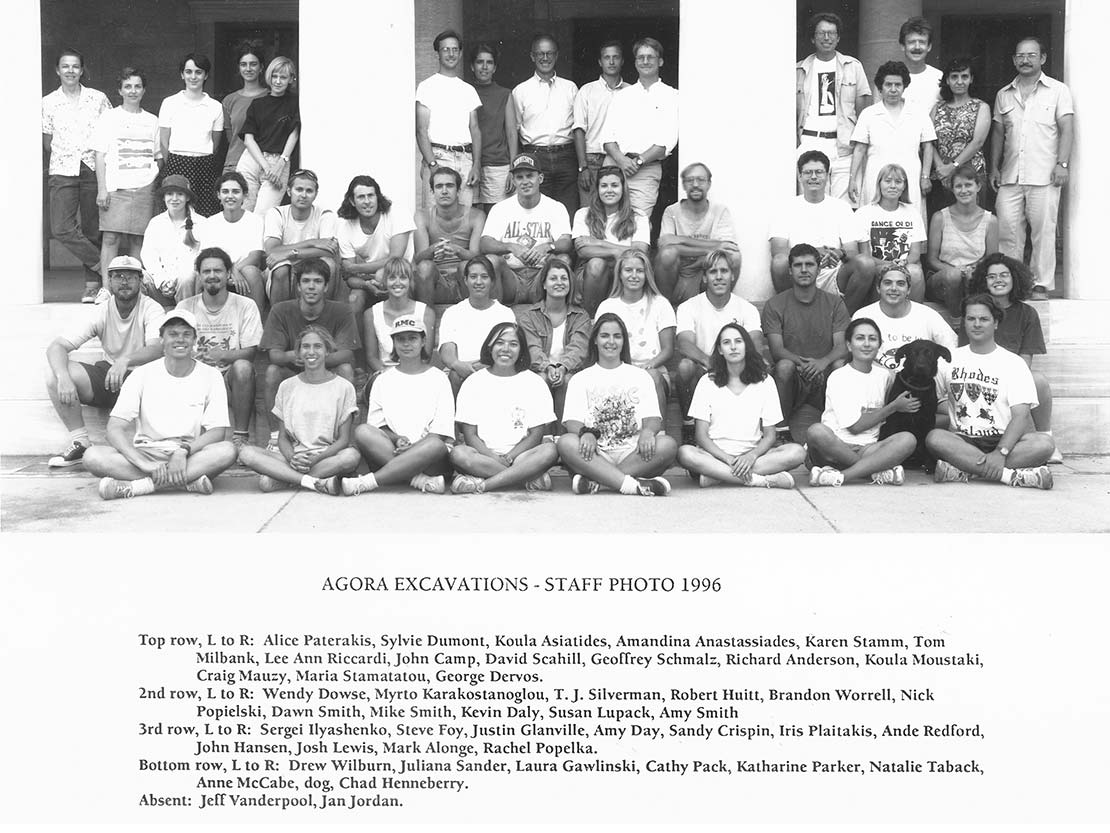 The 1996 Agora Excavations staff and volunteers (photo by American School)
Lee Ann Riccardi, Professor of Art History and Classical Studies at The College of New Jersey, declared, "John Camp is a teacher, archaeologist, and scholar of rare distinction. It is a fitting tribute to him to have his name permanently enshrined in the Salonaki in Loring Hall. His lifetime of experience in the field has earned him a well-deserved international reputation. I had the privilege of working under him as a Trench Supervisor for five years."
"Although John is an archaeologist and scholar of the highest caliber, it is his role as teacher and mentor to me and countless students and colleagues who came to the American School that I most value. I first met John Camp almost 30 years ago, when, as a doctoral candidate, I went to Athens as a Student Associate Member. John was the Mellon Professor then. My intention was to work on my dissertation and take advantage of the School's academic program only occasionally, but after I went on the first fall trip led by John, I realized what a singular opportunity it was to learn from him. I put my dissertation aside for the year and instead followed him all over Greece. We visited archaeological sites large and small, popular ones and ones so out of the way that we had to climb over fences and scramble up the faces of rocks. Led with John's unfailing direction, we trekked up mountains, walked through fields of brambles and brush, descended into caves and caverns, and even navigated through the occasional snowdrift. It was the richest, most concentrated learning experience of my life."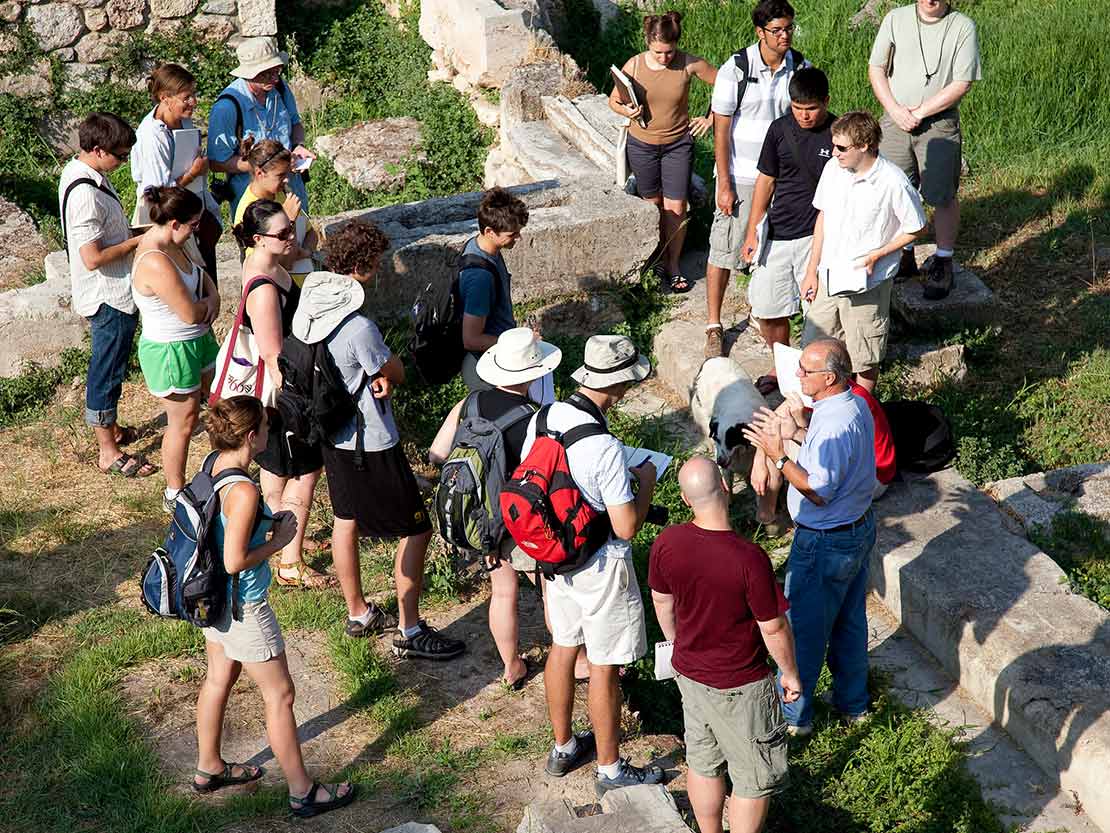 John Camp shows Summer Session participants around the Agora site, 2009 (photo by Craig Mauzy/American School)
"John is an exemplary teacher. Never pompous or heavy-handed, always unflappable, even in the worst heat of the day or in toughest of cold and rain-soaked conditions, John taught us in a way that seemed effortless, always in command of both the facts and the nuance. He astonished us with his air of confidence and total familiarity with the scholarship on the issues at hand, even as he spoke largely without notes and extemporaneously on site. During his more than ten years as Mellon Professor, John taught dozens of students, many of whom have continued in the field. He has remained a mentor and friend to me in the years since then, and I am delighted that he is now receiving this tribute."
John Camp at the Temple of Hephaistos with Summer Session participants, 2010 (photo by Craig Mauzy/American School)
A Festschrift, Cities Called Athens: Studies Honoring John McK. Camp II (Bucknell University Press, 2015), was edited by Kevin Daly and Lee Ann Riccardi. The 14 essays in this volume share new and evolving knowledge, theories, and observations about Athens and Attica. All of the contributors were students of Camp in Greece, and their essays are dedicated to him in gratitude for his profound influence on their lives and careers.
ABOUT GREG LAVENDER
Greg Lavender lives in Palo Alto and has 38 years of experience in software and hardware product engineering, and advanced R&D in research labs, academia, and startups. Prior to VMware, he was Managing Director and CTO for Cloud Architecture and Technology Engineering at Citigroup, where he led the global transformation of Citi's technology to adopt modern mobile and cloud technology. Prior to Citi, Lavender was a Corporate Vice President of Network Software Engineering at Cisco. Before Cisco, he worked at Sun Microsystems for a decade in various engineering leadership roles, including VP of Operating Systems Engineering. During the 1990s, he co-led three successful Internet startups as Chief Scientist, the last of which was acquired by Sun Microsystems. He began his career in the early 1980s as an Internet software engineer working at TRW and Open Networks, before going to graduate school.
Dr. Lavender holds a B.S. in Computer Science from the University of Georgia and an M.S. and Ph.D. in Computer Science from Virginia Tech. For thirteen years, he was a faculty member of the Department of Computer Sciences at the University of Texas at Austin and also served as Associate Chairman for Academics (1994-2007). He has taught and supervised many undergraduate and graduate students who have gone on to their own notable achievements in academia and the tech industry. He previously endowed two graduate fellowships and co-endowed an undergraduate scholarship at Virginia Tech, and he endowed an undergraduate scholarship at the University of Georgia. He also created The John Camp and Elizabeth Fisher Endowed Fund for International Travel at Randolph-Macon College, to enable study abroad opportunities for students in the Classics, History, and Archaeological Studies.
MORE ABOUT JOHN CAMP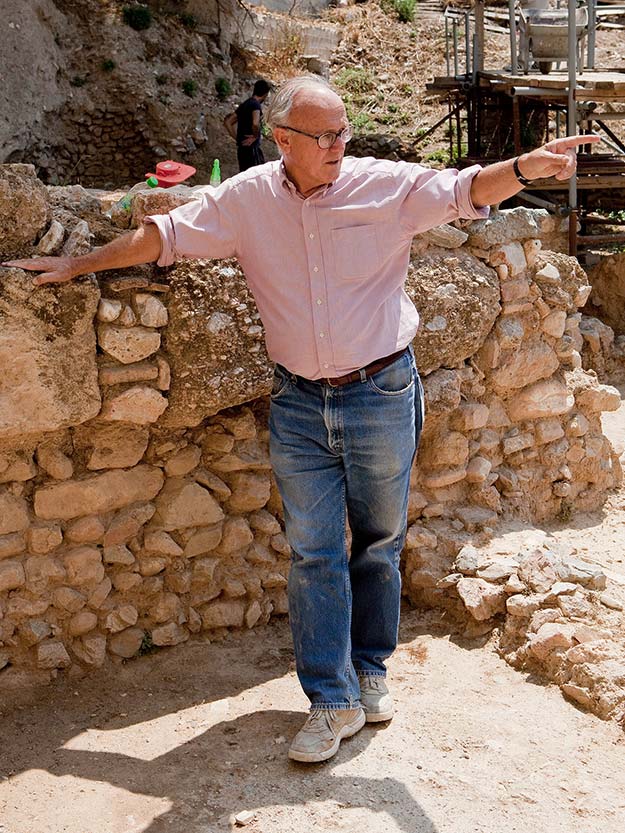 John Camp at the Agora, 2010 (photo by Craig Mauzy/American School)
John Camp is a passionate Philhellene who has devoted his life and career to Ancient Greece. He has received numerous honors, including the COSMOS FM Phidippides Award (2010); Archbishop Iakovos Leadership 100 Award for Achievement (2011); Syllogos of the Athenians Medal and Honorary Membership (2011); Aristeia Award for Distinguished Alumni/ae of the American School of Classical Studies at Athens (2015); Athens Prize of the American School of Classical Studies at Athens (2016); and Theodore Saloutos Award of the American Hellenic Council (2018).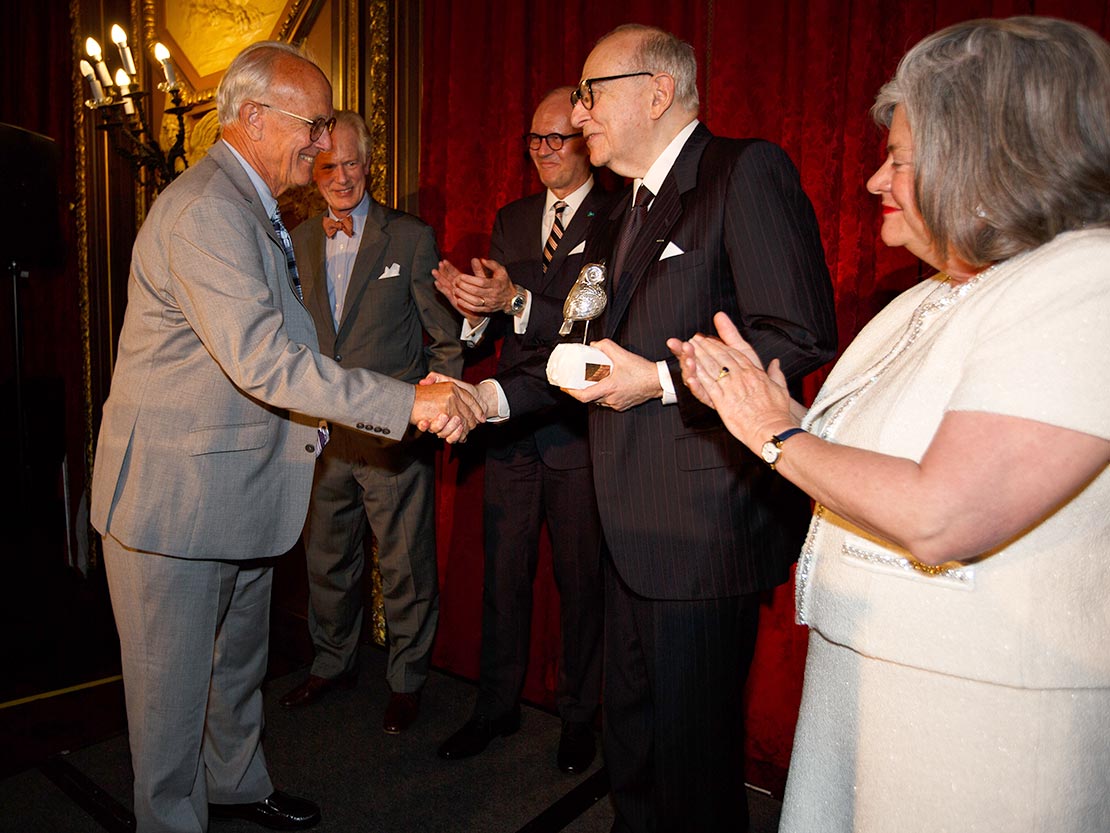 John Camp accepts the Athens Prize at the American School's 2016 Gala. From left: John Camp, Rob Loomis, Vasili Tsamis of the Stavros Niarchos Foundation, Malcolm Wiener, and Jenifer Neils (photo by Matt Gillis)
Below are a few short films and videos that illustrate the astonishing range of this distinguished scholar and teacher: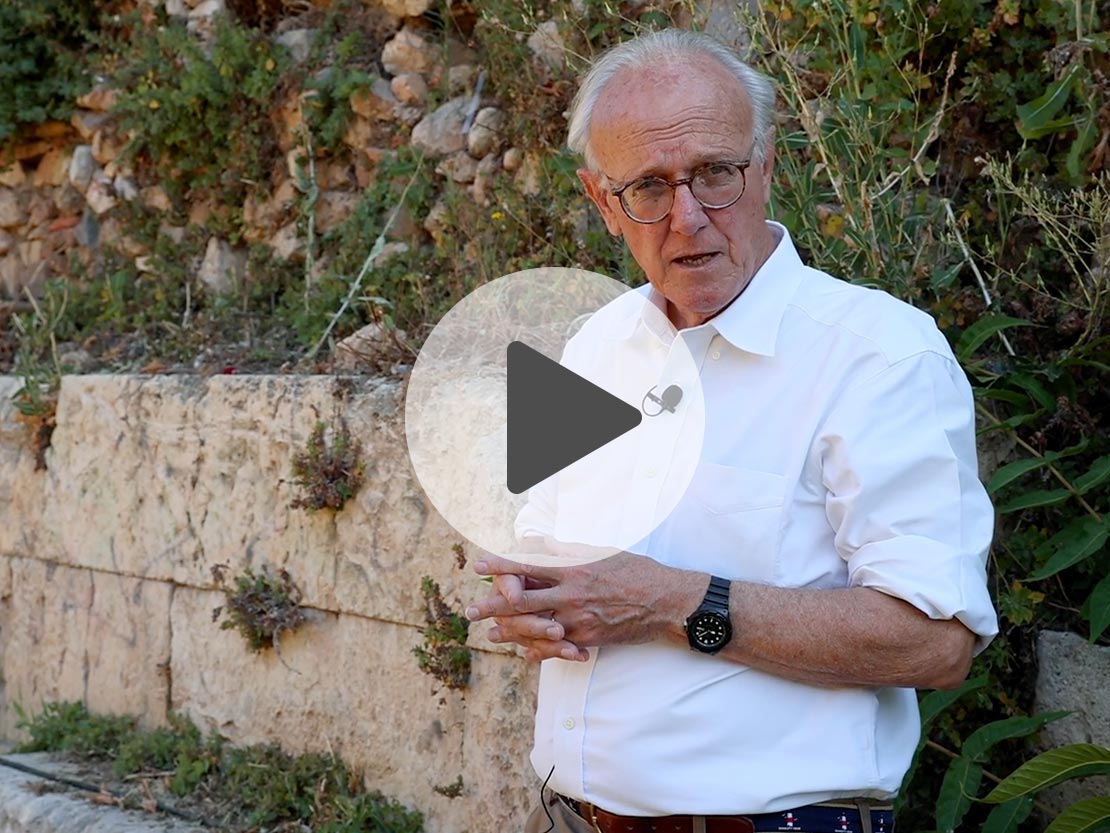 John Camp in the "The Royal Stoa" episode of the American School's Live from the Agora webinar series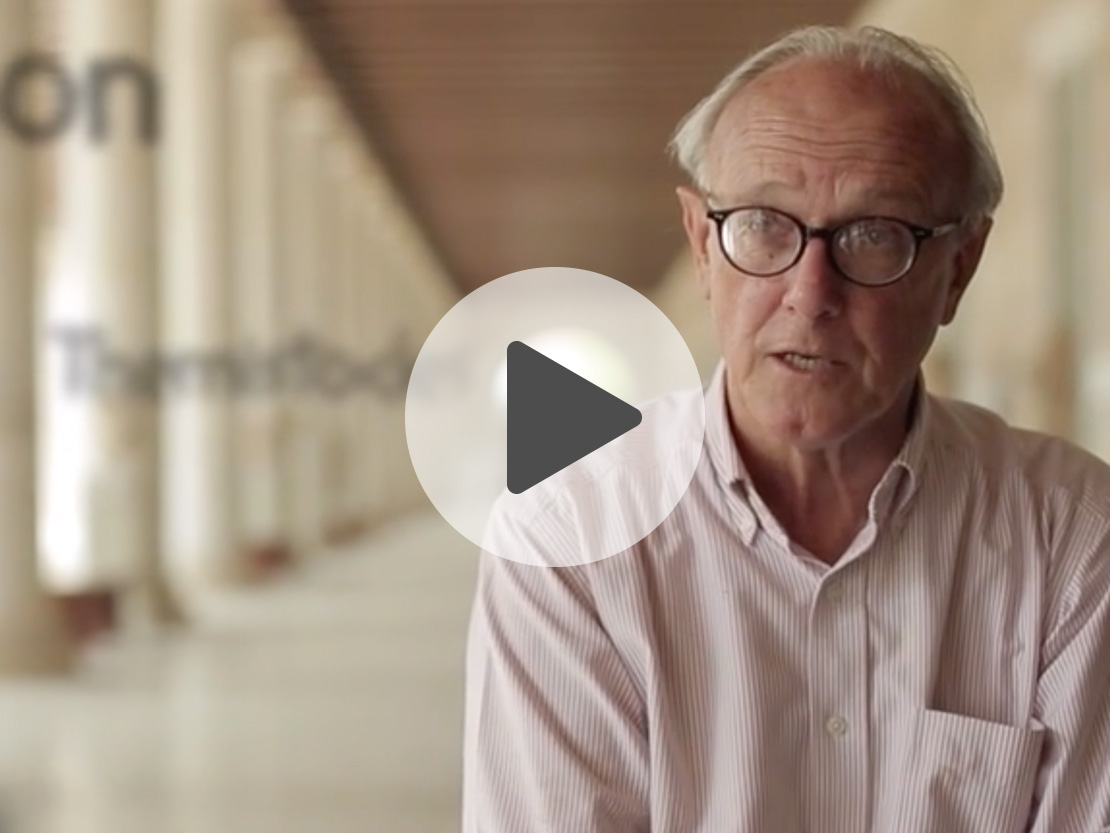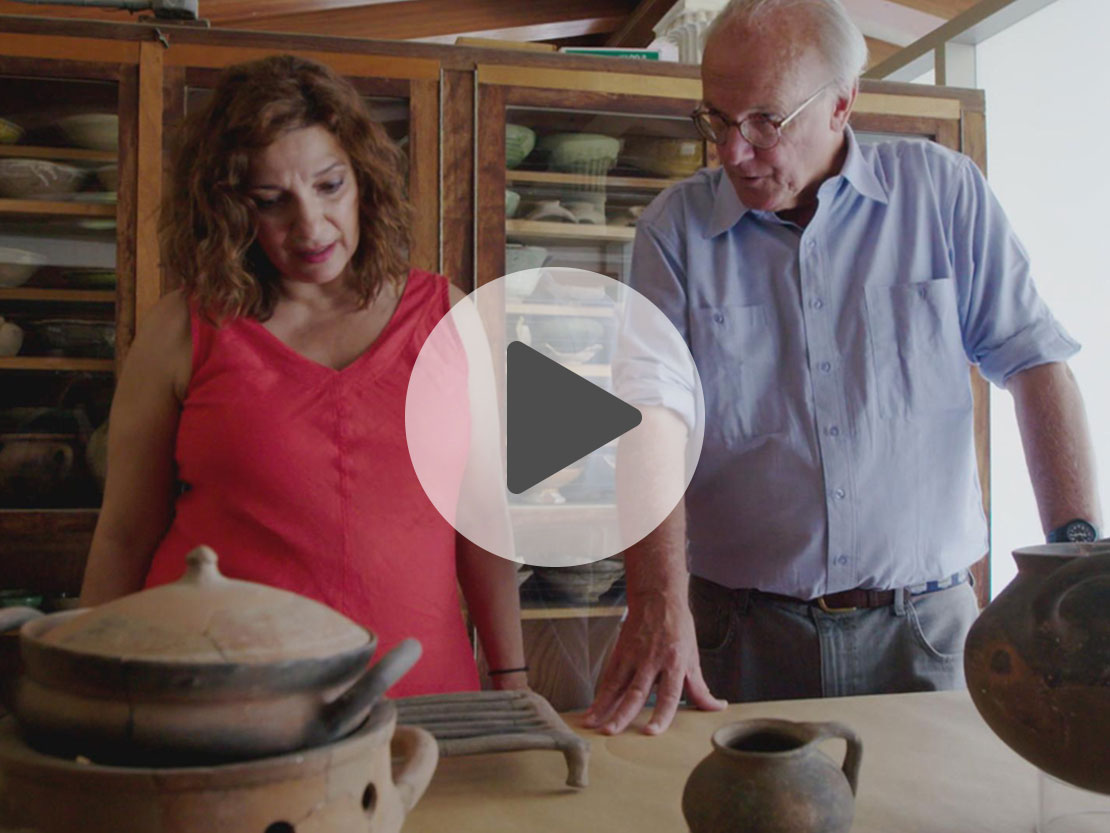 ABOUT THE ATHENIAN AGORA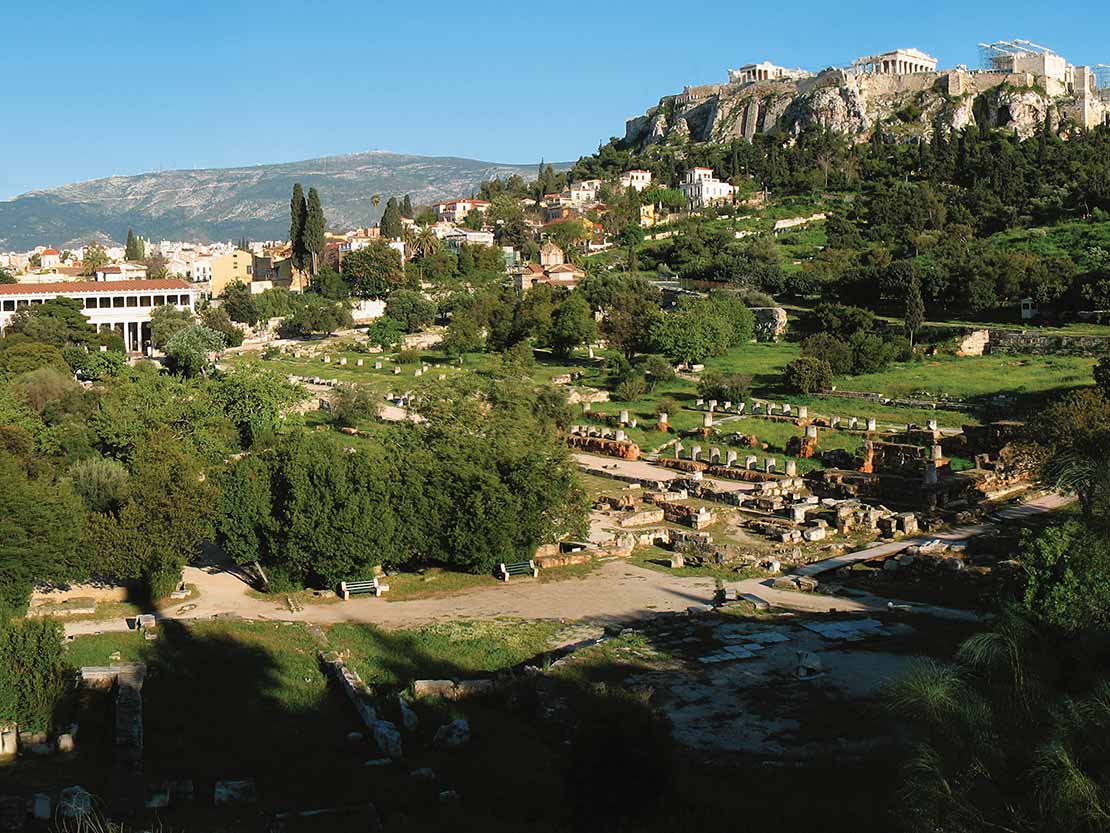 Athenian Agora (photo by Craig Mauzy/American School
Located in the heart of modern Athens and attracting more than half a million international visitors annually, the Agora was in ancient times the business, political, and legal center of Athens, bringing together citizens and foreigners, litigants and jurors, and merchants and philosophers. The School has been excavating at the Agora since 1931 and has brought to light a rich and splendid history of continuous habitation that extends over more than 5,000 years. The major public buildings of ancient Athens are now displayed in a thoughtfully landscaped archaeological park with all of the excavated artifacts and excavation records housed in the restored Stoa of Attalos. These finds have significantly expanded our knowledge of ancient Athenian life and culture, notably the origins and practice of democracy. Each summer, the Agora trains more than 60 students from American colleges and universities in modern archaeological techniques. To learn more, please visit ascsa.edu.gr/excavations/athenian-agora.
ABOUT THE STUDENT CENTER CAMPAIGN
The Student Center Campaign was launched in October 2018 to raise funds for renovating and expanding the three aging buildings that serve as the intellectual and residential heart of the American School: Loring Hall, the Annex, and West House. This transformative project will increase housing capacity, reduce energy consumption, add state-of-the-art features and technology, and bring the buildings up to the latest technical standards—all while preserving the complex's historical appearance. The Student Center will remain the place where members of the community gather for meals, tea, ouzo hour, holiday celebrations, and lectures—a source of lifelong professional and personal relationships that characterize the collegial and intellectually vibrant atmosphere of the School. This modernized setting will enhance that experience and will meet the needs of the School community well into the future.
SUPPORT THE CAMPAIGN
The goal of the Student Center campaign is $9.4 million, inclusive of a maintenance endowment. Thanks to generous supporters like Greg Lavender, $7.7 million has been raised to date. The new Student Center is expected to open in June 2021.
To learn more about how you can support this historic initiative, please contact Nancy Savaides, Director of Stewardship and Engagement, at nsavaides@ascsa.org or 609-454-6810. Naming opportunities for a variety of spaces in the Student Center are still available. Donors can choose from a wide range of gift levels to name a room or area in honor of themselves, an American School scholar, or a family member, friend, or group. Please click the links below to view the nameable spaces and options that remain:

STUDENT CENTER CONSTRUCTION PHOTO GALLERY
Click this link to view more photographs of the work in progress.