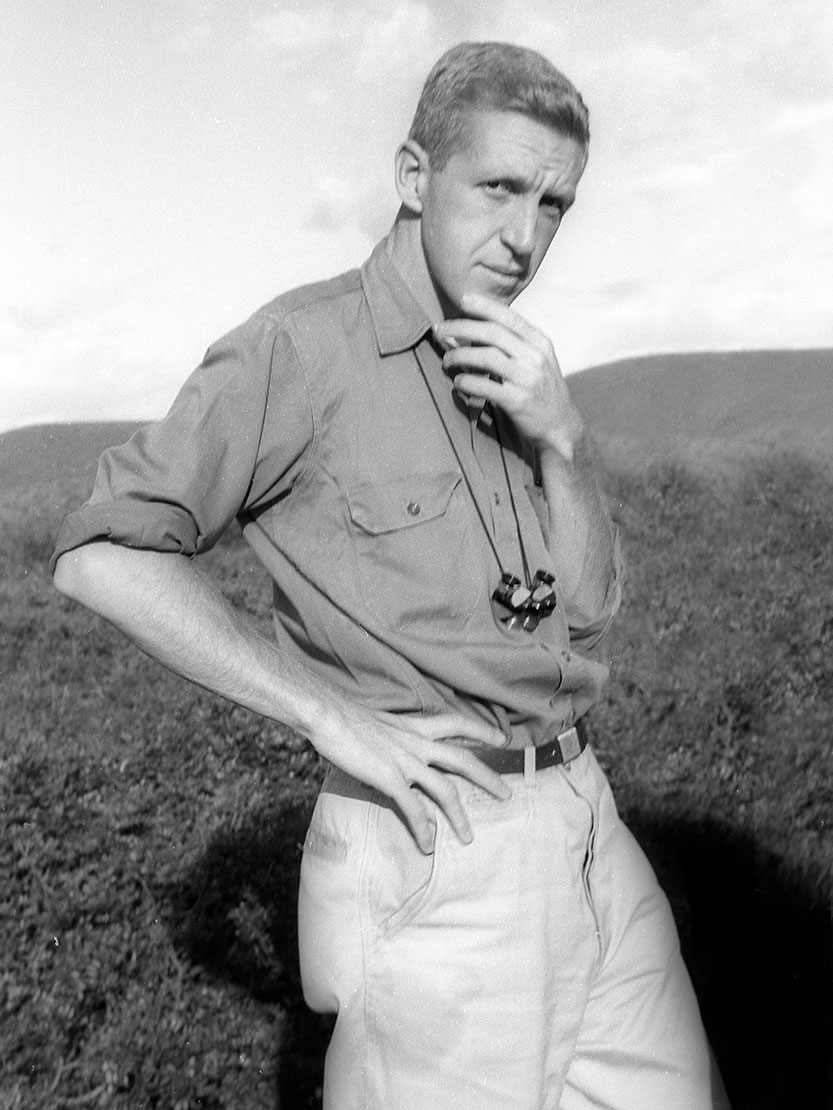 Ron Stroud in Thessaly, 1960 (photo by Patricia Lawrence, American School class of 1959–1960)
It is with heavy hearts and great sadness that we announce the passing of Ronald S. Stroud, a distinguished scholar whose long association with the American School spanned more than six decades. Stroud passed away on Thursday, October 7, 2021, at the age of 88.
Ron Stroud was one of the world's leading Greek epigraphists. He was Klio Distinguished Professor of Classical Languages and Literature Emeritus at the University of California, Berkeley. Stroud earned his B.A. in Classics from the University of Toronto in 1957 and his Ph.D. in Classics from Berkeley in 1965. He was awarded a prestigious John Simon Guggenheim Memorial Foundation Fellowship in 1977 and the Berkeley Citation in 2006.
At the American School, Stroud was a Thomas Day Seymour Fellow (1959–1960), Secretary of the School (now called "Assistant Director of the School"; 1960–1963), Whitehead Professor (1993–1994), and Andrew W. Mellon Professor of Classical Studies (1996–1999). During his tenure as Secretary, Stroud excavated a small stele shrine at Corinth and began his excavations of the Sanctuary of Demeter and Kore, which he actively directed until the fall of 1965.
In 2013, Stroud received the Alumni/ae Association's Aristeia Award, honoring those who have provided exceptional service to the School and who have done the most over the years to support its mission in teaching, research, archaeological exploration, and/or publication (read his moving acceptance speech at this link). At the School's annual Gala in 2018, Stroud was awarded the Athens Prize for his outstanding contributions to the advancement of knowledge of ancient Greece. The School's short film Inspiring Generations: Ronald Stroud and the American School's Academic Program honored his immeasurable contributions to the field of classics.
Stroud produced over 70 scholarly publications and co-edited 33 volumes of the Supplementum Epigraphicum Graecum (XXVI [1978]–LVIII [2008]). Among his major epigraphical studies are Drakon's Law on Homicide, The Axones and Kyrbeis of Drakon and Solon, The Athenian Grain-Tax Law of 374/3 B.C., "Greek Inscriptions: Theozotides and the Athenian Orphans" (Hesperia 40.3, 1971), and "An Athenian Law on Silver Coinage" (Hesperia 43.2, 1974).
In addition to his many publications on Attic inscriptions, Stroud published two major works on the Sanctuary of Demeter and Kore in the Corinth series: XVIII.3: Topography and Architecture (ASCSA, 1997), co-authored with Nancy Bookidis, Assistant Director Emerita of the Corinth Excavations, and XVIII.6: The Inscriptions (ASCSA, 2013). A Festschrift in his honor, ΑΞΩΝ: Studies in Honor of Ronald S. Stroud (co-edited by Angelos P. Matthaiou and Nikos Papazarkadas, Greek Epigraphic Society, 2015), contained articles written by friends, colleagues, and students on the epigraphy and historical topography of Athens and Attica, the Peloponnese, and the wider Greek world.
MORE ABOUT RONALD STROUD
The American School and Classics community have lost a giant who was a beloved scholar, teacher, and friend. We invite you to share your memories of Ron Stroud on his tribute page at the link below.

Stroud in his academic regalia, 2006 (photo by Genevieve Shiffrar)