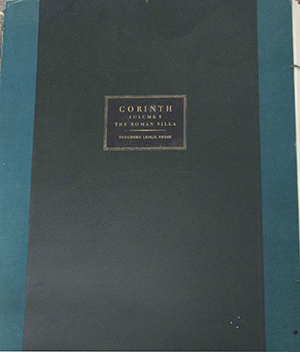 by Theodore Leslie Shear
Corinth V
26 pp, 7 figs, 11 pls
25" x 32"
Cloth, ISBN: 978-0-87661-051-0
Publication Date: Nov 1930
Status: Out of Print

VIEW ONLINE

Description:
Excavated in 1925, the Roman villa at Corinth is famous for its well-preserved mosaics, showing goat herdsmen and other pastoral themes. Of rectangular design, they are curtailed or supplemented to fit into irregularly-shaped rooms, leading to the author's suggestion that these were Late Hellenistic creations reused in a Roman context. The book is notable for its large size and portfolio format, with large-scale color plates following loose-leaf text pages.
Reviews:
"The Roman Villa excavated at Corinth in 1925 is now published in magnificent form. The large plates reproducing all the mosaics in color from the skillful copies of Mrs. Nora Shear leave nothing to be desired and obviate the necessity for detail description. . . . The work is a splendid contribution to the materials available for the history and appreciation of ancient mosaics." G. W. Elderkin,
AJA
35.3 (1931), p. 365.