Castles of the Morea (rev. ed.)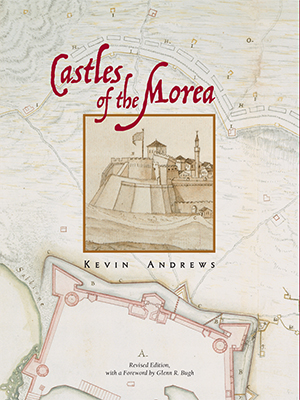 by Kevin Andrews, with an introduction by Glenn R. Bugh
Gennadeion Monographs IV
306 pp, 232 figs, 40 col pls
9" x 12"
Cloth, ISBN: 978-0-87661-406-8
Publication Date: Nov 2006
Status: Active

BUY EBOOK
VIEW ONLINE

Description:
First published in 1953, this book presents a description of 16 of the larger medieval fortresses in the Peloponnese, occupied by the Venetians between 1685 and 1715. It is also a beautifully written celebration of some of Greece's most striking, but also least studied, architectural monuments, inspired by a unique collection of 17th-century fortification plans (the Grimani codex) preserved in the Gennadius Library of the American School of Classical Studies at Athens. The author first saw the plans in 1948 and devoted the next four years of his life to a historical and archaeological investigation of the castles they depicted. At a time when most of the students at the American School were studying the classics, his interest in later Greek history was pioneering. He not only searched out hundreds of obscure documentary sources but also made a point of visiting, and personally describing and photographing, every castle. This was not an easy thing to do at the tail end of the Greek Civil War. The final publication was an instant classic, marked out by its evocative prose and Andrews's obvious fascination with the subject. The book has been long out of print. This new edition presents Andrews's original text with a new introduction which sets the work in context and discusses some of the developments in Greek castle studies since the 1950s. The Grimani maps, originally printed only in black and white, are now presented in their original colors.
About the Author:
Kevin Andrews received a traveling fellowship from the American School of Classical Studies at Athens after graduating from Harvard University in 1947. He lived in Greece most of his life, writing a number of books, including the bestselling
The Flight of Ikaros.
Glenn R. Bugh is Professor of History at Virginia Polytechnic University.