Bridge of the Untiring Sea: The Corinthian Isthmus from Prehistory to Late Antiquity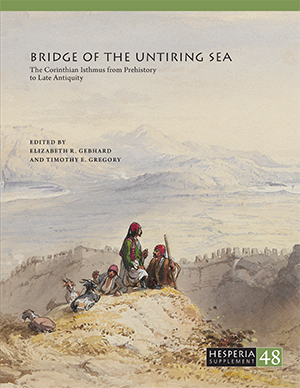 Description:
Pindar's metaphor of the Isthmus as a bridge spanning two seas encapsulates the essence of the place and gives a fitting title for this volume of 17 essays on the history and archaeology of the area. The Isthmus, best known for the panhellenic Sanctuary of Poseidon, attracted travelers both before and after Pausanias's visit in the 2nd century A.D., but only toward the end of the 19th century were the ruins investigated and, a half century later, finally systematically excavated. More recently, archaeologists have surveyed the territory beyond the sanctuary, compiling evidence for a varied picture of activity on the wider Isthmus and the eastern Corinthia.
The essays in this book celebrate 55 years of research on the Isthmus and provide a comprehensive overview of the state of our knowledge. Topics include an Early Mycenaean habitation site at Kyras Vrysi; the settlement at Kalamianos; the Archaic Temple of Poseidon; domestic architecture of the Rachi settlement; dining vessels from the Sanctuary of Poseidon; the Temple Deposit at Isthmia and the dating of Archaic and Early Classical Greek coins; terracotta figurines from the Sanctuary of Poseidon; the Chigi Painter; arms from the age of Philip and Alexander at Broneer's West Foundation on the road to Corinth; new sculptures from the Isthmian Palaimonion; an inscribed herm from the Gymnasium Area of Corinth; Roman baths at Isthmia and sanctuary baths in Greece; Roman buildings east of the Temple of Poseidon; patterns of settlement and land use on the Roman Isthmus; epigraphy, liturgy, and Imperial policy on the Justinianic Isthmus; and circular lamps in the Late Antique Peloponnese.
About the Author:
Elizabeth R. Gebhard is Professor
Emerita
of Classics at the University of Illinois at Chicago. She directs the University of Chicago Excavations at Isthmia. Timothy E. Gregory is Professor of History at The Ohio State University. He directs the Ohio State University Excavations at Isthmia.
Reviews:
"The scholarship and writing are exemplary throughout this well-illustrated volume. . . . The articles are aimed at scholars, but can offer the more general reader intriguing and authoritative glimpses into the material culture of Isthmia and a picture of the diverse results of archaeological exploration focused on a single region." Susan I. Rotroff,
The Classical Outlook
92.1 (2017) pp. 27-28
". . . A thoroughly accomplished volume that serves equally as an accessible introduction to, and an important marker for, work on the historic Isthmus and, by extension, current research trends in Greece." David Michael Smith,
BMCR
2017.03.43
". . . The articles maintain a high standard of scholarship, which should provide inspiration for a wide range of scholars as well as students of the Classical world." Kristina Winther-Jacobsen,
Orbis Terrarum
15 (2017), pp. 279-281