Sculpture: The Assemblage from the Theater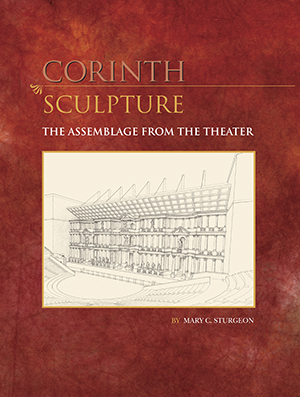 by Mary C. Sturgeon
Corinth IX.3
270 pp, 73 pls, 3 b/w and 1 col plan
9" x 12"
Cloth, ISBN: 978-0-87661-093-0
Publication Date: Nov 2004
Status: Active

Retail Price $100

BUY PRINT
VIEW ONLINE

Description:
At the time of its creation in the Hadrianic period, the Corinth Theater presented the most elaborate form of Roman theater architecture to date; a three-storied columnar facade made of multicolored marble. The polychrome architecture did not stand alone, for the scaenae frons was also impressively embellished with painted marble reliefs beneath the columns, with painted statuary between the columns and in the niches, and with painted busts in the pediments. This blaze of color would have conveyed many different messages to ancient audiences since the sculptural complex evoked the Theater's political, religious, and cultural function as well as the self-identification of the city. A colossal seated portrait of the deified emperor Trajan dominated the display, surrounded by other members of the Roman imperial family. However the depiction of Gigantomachy, Amazonomachy, and Herakles scenes on podia and the Greek character of other sculptures around the building made a conscious link to indigenous culture. As the author's reconstruction shows, the entire assemblage, arranged in thematic segments, would have attempted to resolve in symbolic form the real cultural negotiation at the heart of Roman Corinth. This book presents in detail the freestanding sculptures, assembled from fragmentary remains, and reveals an additional group of architectural sculptures as well as figures in niches and between columns. With
Corinth
IX.2, it completes the publication of sculptures excavated from the theater by the American School of Classical Studies at Athens. Drawing on over 30 years of study, the author also presents her ideas about sculptural decoration in the Corinth theater and throughout the Roman East. Using epigraphical as well as architectural evidence she explores questions of dedication and patronage to shed important new light on the social role of Roman theater, a forum for far more than just entertainment.
About the Author:
Mary C. Sturgeon is Professor
Emerita
of Art and Art History at the University of North Carolina at Chapel Hill.
Reviews:
"This book is an excellent primary publication of an important body of Roman sculpture from a recorded context. The work is thoughtful, careful, intelligent. It is good to see such painstaking attention paid to the full range of marbles recovered--making the fragments speak." R. R. R. Smith, University of Oxford