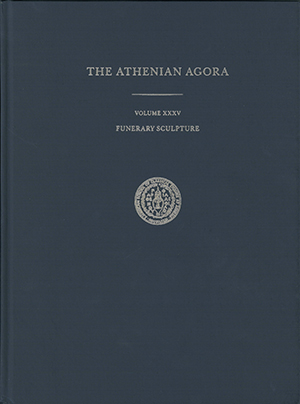 by Janet Burnett Grossman
Athenian Agora XXXV
280 pp, 23 b/w figs, 128 pls, 2 plans, 12 tables
9" x 12"
Cloth, ISBN: 978-0-87661-235-4
Publication Date: Dec 2013
Status: Active

Retail Price $150

BUY PRINT
BUY EBOOK
VIEW ONLINE

Description:
Funerary Sculpture
is the first volume on sculpture from the Agora in over 50 years, bringing together all the sculpted funerary monuments of the Athenian Agora, Classical through Roman periods, which were discovered during excavation from 1931 through 2009. The wide chronological span allows the author to trace changes in funerary monuments, particularly the break in customs that took place in 317 B.C., and the revival of figured monuments in the Roman period.
The study consists of three essays followed by a catalogue of 389 objects. The author places the Agora sculptural fragments within the greater context of Attic funerary sculpture, moving from a general to a specific treatment of the funerary sculpture. The first essay is an overview of the study of Attic types of sculpture; the second discusses the specific features of funerary sculpture from Athens and Attica; and the third examines the characteristics of the funerary sculptures found in the Agora, thereby forming an introduction to the catalogue that follows. The catalogue includes stelai and naiskoi with female and/or male figures, sirens, decorative anthemia, funerary vessels, lekythoi, loutrophoroi, animals, mensa, columnar monuments, and more. There are separate indexes of museums, names, demes, places, and findspots, as well as a general index.
About the Author:
Janet Burnett Grossman retired in 2008 after 17 years as a curator in the antiquities department of The J. Paul Getty Museum at the Villa. She continues her study of ancient sculpture with a catalogue of the Greek and Cypriot sculpture in the Getty's collection which is currently in preparation.
Reviews:
"This book is a real treasure trove for students and researchers working in the field of funerary sculpture. . . [Grossman] has presented a timeless scholarly book which will no doubt be consulted for many years to come." Anja Slawisch,
BMCR
2014.07.28.
"Grossman has built more than ample foundations upon which future scholars interested in the social complexities and framework of ancient Athens can build." Lisa A. Hughes,
Mouseion
13.3 (2016), pp.683-686.