Amphora Stamps from Thasos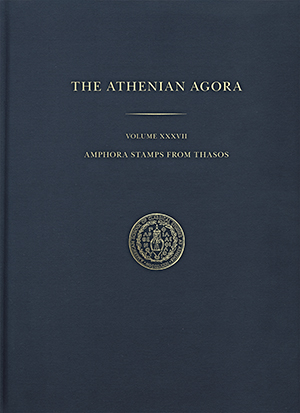 Description:
Ancient Thasos was renowned for its wine, which was heavily exported in ceramic amphoras across the eastern Mediterranean and the Black Sea. Once a principal market in this trade, the Athenian Agora is now home to one of the largest collections of stamped amphora fragments from the island of Thasos, including 723 items dating from the beginning of the 4th to the late 2nd century B.C. This volume presents the Thasian amphora stamps of the Agora collection, contextualized in a broader discussion of their interpretation and chronology. The core contributions of the volume are an improved chronology of the officials mentioned on the stamps, based on a reassessment of archaeological evidence from the Agora and beyond, and an innovative study of the engravers who made the stamping dies. This volume also provides a critical review of the complex and still poorly understood system of control over ceramic production that underlies the stamping practice. A quantitative study based on 28,030 Thasian stamps highlights the major trends in the Thasian wine trade and offers insight into the role of Athens in this trade.
Reviews:
"
Agora
XXXVII is an excellent addition to the field of Amphorae (stamp) studies and greatly expands our knowledge of a widely attested material category. The book is expertly written but highly accessible and as such of interest to not only the amphorae specialist but also the more general reader." Mark van der Enden,
Journal of Greek Archaeology
2 (2017), pp. 439-441.
"Chavdar Tzochev's familiarity with the fundamental sources from the French School, the vast bibliography from countries surrounding the Black Sea (the primary destination for exports of Thasian amphoras), and his deep engagement with the excavation records of the Athenian Agora, all combine to make this volume a perfect entry-point into research on Thasian amphoras." Mark Lawall,
International Journal of Nautical Archaeology
46.2 (2017), pp. 459-460.