Kallias of Sphettos and the Revolt of Athens in 286 B.C.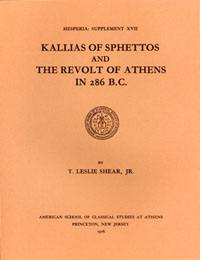 by T. Leslie Shear Jr.
Hesperia Supplement 17
127 pp, 4 pls
8.5" x 11"
Paper, ISBN: 978-0-87661-517-1
Publication Date: Nov 1978
Status: Active

Retail Price $50

BUY PRINT
VIEW ONLINE

Description:
The long honorary decree for Kallias of Sphettos, found in the excavations of the Athenian Agora in 1971, is here published for the first time, illustrated with general and detailed photographs, with a translation and line-by-line commentary. The author has further explored the wealth of information to be gathered from the inscription, which adds greatly to our understanding of Athenian history between the battle of Ipsos in 301 and the battle of Kouroupedion in 286 B.C., the ensuing peace with Demetrios, and the acquisition of foreign aid for the nationalist regime. These discussions are followed by an appendix giving the Greek texts of the literary and epigraphic testimonia, and a chronological table, which provides a historical summary at a glance for this troubled period.
Reviews:
"The devotion of an entire
Hesperia
Supplement to one inscription raises expectations of a document of singular interest, and such expectations are amply justified. . . . . Shear's study will be an indispensable tool for any serious student of Athens in the early part of the third century B.C." Michael J. Osborne,
The Classical Review
30 (1980), pp. 298-299.