Studies in Archaic Corinthian Vase Painting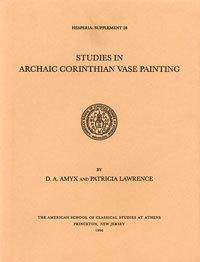 by D. A. Amyx and Patricia Lawrence
Hesperia Supplement 28
172 pp, 64 figs
8.5" x 11"
Paper, ISBN: 978-0-87661-528-7
Publication Date: Nov 1996
Status: Active

Retail Price $75

BUY PRINT
VIEW ONLINE

Description:
Two important contributions to Greek pottery studies. Aftermath, by D. A. Amyx, is a catalogue of material supplementing his work in
Corinth
VII.2 but found after the cutoff of 1969 or omitted for some other reason. This article and
Corinth
VII.2 together stand as a full compilation of painters at present represented in the collection of the Corinth Excavations. The Chimaera Group at Corinth and Dodwellians in the Potters' Quarter are both by Patricia Lawrence. The first is a thoughtful analysis of this group of painters, based on a close examination of material found in the excavations at Corinth but including attributed pieces from other sites. The second studies 15 new fragments and reexamines material previously published in
Corinth
XV.3, demonstrating that the Geladakis Painter, as well as several Dodwellians, are represented there.
Reviews:
"This
Hesperia
supplement will be fundamental for Archaic Corinthian pottery." Elizabeth G. Pemberton,
AJA
102 (1998), p. 425