Landscape Archaeology in Southern Epirus, Greece 1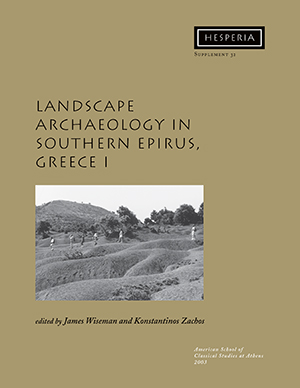 by James Wiseman and Konstantinos Zachos
Hesperia Supplement 32
309 pp, 118 figs., 12 tables
8.5" x 11"
Paper, ISBN: 978-0-87661-532-4
Publication Date: Nov 2003
Status: Active

Retail Price $75

BUY PRINT
VIEW ONLINE

Description:
The first in an anticipated two-volume set presents the results of the Nikopolis Project that was conducted between 1991 and 1996; the first large-scale, systematic survey in this region of Greece. The project employed intensive archaeological survey and geological investigations to determine patterns of human activity and changes to the landscape, from earliest times through the medieval period. The volume contains an overview of the project, a discussion of the survey methodology employed, the results of a separate Palaeolithic survey and a spatial analysis of the finds at a remarkable Upper Palaeolithic site, and geomorphological studies of both the Ambracian Gulf and the lower Acheron River Valley. The results add to the growing body of survey data from Greece and show the utility of an interdisciplinary approach to the study of the past.
Reviews:
"I highly recommend [this book]. In addition to being fascinating reading, it is a handsome volume, full of high quality illustrations (120), many of which are in color. The authors ask questions of importance to Balkan archaeology, and the discussions of methodology should be required reading for all early prehistoric, survey and geoarchaeologists, especially those working in Greece." Michael L. Galaty,
JFA
29 (2003-2004), pp 233-236.