Fragmentary Decrees from the Athenian Agora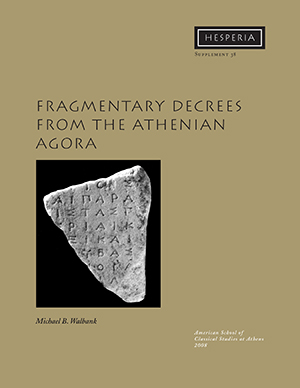 by Michael B. Walbank
Hesperia Supplement 38
124 pp, 100 figs
8.5" x 11"
Paper, ISBN: 978-0-87661-538-6
Publication Date: Nov 2008
Status: Active

Retail Price $50

BUY PRINT

Description:
This volume publishes the
editiones principes
of the most fragmentary inscriptions found during excavations in the Athenian Agora between 1931 and 1967. These comprise parts of 100 decrees of the Athenian state and other political bodies. Each of the inscriptions is illustrated and described, with a transcription of the legible letters and commentary.
About the Author:
Michael B. Walbank is Professor
Emeritus
of Greek, Latin, and Ancient History at the University of Calgary.