Crete in Transition: Pottery Styles and Island History in the Archaic and Classical Periods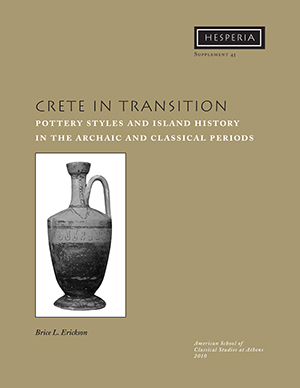 Description:
This work presents a classification system and absolute chronology for black-gloss wares from Crete, establishing the first local and regional ceramic sequences during the period from 600 to 400 B.C. This new chronological foundation of datable pottery from excavated sites fills in the so-called 6th-/5th-century gap and dispels the prevailing view that this was a period of decline in population and one of artistic and cultural impoverishment. The 6th century heralded important changes in Cretan society, reflected in the reorganization of burial grounds, new patterns of sanctuary dedication, and the circulation of exotica among the elite. The study reveals unsuspected connections with mainland Greece, especially Sparta and Athens. Historians and archaeologists will find the author's conclusions, and their implications, to be of considerable interest.
About the Author:
Brice L. Erickson is Associate Professor in the Department of Classics at the University of California at Santa Barbara.