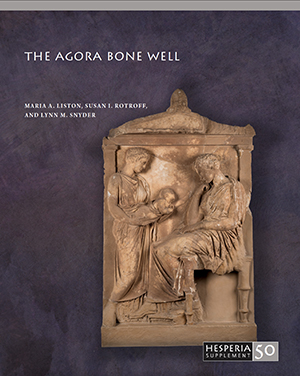 Description:
Even though Dorothy Thompson excavated the Agora Bone Well in 1938, the well and its remarkable finds have never been fully studied until now. Located outside the northwest corner of the Athenian Agora and dating to the second quarter of the 2nd century B.C., the well contained the remains of roughly 460 newborn infants, as well as a few older individuals. Also found in the well were the bones of over 150 dogs and an assortment of other animals, plus various artifacts, including an intriguing herm (treated here by Andrew Stewart) and an ivory chape. In addition to a thorough examination of the contents of the well, the authors provide a thoughtful analysis of the neighborhood in which the well was located and carefully compare the deposit with similar accumulations found elsewhere in the Mediterranean. The product of close cooperation between archaeological, palaeoanthropological, and faunal scholars, this interdisciplinary work will be of interest to a large audience across a variety of fields.
About the Author:
Maria A. Liston is Associate Professor of Anthropology at the University of Waterloo. Susan I. Rotroff is the Jarvis Thurston and Mona Van Duyn Professor
Emerita
at Washington University in St. Louis. Lynn M. Snyder is an anthropologist/archaeologist with a specialization in zooarchaeology; she also serves as Museum and Exhibit Coordinator for the History Museum of the Historical Society of Quincy and Adams County, in Quincy, Illinois.
Reviews:
"
The Agora Bone Well
is a poignant text, effectively marrying scientific methods and humanistic inquiry. The rigorous analysis is relevant to scholars studying ancient childbirth, paleopathology, zooarchaeology, ceramics, mortuary ritual, Athenian topography, and more. Unlike most multidisciplinary volumes, this text weaves together a clear, concise, and coherent narrative. While the content is academic, the writing shines with an accessible empathy." W. Flint Dibble,
AJA
123.4 (2019)
"This book represents an invaluable contribution to our understanding of 2nd century BC Athens and infant death and deviant burials in ancient Greece. It is also a demonstration of what can be accomplished when specialists work together to understand a total picture, one comprised of pieces that would have been considered separately in earlier days. . . . It is a welcome update to our understanding of this deposit and will not, I think, be soon superseded in its broader conclusions." Debby Sneed,
BMCR
2019.07.38
". . . Un modèle éloquent d'analyse interdisciplinaire. Depuis la découverte, il aura fallu attendre 80 ans pour aboutir à cette publication de grande qualité, qui intéssera autant les archéologues que les historiens de la religion et de la société grecque." Guy Ackermann,
Museum Helveticum
76.1 (2019), pp. 132-133