Ancient Corinth: Site Guide (7th ed.)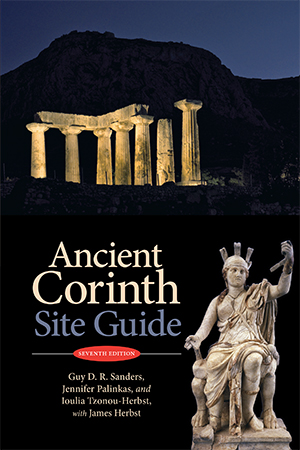 Description:
This is the first official guidebook to the site of ancient Corinth published by the ASCSA in over 50 years, and it comes fully updated with the most current information, color photos, maps, and plans. It is an indispensable resource for the casual tourist or professional archaeologist new to the site. The guide begins with a history of Corinth and its excavations and then presents two tours. The first takes visitors through the archaeological site from the Temple of Apollo to the Forum, the Fountain of Peirene, and more. The second tour covers the ancient monuments outside the fenced area of the site, including the Odeion, the Theater, and the Asklepieion, and then the various remains of ancient Corinth located within and outside the ancient Greek walls, including the Sanctuary of Demeter and Kore and the Lechaion Basilica. Short bibliographic notes for many entries lead the reader to fuller descriptions of monuments, objects, and concepts; a glossary is also provided. Interspersed in the text are topographical notes and focus boxes on special topics such as geology, Pausanias, St. Paul, and prehistoric Corinth and the Corinthia.
Also available in
modern Greek
.
About the Author:
Guy D. R. Sanders is the former Director of Corinth Excavations. Jennifer Palinkas is an instructor at Harford Day School in Maryland. Ioulia Tzonou-Herbst is the Associate Director of Corinth Excavations. James Herbst is the Architect of Corinth Excavations.
Reviews:
"The authors as well as the ASCSA design team have produced a highly functional guidebook to help lay and professional visitors to engage with the extensive excavated and visible remains. The monuments are brought to life by plans, reconstructions, historic photographs, and color images. This will be an invaluable aid to interpret what can be seen on the ground, and will serve as a model for guides to other archaeological sites."
David Gill,
BMCR
2018.12.05.