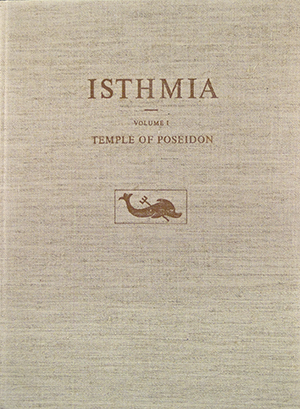 by Oscar Broneer
Isthmia I
202 pp, 148 figs, 42 pls (4 in color)
9" x 12"
Cloth, ISBN: 978-0-87661-931-5
Publication Date: Nov 1971
Status: Active

Retail Price $100

BUY PRINT

Description:
Two successive temples, built on the same foundations, are discussed in this detailed architectural history: an Archaic building built around 700 B.C. and a Classical 5th-century successor. Little is left visible at Isthmia of the temples that would have dominated the sanctuary, and, therefore, this study presents a painstaking exercise in detective work. This yields important results, such as an almost complete reconstruction of the Archaic roof, and a detailed investigation of the workings of the perirrhanterion (a basin for ablutions). Traces of color on the architectural fragments of the temple have been painstakingly recorded, and an appendix discusses the evidence for an unusual 32.04 cm foot being used as the basis for construction.
Reviews:
"This publication gives a clear idea of the sanctuary in the course of the centuries. The descriptions are lucid and systematic and are illuminated and illustrated by means of a large number of drawings, which are the more welcome as the material itself is very scanty. This series forms an important contribution to our knowledge of classical architecture and of Greek religion." J. Feye,
Mnemosyne
30.2 (1977), pp. 214-216.