Triumph Over Time : The American School of Classical Studies at Athens in Post-War Greece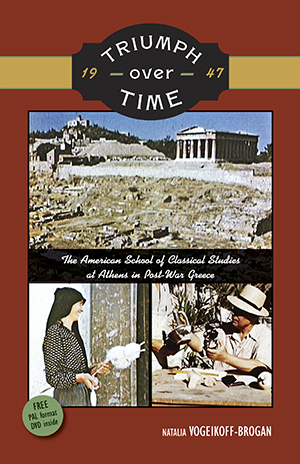 by Natalia Vogeikoff-Brogan
24 pp, 42 minute movie on DVD (PAL format for European customers).
5.5" x 8.5"
Paper, ISBN: 978-0-87661-964-3
Publication Date: Nov 2007
Status: Active

BUY PRINT

Description:
In 1947, the American School of Classical Studies at Athens commissioned a color movie
(Triumph over Time)
to accompany its fundraising campaign. Directed by the archaeologist Oscar Broneer and produced by numismatist Margaret Thompson with the aid of staff from Fox Studios, the documentary shows Greece rebounding from the horrors of World War II and the staff of the American School hard at work preparing archaeological sites for presentation to post-war tourists. Footage of excavations at the Athenian Agora and ancient Corinth are mixed with scenes from everyday agricultural life. Famous people in the history of the School and Greece move in and out of the film's frames: King Paul and Queen Frederica attend a public lecture; the Librarian of the Gennadius Library, Shirley H. Weber, shows donor Helene Stathatou some of its priceless manuscripts; Homer A. Thompson, newly appointed Director of the Agora Excavations, displays treasures from the site. Such scenes from the American School's academic and social year show an institution at the forefront of Greece's march back to normality after almost a decade of unrest. In an accompanying essay, Natalia Vogeikoff-Brogan, the American School's Archivist, describes the making of the movie, the historical background to its production, and its place in both the institutional history of the ASCSA and the political history of Greece. She presents fascinating excerpts from previously unpublished correspondence and memoirs, as well as contemporary photographs. (This is the European edition, including a PAL format DVD.)
About the Author:
Natalia Vogeikoff-Brogan is Head Archivist at the American School of Classical Studies at Athens.