Ottoman Athens: Archaeology, Topography, History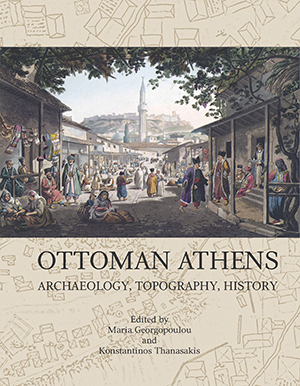 edited by Maria Georgopoulou and Konstantinos Thanasakis
290 pp, 95 figs
8.27" x 10.63"
Paper, ISBN: 978-960-99945-4-5
Publication Date: Nov 2019
Status: Active

Retail Price $30

BUY PRINT

Description:
A joint publication of the Gennadius Library and the Aikaterini Laskaridis Foundation,
Ottoman Athens
is the first volume to focus on the Ottoman presence in Athens. This collection of 12 essays explores the architecture, antiquities, cartography, and documentary sources from the period, shedding light on little-studied material and illuminating daily life in Greece's most famous city during Ottoman rule.
Also available in
hardcover
.
About the Author:
Maria Georgopou is Director of the Gennadius Library at the American School of Classical Studies at Athens. Konstantinos Thanasakis is a scientific advisor at the Aikaterini Laskaridis Foundation.