Research and Publications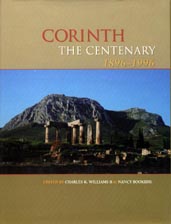 Excavation is only one part of an archaeological process that involves the detailed study of finds and accurate recording leading to peer-reviewed publication. As well as the permanent staff, a large number of scholars from an array of international institutions are involved in the study of materials from Corinth. Their work appears in a variety of publication venues, but mostly through the School''s own Corinth monograph series and articles in the journal Hesperia. Some publications are available electronically at Google Books.
Those wishing to conduct research at our study center should familiarize themselves with our "Permissions & Permits" info page and see these links for more detailed description of the services and amenities of our facilities and accommodations.