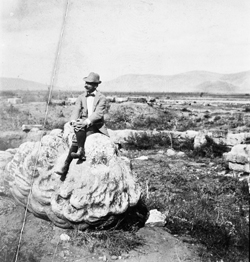 COLLECTION OVERVIEW
Collection number: GR ASCSA CHW 029
Name(s) of Creator(s): Charles Heald Weller (? - 1927), Ruth Weller McCuskey
Title: Charles H. Weller Papers
Date [bulk]: 1900-1901, 1910
Date [inclusive]:
Language(s): English
Summary: Transcriptions (typed) of about 180 letters that Charles H. Weller sent to his wife Rose from Athens during the academic year 1900-1901 (when he attended the American School of Classical Studies at Athens and excavated the Vari Cave), and in a subsequent short visit to Greece in the summer of 1910; a few photopied pages from the original letters; and copies of 27 photos mostly from 1900-1901 (and a few from 1910). The letters were transcribed by his granddaughter Jeanne B. Perrin.
Quantity: 0.10 linear meters
Immediate Source of Acquisition: Gift of Jeanne Brigham Perrin, 1981
Information about Access: The collection is available for research.
Cite as: American School of Classical Studies at Athens, Archives, Charles H. Weller Papers (Αμερικανική Σχολή Κλασικών Σπουδών στην Αθήνα, Αρχείο Charles H. Weller)
Notes: For Weller's excavation at the Vari Cave and his time in Greece, also see: Natalia Vogeikoff-Brogan, "Athens at the Turn of the Century: A Sentimental Capital and a Resort of Scholars," 1 April 2017.
---
For more information, please contact the Archives:
The American School of Classical Studies at Athens
54 Souidias Street, Athens 106 76, Greece
Phone: 213-000-2400 (ext. 425)
Contact via E-mail