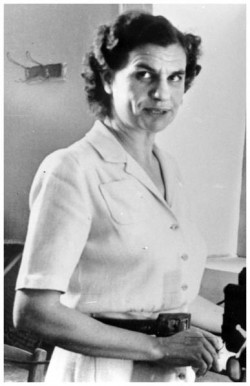 Archaeological Photographic Collection
This collection includes 3,655 items documenting the field activities of the American School from its establishment in 1881 until WW II, with rare and valuable images recording the restoration work of architect Nikolaos Balanos at the Erechtheum on the Acropolis in the early 20th century, the identification of the Choregic Monument of Nikias on the South Slope of the Acropolis, the discovery of the Sanctuary of Eros and Aphrodite on the North Slope of the Acropolis in the 1930s, the excavations at the site of Dionysus in northern Attica, the restoration of the Lion of Amphipolis, as well as general views of Athens.
---
Alison Frantz Collection
The Alison Frantz Photographic Collection contains images by the photographer and archaeologist Alison Frantz (1903-1995). The photographs mainly depict Archaic and Classical sculpture, Greek archaeological sites and various finds. The collection was created between the late 1940's and the early 1970's. The images have illustrated numerous publications, among them: Korai, Greek Archaic Maidens (Gisela M. A. Richter, 1968); The Archaic Gravestones of Attica (Gisela M. A. Richter, 1961); Olympia, The Sculptures of the Temple of Zeus (Bernard Ashmole and Nicholas Yalouris, 1967) and The Parthenon Frieze (Martin Robertson and Alison Frantz, 1975).
---
Doreen Canaday Spitzer Collection
The Doreen Canaday Spitzer Collection contains about 1,100 images taken by Doreen Canaday (later Spitzer), while a student of the ASCSA in 1936-1938, of Greece and Turkey primarily. The collection was digitized thanks to a grant from the European Union (ESPA).
---
Dorothy Burr Thompson Collection
The collection includes 3,176 items. Dorothy Burr Thompson (1900–2001), who is known to the world of Greek archaeology as an excavator and leading expert in ancient terracottas, donated her photographic collection to the American School of Classical Studies at Athens. The collection, which covers the period 1923–1955, includes images from Thompson's travels in Greece, Turkey and Italy. In addition to the archaeological information, some of which has been lost or forgotten, the collection is a mosaic of information about architecture, landscapes and customs that no longer exist.
---
Historical Archives
With funding from the Information Society Program of the 3rd European Community Support Framework, the Archives have digitized a collection of images documenting public and private moments of Greek history, from the late 19th to the early decades of the 20th century. These photos originated from the rich archive of the Dragoumis family, the papers of Athanasios Souliotis, Nikolaos Mavris and others, as well as from the papers of author Stratis Myrivilis who fought in the Balkan Wars and the Greek-Turkish War (1919–1922).
---
For more information, please contact the Archives:
The American School of Classical Studies at Athens
54 Souidias Street, Athens 106 76, Greece
Phone: +30 213-000-2400 (ext. 414 or 306)
Contact via E-mail