Maps of the Mediterranean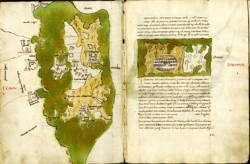 Search the map collection of the Gennadius Library
The project Mapping Mediterranean Lands, which was fuelled by the imagination of a handful of people fascinated by the power of maps to encapsulate historical realities over time, is part of the Digital Library for International Research, and was conducted under the aegis of the Council of American Overseas Research Centers.
The important map collection of the Gennadius Library benefitted from this project, which sought to create a fully searchable web-based catalog of significant early and unique maps of the Mediterranean region accompanied by information drawn from archives, manuscripts, and early printed books at eight American overseas research centers. The first phase of the project has identified and indexed all maps available in the American Overseas Research Centers around the Mediterranean as well as those in other areas with related materials. These records are available through the DLIR online catalog; brief working inventories excerpted from the original databases are also available where the maps of the Gennadius Library can be searched separately. An online exhibition introduces the project and its materials. Full cataloguing of the maps will soon allow researchers to locate the maps not only from the DLIR library but also on the Union catalog of the American School. Digitization of the maps will follow.
The Gennadius Library is a repository of an outstanding collection of about 3,000 historical maps on Greece, the Balkans and Turkey, which clearly occupied an important position in the collection of Joannes Gennadius. Spanning a period from the late fifteenth to the twentieth centuries, these maps are either drawn in hand or were printed by noted cartographers and map publishers. Among many important maps may be noted the series of island maps in the Ionian and Aegean seas from a fifteenth century manuscript of Buondelmonti's Liber Insularum (illustrated on this page), an early nineteenth century chart of the Aegean by Nicolas Kefalas (possibly the first printed Greek nautical chart), and numerous maps concerned with the political development of the Balkan states in the late nineteenth century. Leonora Navari and Alexis Malliaris assembled and catalogued this valuable cartographic material under the wise leadership of Catherine DeG. Vanderpool and Natalia Vogeikoff-Brogan.