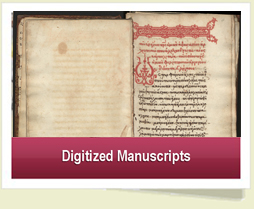 The exceptional manuscript collection of the Gennadius Library includes some 400 codices assembled by the founder Joannes Gennadius and constitutes a unique historical manuscript repository in Greece. After World War II several major private collections of manuscripts were donated to the Library (e.g. the manuscripts of Helen Stathatos, the Damianos Kyriazis collection, and the collection of Anastasis Kanellopoulos) or bought by the Library (e.g. those of Volidis and Martakos). Later acquisitions include a significant number of karamanlidika manuscripts, and welcome donations still enrich the collections.
The manuscripts are of a diverse nature (theological, literary, philological, historical, geographical, archaeological, and music manuscripts) and range in date from the twelfth to the nineteenth centuries. The collection illustrates like no other collection the significance of the manuscript tradition in preserving the continuous history of the Greek heritage throughout the centuries.
---
Σύμμεικτο με ελληνικά και λατινικά κείμενα, (MSS 39).
(Ff. 1-2) Πίνακας περιεχομένων στα λατινικά. (Ff. 3-353v) Θεόφραστος, Περὶ αἰσθήσεων. Επίσης, Μιχαήλ Ψελλός, Αθανάσιος Αλεξανδρείας, Βησσαρίων καρδινάλιος, Σέξτος εμπειρικός, αποσπάσματα της βιβλιοθήκης του Φωτίου, Στοβαίος, Νικόλαος επίσκοπος Μεθώνης, Νεμέσιος, Νικηφόρος Γρηγοράς, Συνέσιος, Θεοφύλακτος Σιμοκάτης, χρυσόβουλλο Μανουήλ Παλαιολόγου του 1401, ελληνικά και λατινικά επιγράμματα κ.α. With many blank folios.
Collation: Ms. codex.
Layout: One column, varius number of lines; frame ruled.
Script: Diverse greek and western hands from several periods.
Decoration: Band, title and initial in red on f. 40 (16th cent.).
Binding: Wooden boards covered with light braun leather. Gold tooling on the boards and the insides. From one flyleave. The back have been damaged.
Accompanying materials:
Origin: West Europe.
Former selfmark:
Scribes: Diverse hands. <Γεώργιος Βασιλικός> wrote ff. 40-50.
---
Σύμμεικτο με αστρολογικά, περί Ποιητικής, Λογικής, των Φυσικών, (MSS 45).
(Ff. 1v-39v) Αστρολογικά και μαγικά διάφορα. (Ff. 40-53, 54-55) Τῆς ποιητικῆς τέχνης βραχεῖα σύνοψις εἰς σχολαστικὸν ἐκδοθεῖσα τρόπον. (Ff. 62-70v) Σημειώσεις στη Λογική στα λατινικά. (Ff. 71-74) Σημειώσεις στα οκτώ βιβλία των Φυσικών στα λατινικά.
Blank: ff. 1, 21v-23, 38v, 40v, 53v, 55v-61v, 74v-77v.
Collation: Ms. codex.
Layout: One colunm of 18/19 lines on ff. 1-39v and about 13 lines on ff. 40-74; frame ruled.
Script: Right inclined, acute and quiq greek minuscule, from an excperienced scribe on ff. 1-39v. Right inclined, round, calligraphic, on ff. 40-74 in greek and latin, rather from western hands.
Decoration: Simple knittband on f. 2, initials with floral details, titles, astrological symbols in red or black.
Binding: Thin wooden boards covered with light brown half-leather with motivs, sleek on the back and the corners. On the back in gold the titel "OPUS ASTROLOGICUM. DE ARTE POETICA. M.S.GRAECE". Red punctate edges.
Accompanying materials:
Origin: <West Europe>.
Former selfmark:
Scribes: A. Anonymus, (ff. 1v-39v). B. Anonymus, (ff. 40-55). C. Anonymus, (ff. 62-74 in latin).
---
Manuscripts of the Gospels from the 12th to the 16th centuries.
In the digital collection of the Center for the Study of New Testament Manuscripts. See:
Thirteenth century (1226) minuscule manuscript of the Gospels on parchment
Twelfth century manuscript of the Gospels on parchment
Thirteenth century manuscript of Apostolos and Pauline Epistles on parchment
Fourteenth century (1315) manuscript of the Gospels on parchment
Thirteenth century manuscript of the Gospels on parchment