Scientific research on archaeological materials is greatly assisted by the growing reference collections housed within the Wiener Laboratory. There is no substitute for the opportunity to examine and experiment on physical comparanda. A number of comparative collections have already been developed and are constantly being added to, while new collections to support emerging areas of research are being planned. A virtual faunal reference collection will also be available soon. Additionally, the laboratory's extensive specialist library holdings offer access to journals not available elsewhere in Greece, as well as maps and other resources.
The Wiener Laboratory's permanent reference collections benefit from the contributions of both time and materials by lab staff, fellows and associates, excavators, interested scholars and colleagues at other research institutions. All donations are gratefully received.
Human Skeletal Collection
The Human Skeletal collection housed in the Wiener Laboratory consists of a small number of complete skeletons and various isolated skeletal elements, as well as numerous casts (e.g., articulated and non articulated plastic skeletons). In addition, the collection includes casts of human dental development (maxillae and mandibles), the Arizona State University Dental Anthropology System reference plaques, the Suchey-Brooks pubic symphyseal aging system casts, and the Işcan et al. rib phase casts. Finally a modern human dental reference collection already consisting of 270 specimens is under development and available to researchers.
Modern Faunal Comparative Collection
This growing collection concentrates on the basic mam
mal, mollusc, fish and bird species common to Greece and the Eastern Mediterranean.

Lithic Collection
The Lithic Reference Collection includes specimens of both hand samples and thin sections.The collection further includes a stable isotope database for Aegean marbles, reference samples of oolitic limestone from Greek and Roman quarries at Corinth, marble samples from Mount Pentelikon and quarry regions around the Peloponnese
Botanical Collection

This is a growing Botanical Collection consisting of :
• An extensive seed and plants reference collection. For a catalogue of the collection click here
• A modern reference collection of charred wood
• A digital archive of phytoliths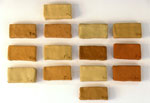 Ceramic and Soil Collections
A part of Marie Farnsworth's Ceramic Collection is on permanent loan from the Smithsonian Institution. The lab also has a small Soil Micromorphological Reference Collection of archaeological and natural sediments from the Palaeolithic sequence of Theopetra Cave, situated near Meteora in Northern Greece and a small number of petrographic thin sections from Markiani on Amorgos.
Other Collections
Other collect
ions include a large Pigment Collection, Modern Bone Tool and Stone Tool Collections.
---
Please consult our Rights and Permissions page for details on using images from our collections.
---
The Wiener Laboratory owes special thanks to the following for their contributions to its reference collections: Dr. Walter Klippel, Dr. Lynn Snyder, Dr. Yiannis Hamilakis, Dr. Justin Lev-Tov, Dr. Michele Miller, Dr. Deborah Ruscillo, Dr. Ekaterini Trantalidou, Dr. Norman Herz, Dr. Chris Hayward, Dr. Scott Pike, Dr. Anna Lagia, Dr. Eleanna Prevedorou, Dr. Harriet Blitzer, Dr. Fragkiska Megaloudi, Dr. Evi Margaritis, Dr. Maria Ntinou, Dr. Georgia Tsartsidou, Dr. Hariclia Brecoulaki, Dr. Rozalia Christidou, Dr. Panagiotis Karkanas, Dr. Christine Shriner, Dr. Melissa Moore, Dr. Ruth Siddall, Dr. China Shelton, and Dr. Tatiana Theodoropoulou.