History of the American School 1882-1942 - Appendix III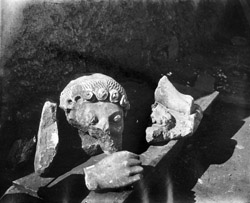 A History of the American School of Classical Studies, 1882-1942


Appendix III: Excavations of the American School of Classical Studies at Athens, 1882–1940
"Excavation" is used in the broadest sense. Crow's work in the Pnyx, 1882, was more properly an "investigation." This is true also of Bates's and Allen's work at the Asklepieion in 1906, and of Hill's at the Erechtheum in 1914. Miller's Thoricus was the School's first real dig. "Under the auspices of the School" is used to describe an excavation not financed by the School but for which the School secured the Government's permission to dig and for which the School assumed responsibility. In the case of the excavation at Pylos the School merely endorsed the request for permission to dig.
The excavations "with the Fogg Museum" and "with the University of Cincinnati" were joint enterprises, those "with the Archaeological Institute of America" were partially or wholly financed by the Institute and staffed by the School.
"With the assistance of the School" means that School Fellows participated in the excavation, and facilities for publication were given.
ABBREVIATIONS
A. A. Art and Archaeology
A. I. A. Archaeological Institute of America
A. J. A. American Journal of Archaeology
H. Hesperia
P. Papers of the American School of Classical Studies at Athens
R. Annual Reports of the American School of Classical Studies at Athens
(Reports I–XV were published by the Managing Committee; Reports XVI–XXVII were printed in the A. J. A., Second Series, Volumes I–XII; Reports XXVIII–XLVII were printed in the Bulletins of the A. I. A., I–XIX; and Reports XLVIII–LX were printed by the Managing Committee.)
A book listed without place of imprint (e. g., The Argive Heraeum) is one of the regular School publications issued by the Harvard University Press.
LIST OF EXCAVATIONS WITH DATES
Amphipolis, 1936
Amyclae, 1892
Anthedon (Boeotia), 1889
Atalante (Locris), 1911
Athens, 1882, 1883, 1900, 1906, 1910, 1911, 1914, 1918, 1919, 1923, 1924, 1931–1940
Colophon, 1922, 1925
Corinth, 1896–1905, 1907–1911, 1914–1916, 1925–1939
Eretria, 1891, 1892, 1894, 1895
Eutresis (Boeotia), 1924–1927
Gonia (Corinthia), 1916
Hagiorgitika (Arcadia), 1928
Halae (Locris), 1911–1914, 1921, 1923, 1931
Heraeum (Argolis), 1892–1895; Prosymna, 1925, 1927, 1928
Icaria (Attica), 1888
Kato Zakro (Crete), 1925
Kavousi (Crete), 1900
Korakou (Corinthia), 1915, 1916
Koukounari (Attica), 1895
Koutsopodi (Argolis), 1893
Kyparissi (Locris), 1911
Mochlos (Crete), 1908
Nemea, 1924–1926
Oeniadae, 1900, 1901
Olynthus, 1928, 1931, 1934, 1938
Opous, 1911
Phlius, 1892, 1924, 1925
Plataea, 1889–1891
Prosymna (Argolis), (Heraeum), 1925, 1927, 1928
Samothrace, 1938, 1939
Sicyon, 1887, 1891
Sparta, 1892, 1893
Stamata (Attica), 1888
Thisbe, 1889
Thoricus (Attica), 1886
Vari (Attica), 1901
Zygouries (Corinthia), 1921, 1922
CHRONOLOGICAL LIST OF EXCAVATIONS
[Each entry is in the form: Site; Date; Excavator(s); Published in; Page of the History]
JOHN WILLIAMS WHITE, CHAIRMAN 1881–1887
Athens; 1882 and 1883; Pnyx; J. M. Crow; P. IV; pp. 205–260; 42
Thoricus (Attica) (With A. I. A.); 1886, April–June 2, Fall; Walter Miller, W. L. Cushing; P. IV, pp. 1–21, P. IV, pp. 22–34; 42–44, 45
Sicyon (With A. I. A.); 1887, March 23–May 10; W. J. McMurtry; P. V, pp. 1–20; 45
THOMAS DAY SEYMOUR, CHAIRMAN 1887–1901
Sicyon (With A. I. A.); 1887 Dec. 5–30; M. L. Earle; P. V, pp. 20–42; 46
Icaria (Attica); 1888 Jan. 30–March 19, Nov. 13–Jan. 14, 1889; C. D. Buck; P. V, pp. 43–134; 70, 71
Stamata (Attica); 1888 Dec. 27–Jan. 3, 1889; H. S. Washington; P. V, pp. 189–193; 73
Anthedon (Boeotia); 1889 March 5–26; J. C. Rolfe; P. V, pp. 194–223; 73
Plataea; 1889 April 2–7; C. Waldstein; P. V, pp. 233–252; 73, 74
Thisbe; 1889 March 27–31; J. C. Rolfe; P. V, pp. 224–232; 73
Plataea; 1890 Feb. 19–March 13; H. S. Washington; P. V, pp. 253–283; 74
Eretria; 1891 Jan. (end)–March 18; C. Waldstein; P. VI, pp. 56–122; Nineteenth Century, May, 1891; 75
Plataea; 1891; H. S. Washington; P. VI, pp. 40–55; 75
Sicyon; 1891 July 27–Aug. 14; M. L. Earle / Dec. 23–30; C. L. Brownson, C. H. Young;  P. VI, pp. 1–9/ P. VI, pp. 10–22; 76
Amyclae; 1892 March;  C. Waldstein; R. XI, p. 31; 77
Eretria; 1892 Jan.; W. C. Poland; R. XI, p. 40; 77
Heraeum (With A. I. A.); 1892 Feb. 13; C. Waldstein; Bulletin III of the School; 78
Phlius; 1892 March; H. S. Washington; A. J. A. XXVII (1923), pp. 438–446 ; 77
Sparta; 1892 March 18; C. Waldstein; P. VI, p. 206; 77
Heraeum (With A. I. A.); 1893; C. Waldstein; R. XII, pp. 27–35; 78
Koutsopodi (Argolis); 1893 April 24–30; C. Waldstein; A. J. A. (1st Series) VIII (1893), pp. 429-436; J. M. Paton R. XII, p. 284; 78
Sparta; 1893 April 15–25; C. Waldstein; P. VI, pp. 206–224; 78
Eretria; 1894; R. B. Richardson; R. XIII, pp. 23–33; 80
Heraeum (With A. I. A.); 1894; C. Waldstein; R. XIII, pp. 34–38; 84
Eretria; 1895; R. B. Richardson; R. XIV, pp. 30–32; 84
Heraeum (With A. I. A.); C. Waldstein; R. XIV, pp. 37–48; The Argive Heraeum, 2 vols., 1902; 86
Koukounari (Attica) (With A. I. A.); Feb. (4 days); R. B. Richardson; P. VI, pp. 374—391; R. XIV, pp. 25–30; 85
Corinth; 1896 March 23–April 2; April 15–June 6; R. B. Richardson; R. XV, pp. 30–39; A. J. A. I (1897), pp. 312–332; 455–506; 89, 90
Corinth; 1897 April 14–23; R. B. Richardson; A. J. A. I (1897), pp. 110–112; R. XVI
Corinth; 1898 March 23–June 13; R. B. Richardson; A. J. A. II (1898), pp. 233–236; 499–502 / A. J. A. IV (1900), pp. 204–226; 92, 93

Corinth; 1899 March 27–May 27; R. B. Richardson; A. J. A. III (1899), pp. 682–684 / A. J. A. IV (1900), pp. 226–239; 458–475; 94

Athens Propylaea; 1900; C. H. Weller; A. J. A. V (1901) Supplement, pp. 21, 22, 27 / A. J. A. VIII (1904), pp. 37–47; 97

Corinth; March 30–May 28; R. B. Richardson; A. J. A. IV (1900) Supplement pp. 22–27 / A. J. A. VI (1902), pp. 7–22; 306–320; 96

Kavousi (Crete) (Auspices of the School); May 14 (a month); Miss Harriet Boyd (Mrs. Charles H. Hawes); A. J. A. V (1901), pp. 125–157; 95
Oeniadae; Dec. B. Powell, J. M. Sears, Jr., L. L. Foreman; A. J. A. V (1901) Supplement, p. 26; 97

Corinth; 1901 March 21–May 22; R. B. Richardson; A. J. A. V (1901) Supplement, pp. 27–31 / A. J. A. VI (1902), pp. 321–326; 97, 98

Oeniadae Spring; B. Powell, J. M. Sears, Jr.; A. J. A. VIII (1904), pp. 137–237; 97
Vari (Attica); C. H. Weller; A. J. A. V (1901) Supplement, pp. 26, 27 / A. J. A. VII (1903), pp. 263–349; 97


JAMES RIGNALL WHEELER, CHAIRMAN 1901–1918
Corinth 1902 March 1–June 13 R. B. Richardson A. J. A. VI (1902) Supplement, pp. 19–22; 103, 104
Corinth 1903 April 22–June 12 T. W. Heermance A. J. A. VII (1903), p. 350; Supplement, p. 19; 104
Corinth 1904 May 13–June 28 T. W. Heermance A. J. A. VIII (1904), p. 433; Supplement, pp. 23–26; 104
Corinth 1905 July 4–Aug. 20 T. W. Heermance A. J. A. X (1906), pp. 17–20; 104
Athens Asklepieion 1906 Feb. Lacey D. Caskey Gordon Allen A. J. A. X (1906) Supplement, p. 15; 113
A. J. A. XI (1907), pp. 307–312
Corinth 1907 April 12–July 6 B. H. Hill A. J. A. XI (1907), Supplement, p. 19; 105
A. A. XIV (1922), p. 224
Corinth 1908 March 24–July 3 B. H. Hill A. J. A. XII (1908) Supplement, p. 16; 105
Mochlos (Crete) (Auspices of the School) R. B. Seager Explorations in the Island of Mochlos, 1912; 119, 120
Corinth 1909 May 10–July 10 B. H. Hill R. XXVIII, p. 142 J. R. Wheeler, Carnegie Institution Yearbook, VIII (1909), pp. 203–205 105
Athens Parthenon 1910 May B. H. Hill A. J. A. XVI (1912), pp. 535–558 118
Nicias Monument April-May W. B. Dinsmoor A. J. A. XIV (1910), pp. 459–484 122
Corinth May 9–June 28 B. H. Hill J. R. Wheeler, Carnegie Institution Yearbook, IX (1910), p. 205 105
Corinth 1911 April 6–20 June 15–Aug. 17 B. H. Hill R. XXX, p. 134 105
Halae (Locris) (Auspices of the School) Spring Mrs. Alice Walker Kosmopoulos A. J. A. XIX (1915), p. 433 119
Hetty Goldman R. XXX, p. 135
Kyparissi (Locris) Atalante Opous Spring C. W. Blegen A. J. A. XXX (1926), pp. 401–404 118, 119
R. XXX, pp. 134, 135
Halae (Auspices of the School) 1912 Mrs. Kosmopoulos Hetty Goldman A. J. A. XIX (1915), pp. 433, 434 119
R. XXXI, pp. 219, 220
Halae (Auspices of the School) 1913 Fall Hetty Goldman Mrs. Kosmopoulos A. J. A. XIX (1915), pp. 434–436
R. XXXII, p. 8
Athens Erechtheum 1914 Jan.-Feb. C. W. Blegen A. J. A. XXXI (1927), pp. 462–470
R. XXXIII, p. 10
Corinth March 23–June 12 R. XXXIII, pp. 10, 11 106
Oct.-Christmas B. H. Hill R. XXXIV, p. 10
Halae (Auspices of the School) Spring Hetty Goldman Mrs. Kosmopoulos A. J. A. XIX (1915), pp. 418–453
Corinth 1915 April 16–Aug. 15 B. H. Hill R. XXXIV, p. 10 A. J. A. XIV (1910), pp. 207–209 106
Korakou (Corinthia) Aug. C. W. Blegen R. XXXIV, p. 10 106
Corinth 1916 B. H. Hill W. B. Dinsmoor R. XXXVI, p. 7 106
Gonia (Corinthia) C. W. Blegen R. XXXVI, p. 7 Metropolitan Museum Studies III, pp. 55–80
Korakou (Corinthia) C. W. Blegen Korakou, 1921 106
Athens Propylaea 1918 April-May W. B. Dinsmoor R. XXXVIII, p. 8 123
EDWARD CAPPS, CHAIRMAN 1918–1939
Athens Propylaea 1919 April-May W. B. Dinsmoor R. XXXVIII, p. 10 133
Halae (Auspices of the School) 1921 Spring Hetty Goldman H. IX (1940), pp. 381–514 175
Zygouries (Corinthia) April C. W. Blegen R. XL, pp. 17, 18 A. A. XIII (1922), pp. 210–216
Colophon (With Fogg Museum) 1922 April-June Hetty Goldman R. XLI, pp. 16–18 A. A. XIV (1922), pp. 256–260 142
Zygouries Aug.-Sept. C. W. Blegen R. XLI, pp. 18–20 A. A. XV (1923), pp. 85–89 148
Zygouries, 1928
Athens Mt. Hymettus 1923 May C. W. Blegen R. XLI, pp. 16, 17 A. A. XVI (1923), p. 207 (news item) 148
Halae (Auspices of the School) Fall Hetty Goldman R. XLIII, p. 26 H. IX (1940), pp. 381–514 175
Athens Mt. Hymettus 1924 April 10–12 C. W. Blegen R. XLIII, pp. 26, 27 A. A. XVII (1924), pp. 285, 286 (news item) 148
Eutresis (With Fogg Museum) Fall Hetty Goldman R. XLIV, p. 32 182
Nemea (With University of Cincinnati) April 16–June 3 B. H. Hill C. W. Blegen R. XLIII, pp. 27–29 A. A. XIX (1925), pp. 175–184 174
Phlius June 2–July 31 B. H. Hill R. XLIII, pp. 29–31 A. A. XX (1925), pp. 23–33 173
Corinth Agora 1925 March 9–Aug. 22 B. H. Hill A. J. A. XXX (1926), pp. 44–57 183
O. Broneer R. XLIV, pp. 33–37
Roman Villa T. L. Shear A. J. A. XXIX (1925), pp. 381–397 183
Corinth V
Theater March 9–June 7 T. L. Shear A. J. A. XXIX (1925), pp. 381–391 183
Colophon (With Fogg Museum) Sept. Hetty Goldman A. A. XIV (1922), pp. 256–260 142
R. XLV, p. 27
Eutresis (With Fogg Museum) Spring (3 months) Hetty Goldman R. XLIV, pp. 31–33 182
Kato Zakro (Crete) (Auspices of the School) Spring R. B. Seager 175
Nemea (With University of Cincinnati) Nov. 30–Dec. 24 C. W. Blegen R. XLV, p. 35 A. A. XXII (1926), pp. 127–134 174
Phlius 1925 Jan.-Feb. C. W. Blegen R. XLIV, p. 32 A. A. XX (1925), pp. 23–33 174
Prosymna (Argolis) (The Heraeum) March 9–May 9 C. W. Blegen R. XLIV, pp. 37–40 A. J. A. XXIX (1925), pp. 413–428 180
Corinth Acrocorinth 1926 March 15–May 26 C. W. Blegen Corinth III, 1, 1926 188
Lechaeum Road B. H. Hill R. XLV, p. 35 A. J. A. XXXI (1927), pp. 70–79 188
North of Temple of Apollo R. Stillwell R. XLV, p. 36 188
Theater March-July T. L. Shear A. J. A. XXX (1926), pp. 444–463 186, 187
A. A. XXIII (1927), pp. 109–115
Eutresis (With Fogg Museum) Summer Hetty Goldman R. XLV, p. 34 Eutresis in Boeotia, 1931 182
Nemea (With University of Cincinnati) Nov. 9–26 Jan. 10–27, 1927 C. W. Blegen B. D. Meritt A. J. A. XXXI (1927), pp. 421–440 175
R. XLVI, pp. 33, 34
Corinth Lechaeum Road etc. 1927 April-end of June B. D. Meritt A. J. A. XXXI (1927), pp. 450–453 196
Odeum (With University of Cincinnati) O. Broneer A. J. A. XXXI (1927), pp. 454–461 196
Corinth X, 1932
Eutresis (With Fogg Museum) Hetty Goldman Eutresis in Boeotia, 1931 182
Prosymna (Argolis) (The Heraeum) C. W. Blegen R. XLVI, pp. 35, 36 181
Athens Acropolis 1928 July-Aug. W. B. Dinsmoor A. J. A. XXXIII (1929), pp. 101, 102 167
Archons of Athens (1931), pp. 3, 4, pl. 199
Corinth Cenchrean Gate etc. June 14–1 1/2 months R. Carpenter A. J. A. XXXIII (1929), pp. 345–360 208
North Cemetery T. L. Shear A. J. A. XXXII (1928), pp. 490–495 208
Odeum (With University of Cincinnati) O. Broneer A. J. A. XXXII (1928), pp. 447–473
Corinth X, 1932
Theater Feb. 22-June 26 T. L. Shear A. J. A. XXXII (1928), pp. 474–490 208
Hagiorgitika (Arcadia) (Auspices of the School) C. W. Blegen A. J. A. XXXII (1928), pp. 533, 534 (news item) 206
Olynthus (Auspices of the School) Feb. 17-June 2 D. M. Robinson R. XLVII, p. 35 A. J. A. XXXIII (1929), pp. 53–76 205
Prosymna (Argolis) (The Heraeum) April 18-June 8 C. W. Blegen R. XLVII, pp. 34, 35 181
Prosymna, Cambridge Univ. Press, 1937 248
Corinth Asklepieion 1929 F. De Waele A. J. A. XXXVII (1933), pp. 417–447 230
North Cemetery T. L. Shear A. J. A. XXXIII (1929), pp. 538–546 213
North Market R. Carpenter F. De Waele A. J. A. XXXIV (1930), pp. 432–454 211, 212
Potters' Quarter April-mid-June Agnes Newhall Stillwell A. J. A. XXXV (1931) pp. 1–30 217
Theater Feb. 20–July 15 T. L. Shear A. J. A. XXXIII (1929), pp. 515–536 212
Corinth Asklepieion 1930 F. De Waele A. J. A. XXXVII (1933), pp. 447–457 230
North Cemetery Jan. 27–May 10 T. L. Shear A. J. A. XXXIV (1930), pp. 403–431 215
A. A. XXXI (1931), pp. 153–160; 225–234
North Market R. Carpenter F. De Waele A. J. A. XXXV (1931) pp. 394–423 216
Potters' Quarter Spring (3 months) Agnes Newhall Stillwell A. J. A. XXXV (1931), pp. 1–30 217
Athens Agora 1931 May 25 (10 weeks) T. L. Shear A. J. A. XXXVI (1932), pp. 382–392 226, 231,
H. II (1933), pp. 232 96–109
North Slope Jan. and Spring O. Broneer H. I (1932), pp. 31–55 227
Pnyx (Assistance of the School) Dec. 8–30 June 13–31 H. A. Thompson K. Kourouniotes H. I (1932), pp. 90–217 224
A. J. A. XXXVII (1933), pp. 180–182; 652–656
Corinth
Acrocorinth R. Carpenter
A. Bon Corinth III, 2, 1936 220
Asklepieion F. De Waele A. J. A. XXXVII (1933), pp. 447–457 220, 230
North Cemetery (Roman Tombs) T. L. Shear A. J. A. XXXV (1931), pp. 424–441 220
Potters' Quarter Agnes Newhall Stillwell A. J. A. XXXV (1931), pp. 1–30 217

Halae (Auspices of the School) Spring Hetty Goldman H. IX (1940), pp. 381–514 175
H. XI (1942), pp. 365–421
Olynthus (Auspices of the School) March 31-June 18 D. M. Robinson A. J. A. XXXVI (1932), pp. 16–24; 118–138 221

Athens 1932
Agora Jan. 25-June 4 T. L. Shear A. J. A. XXXVI (1932), pp. 382–392 232, 233
H. II (1933), pp. 451–474 A. A. XXXIV (1933), pp. 19–28
North Slope Spring, 7 weeks in Fall O. Broneer H. II (1933), pp. 329–417 226, 227
Pnyx (Assistance of the School) Summer K. Kourouniotes H. Thompson H. V (1936), pp. 151–200 225

Corinth
Asklepieion F. De Waele A. J. A. XXXVII
(1933), pp. 417–451 230, 231
A. J. A. XXXIX (1935), pp. 352–359
Roman Bath etc. R. Stillwell A. W. Parsons Records of the School, p. 537 246
Temple E Sarah Freeman Corinth I, 2, pp. 166–236 246, 247
West City Wall O. Broneer Corinth III, 2, pp. 66–75 247

Athens 1933
Acropolis North Slope Fall O. Broneer H. IV (1935), pp. 109–188 227
Agora Feb. 6-July 8 T. L. Shear A. J. A. XXXVII (1933), pp. 289–296; 305–312; 540–548 233
A. A. XXXIV (1933), pp. 283–297
H. IV, (1935), pp. 311–339

Corinth
Agora etc. O. Broneer A. J. A. XXXVII (1933), pp. 554–572 247
Asklepieion F. De Waele A. J. A. XXXIX (1935), pp. 352–359 231

Athens 1934
Acropolis North Slope Spring O. Broneer H. IV (1935), pp. 109–188 227
Agora Jan. 2-May 12 T. L. Shear H. IV (1935), pp. 340–370 235, 236
Pnyx (Assistance of the School) Summer K. Kourouniotes H. A. Thompson H. V. (1936), pp. 151–200 225

Corinth
Agora Fall (6 weeks) R. Stillwell A. J. A. XL (1936), pp. 21–45 249
South Basilica etc. O. Broneer A. J. A. XXXIX (1935), pp. 53–75 249

Olynthus (Auspices of the School) March 25-mid-June D. M. Robinson A. J. A. XXXVIII (1934), pp. 501–510 250
A. J. A. XXXIX (1935), pp. 210–247

Athens 1935
Agora Jan. 28-June 29 T. L. Shear A. J. A. XXXIX (1935), pp. 173–187; 437–447 237
H. V (1936), pp. 1–42

Corinth
Agora 10 weeks R. Stillwell A. J. A. XL (1936), pp. 21–45 249

Amphipolis 1936 O. Broneer The Lion Monument of Amphipolis, 1941 256, 257

Athens
Acropolis North Slope February O. Broneer H. V (1936), pp. 247–272
Agora Jan. 27–June 13 T. L. Shear H. VI (1937), pp. 333–381 237
Pnyx Summer H.A. Thompson K. Kourouniotes A. J. A. XL (1936), pp. 188–203 225

Corinth R. L. Scranton H. XII (1943), pp. 269–383 254
Agora Fall (8 weeks) C. H. Morgan II A. J. A. XLI (1937), pp. 539–552 257

Athens 1937
Acropolis North Slope Mar. 8–July 24 O. Broneer A. J. A. XLII (1938), pp. 161–164 228
H. VII (1938), pp. 161–263
Agora Jan. 25–mid-June T. L. Shear A. J. A. XLII (1938), pp. 1–16 240, 241
A. J. A. XLI (1937), pp. 177–189
H. VII (1938), pp. 311–363
Athens
Central City Spring H. A. Thompson N. Kyparisses H. VII (1938), pp. 612–625 225, 226
Pnyx Summer H. A. Thompson K. Kourouniotes H. XII (1943), pp. 269–383 225

Corinth
Agora Spring (19 weeks) C. H. Morgan II A. J. A. XLI (1937), pp. 539–552 257
Sept. 13–Dec. 11 A. J. A. XLII (1938), pp. 362–370 263

Athens
Acropolis North Slope 1938 Mar. 8–June 15 O. Broneer A. J. A. XLII (1938), pp. 445–450 228
H. VIII (1939), pp. 317–429
Agora Jan. 24-June T. L. Shear H. VIII (1939), pp. 201–246 241, 242

Corinth
Agora Jan. 31–June 6 C. H. Morgan II A. J. A. XLIII (1939), pp. 255–267 263, 264
South Stoa etc. Fall (7 weeks) O. Broneer S. S. Weinberg A. J. A. XLIII (1939), pp. 592–600 264, 265

Olynthus (Auspices of the School) Mar. 28–June 18 D. M. Robinson A. J. A. XLIII (1939), pp. 48–77 Four Campaigns. Excavations at Olynthus, Vols. I–XII, D. M. Robinson, Johns Hopkins Univ. Press, 1929–1946 260
Samothrace (Auspices of the School) June-July Karl Lehmann-Hartleben A. J. A. XLIII (1939), pp. 133–245 142, 261, 262

Athens
Agora 1939 Feb. 20–June 24 T. L. Shear A. J. A. XLIII (1939), pp. 577–588 242, 243
H. IX (1940), pp. 261–307
Acropolis North Slope O. Broneer A. J. A. XLIV (1940), pp. 252–256 229, 230
Hymettus C. W. Blegen R. S. Young A. J. A. XLIV (1940), pp. 1–9 149

Corinth
Near Museum Spring (6 weeks) S. S. Weinberg A. J. A. XLIII (1939), pp. 592–600 265

Pylos (Auspices of the School) March 25–May 11 C. W. Blegen K. Kourouniotes A. J. A. XLIII (1939), pp. 557–576 265
Samothrace (Auspices of the School) June-Aug. Karl Lehmann-Hartleben A. J. A. XLIV (1940), pp. 330–350 262, 263

Athens
Agora 1940 Apr. 22–5 weeks T. L. Shear H. X (1941), pp. 1–8 243