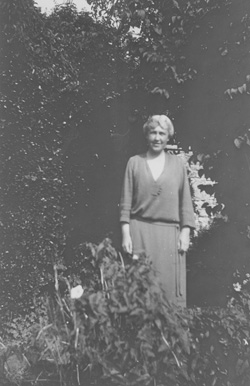 ---
COLLECTION OVERVIEW
Collection Number: GR ASCSA ITH 008
Name (s) of Creator (s): Ida Thallon Hill (1875-1954)
Title: Ida Thallon Hill Papers
Date [bulk]: 1890-1954
Date [inclusive]:
Language(s): English
Summary: The collection contains correspondence, journals and notebooks, drafts for books and articles, and photos. The bulk of the material dates from 1899-1954, with a big gap from 1901-1920, when Ida Thallon Hill was living in the United States. It is divided into five series: Series I. Correspondence; Series II. Journals, Notebooks and Accounts; Series III. Manuscripts; Series IV. Photographs; and Series V. Miscellaneous.
Quantity: 1.50 linear meters
Immediate Source of Acquisition: Originally housed at the Blegen house at 9 Ploutarchou, the Ida Thallon Hill papers were transferred to the ASCSA when the house was sold, after the death of Carl Blegen in 1971.
Information about Access: The papers are catalogued and available for research
Cite as: American School of Classical Studies at Athens, Archives, Ida Thallon Hill Papers
Notes: The papers were processed by Natalia Vogeikoff in 1996 for the writing of a biographical essay about IdaThallon Hill which appeared in Women in Archaeology: The Classical World and the Ancient Near East (ed. Getzel Cohen and Martha S. Joukowski), available at http://www.brown.edu/Research/Breaking_Ground/
For more information, please contact the ARCHIVES at:
The American School of Classical Studies at Athens
54 Souidias Street
Athens 106 76
Greece
Phone: 213 000 2400 (ext. 425) or contact by E-mail
---
BIOGRAPHICAL NOTE
Ida Carleton Thallon was born August 11, 1875 in Brooklyn, a daughter of John and Grace Green Thallon. She came from Packer Collegiate Institute to Vassar College, where she received her A.B. degree in 1897 and her M.A. in 1901. In 1899-1901 she was a student in the American School of Classical Studies at Athens. From 1903-1905 she studied at Columbia University, which conferred the degree of Ph.D upon her in 1905. Her teaching experience was all at Vasar, but, remarkably, in three subjects: Greek, 1901-1903; Latin, 1906-1907; History, 1907-1924. Her subsequent marriage (1924) to the distinguished archaeologist, Bert Hodge Hill, and her departure to Athens terminated her teaching career at Vassar.
Her first publication came from her student days in Athens. While there, Ida and her friend Lida Shaw King, with two men students of the American School excavated a cave sacred to Pan and the Nymphs at Vari, and the marble reliefs found in it were published by Ida Thallon in the American Journal of Archaeology 7 (1903). Next, in 1906, came her doctoral dissertation, The Date of Damophon of Messene. She published Readings in Greek History (1914), Rome of the Kings (1925), and, in collaboration with Lida Shaw King, Decorated Architectural Terracottas in the Corinth Series of the American School (IV, I, 1929). Just before her death (1954), her new book The Ancient City of Athens (1953) was published. Hill also left a nearly finished manuscript of another book on ancient Greek sites outside Athens.
She is burried in the Protestant Corner of the First Cemetery in Athens.
---
SCOPE AND CONTENT
The collection contains correspondence, journals and notebooks, drafts for books and articles, and photos. The bulk of the material dates from 1899-1954, with a big gap from 1901-1920, when Ida Thallon Hill was living in the States. It is divided into five series: Series I. Correspondence; Series II. Journals, Notebooks and Accounts; Series III. Manuscripts; Series IV. Photographs; and Series V. Miscellaneous.
Series I. Correspondence contains incoming correspondence and some copies of Thallon Hill's replies. Letters and cards from her friend Elizabeth Hazel Haight, professor at Vassar College, form large part of the correspondence. Of special interest are the letters of Elizabeth Pierce Blegen, since they reflect the close and intimate relationship between the two women. The majority of the letters from her husband date from World War II, when Bert Hodge Hill was living in Greece by himself. The correspondence with her mother contains carbon typescript copies of Ida's letters sent to her mother during her first year in Greece (1899-1900). The copies were made later -we do not know when and for what reason- and it is very likely that Ida was responsible for their creation. Other correspondence with her immediate family is missing.
Series II. Journals, Notebooks, and Accounts contains her journals from 1899-1901 and 1921-1954. Journals from the period of her graduate studies and her years as a Professor at Vassar College are missing. The earliest journal dates from 1890 and contains poems. The rest of the notebooks contain notes from lectures and visits to sites and museums.
Series III. Manuscripts contains typescript drafts and manuscript notes concerning her book The Ancient City of Athens; typescripts, photos, notes and correspondence about her other book entitled Fifty Years of Excavations which was never published; a manuscript of a paper entitled "The Antonine Wall in Scotland,"; and a typescript entitled "Some Archaeological Notes on Beowulf."
Series IV. Photographs contains photos of herself, her family, and friends, as well as photos and postcards from archaeological sites and museums which Ida Thallon Hill most likely visited. Of interest are a few early photos from Gšttingen and Rotterdam which Ida visited on her way to Greece in 1899.
Series V. Miscellaneous includes some personal items, such as Ida Thallon Hill's Greek identity card of 1937, a curriculum vitae, etc. This series also contains material concerning Ida Thallon's death, such as death certificates, a necrology, obituaries, and photographs of her grave in Athens.

CONTAINER LIST

Series I: Correspondence
Box 1
Folder 1-8: Elizabeth Hazelton Haight
Box 2
Folder 1-4: Bert Hodge Hill
Folder 5: Grace H. Macurdy
Folder 6-7: Elizabeth Pierce (Blegen)
Box 3
Folder 1-2: Elizabeth Pierce (Blegen)
Folder 3: Mrs. Thallon (Ida's mother)
Folder 4: Various correspondence related to B. H. Hill's resignation
Folder 5: Various people

Series II: Journals, Notebooks, and Financial Accounts
Box 4
Journals 1899-1942
Journal with poetry (1890)
Box 5
Journals 1942-1954
Notes
Accounts

Series III: Manuscripts
Box 6
Folder 1: The Ancient City of Athens (drafts, notes, etc.)
Folder 2: The Ancient City of Athens (cont'd)
Folder 3: The Ancient City of Athens (cont'd)
Folder 4: Fifty Years of Excavations (draft, notes, related correspondence)
Folder 5: Other manuscripts

Series IV: Photographs
Box 7 (catalogue)
Box 8
Photos and post cards of monuments [oversize kept separately]

Series V: Miscellaneous
Box 9
Folder 1:
-newspaper clippings, brochures, etc.
-offprints
-identity card, curriculum vitae
Folder 2: Material related to Ida Thallon's death