Kate Biddle More Photographic Collection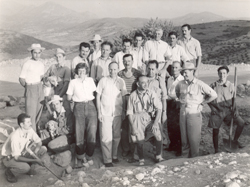 ---
COLLECTION OVERVIEW
Collection number: GR ASCSA KBM 065
Name(s) of Creator(s): Kate Biddle More
Title: Kate Biddle More Photographic Collection
Date [bulk]: 1953
Date [inclusive]:
Language(s): English
Summary: An album of photos recording the excavations of Grave Circle B at Mycenae directed by George Mylonas and Ioannis Papademetriou in 1953. The majority of the photos were taken by photographer Nikolaos Tombazis.
Quantity: 0.30 linear meters
Immediate Source of Acquisition: Gift of Kate Biddle More, 2010
Information about Access: The collection is available for research
Cite as: American School of Classical Studies at Athens, Archives, Kate Biddle More Photographic Collection (Αμερικανική Σχολή Κλασικών Σπουδών στην Αθήνα, Φωτογραφική Συλλογή Kate Biddle More)
For more information, please contact the Archives:
The American School of Classical Studies at Athens
54 Souidias Street, Athens 106 76, Greece
phone: +30 213 000 2400 (ext. 425)
Contact via E-mail
---
SCOPE AND CONTENT
An unexpected and valuable gift arrived at the School's Archives in early February of 2010. Before that, Kate Biddle More, through Professor William Scott of Dartmouth College, had inquired whether the School would be interested in acquiring an album of photos from the excavations of Grave Circle B at Mycenae in 1953, in which she had participated as a recent graduate from Vassar College. Professor George Mylonas of Washington University at St. Louis, Missouri, together with archaeologist Ioannis Papadimitriou, directed the excavation.
The majority of the photos in the album were taken by the renowned photographer Nikolaos Tombazis, the father of architect Alexandros Tombazis. After retiring from India where he worked for 30 years as a commercial representative of the Rallis Brothers firm, Tombazis launched a new career as free-lance photographer on archaeological excavations in Greece. His rich photographic archive has been deposited at the Benaki Museum, which recently held an exhibition in honor of Tombazis with photographs from India and Greece. Although a number of the photos in the album have been included in George Mylonas' publication of the Grave Circle B, the album also contains beautiful landscape photos of the Mycenae hill, as well as several photos recording casual moments of the dig, like the big feast that followed the end of the excavation, vividly remembered by Kate Biddle More below:
"At the end of August or early September, when the dig was finished for the year, we had a Homeric feast in one of the tholos tombs near the citadel. The roof of the tomb had long ago collapsed and the debris had been cleared away. Two long tables were set up and a lamb was roasted on a spit over an open fire for several hours. When it was done we had a feast, with wine and other suitable things (salad? grapes? bread, surely). The workmen sat at one table, the archaeologists, me and a wife or two who had come out from Athens at the other. Photos of this event are in the album. One workman stood guard at the circle of graves, as they were still open, with many of the contents in situ. During the feast he came running to Drs. Mylonas and Papadimitriou and reported that some German tourists were walking in the circle of graves, refusing to understand his urgent signals that they were not allowed to be there. Of course he didn't speak German, and they pretended not to understand his communications. Dr. Papadimitriou ran back up to the site and, in German, angrily ordered the intruders to get out, with heated remarks about having had enough of Germans during the occupation of Greece in World War II.
---
The photo shows Kate Biddle in the front row next to excavation co-director George Mylonas, with photographer Nikos Tombazis to Mylonas's left, co-director Ioannis Papadimitriou to Tombazis's left, and archaeologist Dimitris Theocharis satnding in front row, second from right.