Philippos Dragoumis Papers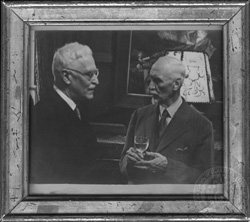 Αρχείο Φίλιππου Δραγούμη
---
ΕΠΙΣΚΟΠΗΣΗ ΣΥΛΛΟΓΗΣ - COLLECTION OVERVIEW
Collection Number: GR GL PSD 025
Name(s) of Creator(s): Philippos St. Dragoumis (1890-1980)
Title: Philippos St. Dragoumis Papers
Date [bulk]: 1910-1980
Date [inclusive]:
Language(s): Greek, French, English
Summary: The collection consists of official documents and papers relating to the public offices he held; various documents relating to the Macedonian struggle and the Macedonian question, Greek-Albanian relations, and the Cypriot question; personal notebooks; personal and family correspondence; awards; photographs; biographical information related to the Dragoumis family history and newspaper clippings about Philippos Dragoumis.Historical photos from the Philippos Dragoumis Papers are also available online via the Digital Library of the American School of Classical Studies (http://www.ascsa.edu.gr/). Also see the printed catalogue: Chr. Varda, Archeio Philippou Fragoumi (1890-1980). Eureterio, Athens: Gennadius Library, 1993.
Quantity: 11 linear meters
Immediate Source of Acquisition: Gift of Philippos Dragoumis, 1960
Information about Access: The papers are catalogued and available for research.
Cite as: American School of Classical Studies at Athens, Archives, Philippos St. Dragoumis Papers (Αμερικανική Σχολή Κλασικών Σπουδών στην Αθήνα, Τμήμα Αρχείων, Αρχείο Φίλιππου Στ. Δραγούμη)
Note: The collection was processed and catalogued by Christina Vardas, 1990.
---
For more information, please contact the Archives:
The American School of Classical Studies at Athens
54 Souidias Street, Athens 106 76, Greece
Phone: 213-000-2400 (ext. 425)
Contact via E-mail