Stephanos N. Dragoumis Papers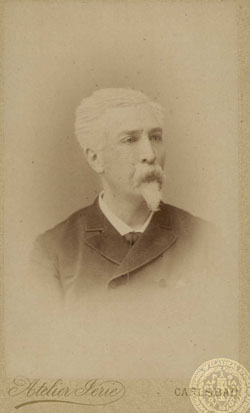 Αρχείο Στέφανου Δραγούμη


---
ΕΠΙΣΚΟΠΗΣΗ ΣΥΛΛΟΓΗΣ - COLLECTION OVERVIEW
Collection Number: GR GL SND 023
Name (s) of Creator (s): Stephanos N. Dragoumis (1842-1923)
Title: Stephanos N. Dragoumis Papers
Date [bulk]: 1855-1920
Date [inclusive]:
Language(s): Greek, English, French
Summary: The collection consists of official documents; notes and correspondence relating to his political activities, as well as his philological and archaeological interests; family correspondence; medals and awards, and photos. The researcher will find information about several important issues of Greece's foreign policy during the late 19th/early 20th century, such as the Bulgarian and Romanian issues (e.g. the Zappa case), the Albanian/North Epirus problem, and the Cretan and Macedonian issues. Historical photos from the Stephanos N. Dragoumis Papers are available online (see Photographic Collections, under Historical Archives).
Quantity: 18 linear meters
Immediate Source of Acquisition: Gift of Philippos Dragoumis, 1960
Information about Access: The papers are catalogued and available for research.
Cite as: American School of Classical Studies at Athens, Archives, Stephanos N. Dragoumis Papers (Αμερικανική Σχολή Κλασικών Σπουδών στην Αθήνα, Τμήμα Αρχείων, Αρχείο Στεφάνου Ν. Δραγούμη)
Note: The catalogue was prepared by Christina Vardas, 1992.
ΒΙΟΓΡΑΦΙΚΟ ΣΗΜΕΙΩΜΑ - BIOGRAPHICAL NOTE
ΛΙΓΑ ΛΟΓΙΑ ΓΙΑ ΤΟ ΠΕΡΙΕΧΟΜΕΝΟ ΤΟΥ ΑΡΧΕΙΟΥ - SCOPE AND CONTENT
ΟΡΓΑΝΩΣΗ ΚΑΙ ΤΑΞΙΝΟΜΗΣΗ ΤΟΥ ΑΡΧΕΙΟΥ - NOTES ON ORGANIZATION
ΚΑΤΑΛΟΓΟΣ ΠΕΡΙΕΧΟΜΕΝΩΝ - CONTENT
For more information, please contact the ARCHIVES at:
The American School of Classical Studies at Athens
54 Souidias Street
Athens 106 76
Greece
Phone: 213 000 2400 (ext. 425)
Contact via E-mail