The Alison Frantz Photographic Collection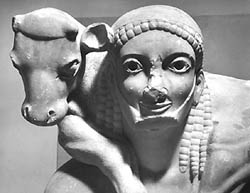 The Alison Frantz Photographic Collection
The Alison Frantz Photographic Collection contains images by the photographer and archaeologist Alison Frantz (1903 - 1995). The photographs mainly depict Archaic and Classical sculpture, Greek archaeological sites and various finds. The collection was created between the late 1940's and the early 1970's. The images have illustrated numerous publications, among them: Gisela M. A Richter, Korai: Greek Archaic Maidens (1968); The Archaic Gravestones of Attica (1961); Bernard Ashmole and Nicholas Yalouris, Olympia: The Sculptures of the Temple of Zeus (1967); and Martin Robertson and Alison Frantz, The Parthenon Frieze (1975).
All the negatives in this collection are the property of The American School of Classical Studies at Athens. Any form of reproduction without permission is forbidden.
For more information, please contact the Archives:
The American School of Classical Studies at Athens
54 Souidias Street, Athens 106 76, Greece
Phone: +30 213-000-2400 (ext. 306)
Contact via E-mail
Search the collection by Site
(c) Copyright 2000, Original dataBase Design by Pia Kvarnstrom and Marie Mauzy.