Wilson and Eleanor Myers Photographic Collection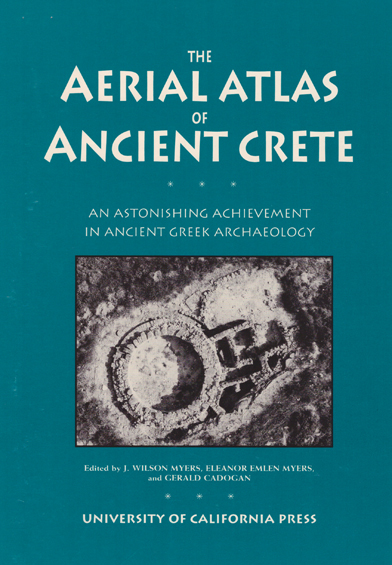 Wilson and Eleanor Myers Photographic Collection
COLLECTION OVERVIEW
Collection Number: GR ASCSA WEM 106
Name(s) of Creator(s): Wilson and Eleanor Myers (1925-1996)
Title: Wilson and Eleanor Myers Photographic Collection
Date [bulk]: 1979-1984
Date [inclusive]:
Language(s): English
Summary: The collection contains 210 aerial photos from 56 archaeological sites and monuments in Greece, Turkey, and Italy, taken in the early 1980s using the technique of baloon photography. The photos of Crete were used for their publication, together with Gerald Cadogan, The Aerial Atlas of Ancient Crete: An Astonishing Achievement in Ancient Greek Archaeology, Berkeley 1992.
Quantity:
Immediate Source of Acquisition: Gift of Wilson and Eleanor Myers, 1994 and 1997.
Information about Access: The collection is available for in-house consultation only.
Notes:
For more information, please contact the Archives:
The American School of Classical Studies at Athens
54 Souidias Street, Athens 106 76, Greece,
phone: 213-000-2400 (ext. 306)
Contact via E-mail
---
BIOGRAPHICAL NOTE
J. Wilson Myers, Professor of Humanities at Michigan State University and former Research Professor in the Department of Archaeology at Boston University devoted much of his career, with the help of his wife Eleanor E. Myers (1925-1996), to developing equipment and methods for aerial site recording of ancient sites and monuments in the Mediterranean and Near East. Using cameras suspended from tethered hot-air balloons, Myers photographed hundreds of sites at an altitude much lower than possible from helicopters or airplanes. These high-resolution photographs bring to light details that allow archaeologists new insights into the ancient sites, often correcting earlier theories about them. Equally important, the photographs preserve information and details that are gradually being lost forever through the process of erosion. Myers has authored many publications, including the highly acclaimed The Aerial Atlas of Crete (1992, together with Eleanor E. Myers and Gerald Cadogan). After the death of his wife Eleanor in 1996, Wilson donated his ballon photography equipment to the INSTAP Study Center for East Crete.
See also: J. Wilson Myers and Eleanor E. Myers, "The Art of Flying: Balloon Archaeology," Archaeology 33:6 (1980), pp. 33-40.
---
CONTENT LIST
For a PDF copy of the database, see here.