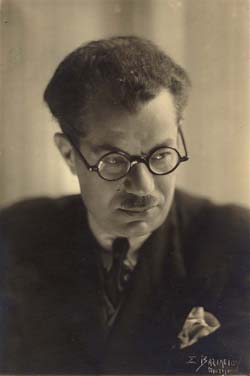 Αρχείο Στράτη Μυριβήλη (1892-1969)
---
ΕΠΙΣΚΟΠΗΣΗ ΣΥΛΛΟΓΗΣ - COLLECTION OVERVIEW
Collection Number: GR ASCSA GL SM 053
Name(s) of Creator(s): Stratis Myrivilis (1892-1969)
Title: Stratis Myrivilis Papers
Date [bulk]:
Date [inclusive]:
Language(s): Greek
Summary: The collection consists of personal documents, manuscripts, papers delivered on various occasions, correspondence, photographs, newspaper clippings and a press collection, including newspapers that Myrivilis himself published or directed and underground press that circulated during the German Occupation. See also: ASCSA Newsletter, no. 53/54
Quantity: 4.20 linear meters
Immediate Source of Acquisition: Gift of Kaiti Myrivili, Haris and Eleni Myrivili and Drosoula Angelopoulou, 1999
Information about Access: The collection is available for research.
Cite as: American School of Classical Studies at Athens, Archives, Stratis Myrivilis Papers (Αμερικανική Σχολή Κλασικών Σπουδών στην Αθήνα, Τμήμα Αρχείων, Αρχείο Στράτη Μυριβήλη)
Notes: The collection was processed by Leda Costaki.
For more information, please contact the Archives:
The American School of Classical Studies at Athens
54 Souidias Street, Athens 106 76, Greece,
phone: 213 000 2400 (ext. 425)
Contact via E-mail